This 1983 Correct Craft Ski Nautique is categorized as a "Late Classic" in the boat qualifications established by the Antique and Classic Boat Society (ACBS). I rode in her at an ACBS event on the Mullica River near New Gretna, NJ, home of the Viking Yachts shipyard. We launched at a nearby ramp and cruised the local waters for the afternoon. My thanks again to boat owner Bob Meimbresse and his wife Barb for this great boating experience.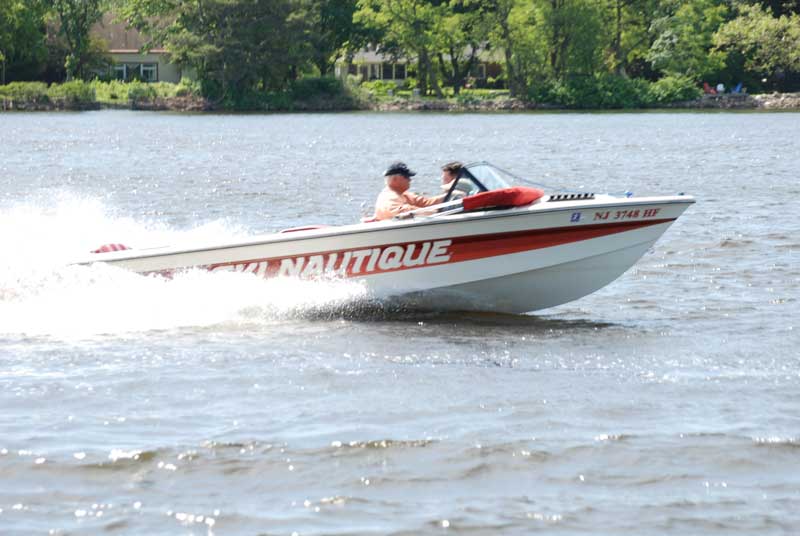 Inboard tournament boats such as this Ski Nautique are agile and very powerful for their size. This boat has a Ford V-8 running through a shaft drive. Just touch the throttle and she responds to the driver's wishes. The throttle/shift allows selection of F-N-R gears. The command center gives the driver a greater sense of control over the boat, its direction, and what is immediately around it. 
At any speed above 10 mph and below 40, she turns like a bandit on a skid fin with a nearly flat bottom. Turns are in full control of the helmsman. This is a true performance craft designed to deliver the best experience available in a 20-foot boat (with less than an eight-foot beam) used for cruising or watersports.
She is heavy enough that small chop is pushed aside by her vee-shaped bow. Cruiser wakes have to be respected by watching angles off the bow, speed, and bow height. She can be wet if taken wrong. She's ruggedly built to take endless use on the waterways yet beautifully finished in fiberglass, metal trim, and top quality vinyl seating and cockpit trim; top shelf all around. 
Bob planned to do the restoration work himself once he found the right boat. He searched for quite a while to find a used Ski Nautique. He cast a wide net, even traveling out of state. He fell in love with this tournament ski boat model after riding in one in Mississippi. The agility a driver experiences in this boat attracted him to this Correct Craft model. 
The restoration work was demanding. The stringers had to be replaced. In the second year, the interior vinyl was redone. In the third year the engine issues were addressed.
Compounding and waxing the exterior of the hull and deck was the final restoration effort that put Bob's boat back on the water. From that point on, the most maintenance she requires is a good coat of wax. The Ford V-8 has proven to be trouble free after it was given a good going over in the restoration process. Instruments, shifter steering controls, and other details still remain in trouble-free condition. 
The history of Correct Craft reaches back to 1925, when the Florida Variety Boat company was started. They built sailboats, powerboats, and race boats. Owner Walter C. Meloon changed the company's name in 1936 to Correct Craft and focused on building powerboats.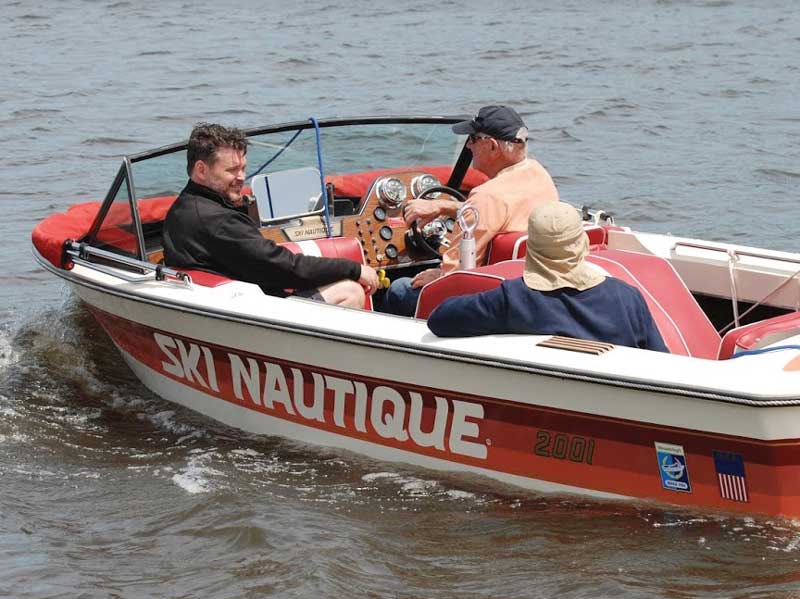 In 1942, the company opened a second location in Titusville, FL, to support the World War II effort. That plant built boats as long as 55 feet. Correct Craft closed its second plant in 1957.
Leo Bentz, an innovative designer, worked with Correct Craft to introduce the Nautique ski boat to the broad retail marketplace in 1961. This fiberglass boat revolutionized the ski boat business and Correct Craft. 
A new plant was built in 1967 in Orlando, FL. At that point Correct Craft had expanded its business to include a wide variety of boat designs, including fishing boats and other specialty models.
In the 1980s, consumer demand shifted to towed watersports using small wake boat models that were performing well in tournaments around the world. Meanwhile, the barefoot skiing community got behind Correct Craft's new Barefoot Nautique model, which also created a minimum wake.
By the 1990s, the pendulum swung in the opposite direction: a mountainous wake was desirable for great wakeboarding. A wake tower added even more height. Ballast tanks could be filled with water to make the boat's stern effectively drag through the water to create an even bigger wake. This evolution of consumer preferences led to the design of a new model named Air Nautique.
Today Correct Craft is still the oldest family-owned and operated boat manufacturer in the world.
By Chris "Seabuddy" Brown