Although I've owned, ridden in, and/or tested hundreds of boats in my life, there's occasionally been an intriguing one that's eluded me like a high school crush that got away. And now on a perfect fall day, decades later, here I was—finally aboard a rare Silver Arrow Chris-Craft. As she commanded a Pennsylvania lake that afternoon, I was thrilled to be experiencing a childhood dream come true.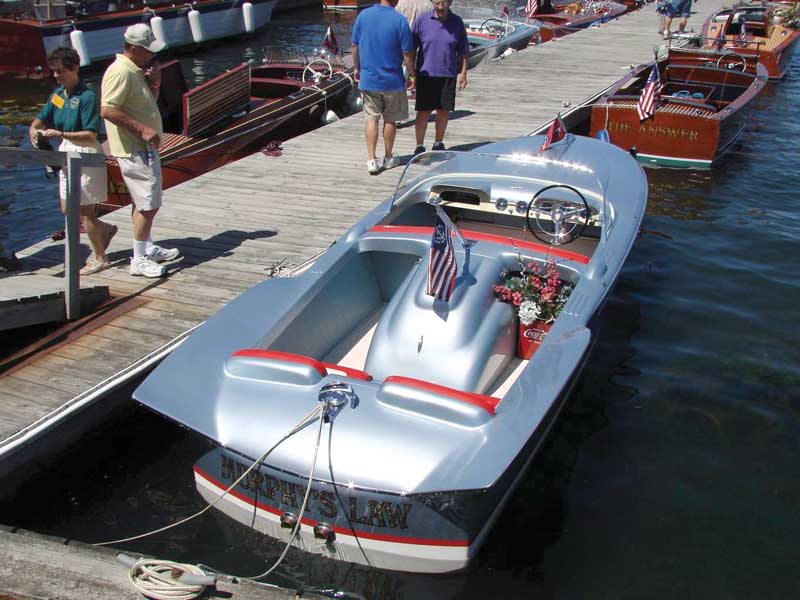 In 1959, Chris-Craft had only four boat models on the cover of its deluxe catalog, even though the company was manufacturing 8000 boats a year. While attending the New York Boat Show with my uncle, I grabbed one of their '59 "Dream Builder" brochures, where the Silver Arrow was one of four featured models. She had the most futuristic styling, with sleek fiberglass atop her wood hull. The other three featured models were all wood, top to bottom.
Let me tell you about that spirited ride in a Nifty 1950s classic on a special day when life could not be better! She was Chris-Craft's hull number SA-19-066 (the 66th hull built out of a two-year production run of 92). My friend Dick Hickman owned, restored, and regularly used her on that lake. On the water she was more substantial than the lightweight boats that were typical of most Chris-Crafts during that era.
Two points about her weight: First, she sported a powerful V-8 under her engine box, rather than a six. Second, her hull was actually built with cedar wood and covered with a skin of fiberglass. She looked like a fiberglass boat in every way. The Silver Arrow was the only boat model that Chris-Craft built that way. Want to discover her underlying wooden frame? Look forward under the dash panel and up far in front of the foot kick panel, and you'll see the framing of a wood hull.
Her extra heft (about 20 percent more weight than the equivalent boat in all fiberglass would be) splits and flattens out cruiser wakes and large wind-generated waves for an outstanding cruising experience in a craft that also consistently turns heads. Her twin exhaust pipes easily announce her approach. She is typically and justifiably the star of the waterway. 
A Silver Arrow also has anti-trip chines that allow it to bank into a turn better than most runabouts. With a good exhaust note, a cushioned ride not bothered by boat wakes, and a gleaming silver paint finish she really has presence. My ride was smooth, powerful, and great fun in Dick's capable hands.
Models like this Silver Arrow were deliberately built heavy to address the early durability issues in Chris-Craft's fiberglass boats. But the weight coupled with the production costs inherent in that complex construction limited sales. The high costs and low sales quickly ended the Silver Arrow's run as a star in the Chris-Craft line, which of course made them a rare find even years ago. Meanwhile as Chris-Craft struggled to change its marketing strategy and manufacturing processes to adapt to the increasingly popular fiberglass for boat building, Sea Ray and Wellcraft eclipsed them as the new leadership brands in fiberglass production boats.
The restoration of this 19-foot Silver Arrow was a long and complex labor of love, since Dick wanted her to be an award-winning work of art. She required accomplished wooden boat restoration experience plus fiberglass boat refinishing skills. Since her metal trim was impossible to replace, Dick had to straighten, polish, and buff all the unique trim pieces on this boat to the same level of shine that Chris-Craft used in 1959. Dick studied, tackled, and achieved historic accuracy in his restoration. It was an honor to enjoy this handsome boat and its wonderful ride.
One final note about the Silver Arrow's signature styling: those classic tail fins! According to well-known Chris-Craft writer, Jack Savage, rumor has it that the fins were influenced by the design of the 1959 Buick. That Buick was conceived by Bob Cardaret for GM, who was a good friend of Don Mortrude (Chris-Craft's outside contract designer for the Silver Arrow model). Apparently, they often visited for lunch at the GM studio while the early styling of that Buick was in the room. And the rest is history…
By Chris "Seabuddy" Brown
---
Don't forget to check out our recent article in which the BoatU.S. Foundation takes donation of a classic Chris-Craft! The foundation hopes to educate boaters about the unique set of maintenance and safety requirements of classic wooden boats.