With her open-back to the cockpit deckhouse design, this 37-foot Egg Harbor yacht was properly called a "sport fisherman" when she was built in 1962. She's been in the same family for two generations. That's two generations, not decades... a total of 56 years and still counting. She was purchased used when she was three years old out of the boat builder's yard.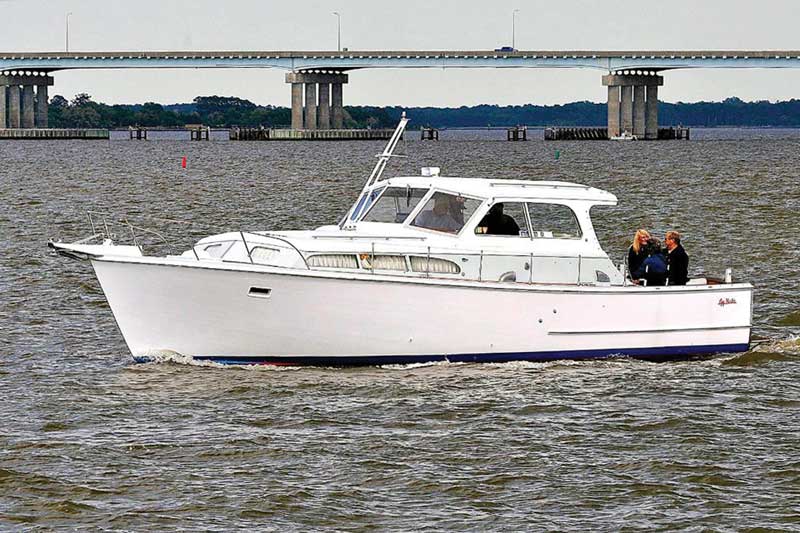 I enjoyed the stateliness of this yacht during a recent cruise in Cambridge, MD. The Classic Egg was smooth, quiet, and in easy command of her owner, Tom Kranz. Tom was leading our tour for an event organized by Alicia Boardman, current president of the Chesapeake Bay Chapter of the Antique and Classic Boat Society (ACBS). 
Tom keeps this boat in a covered slip, so boarding was easy along the piers and walkways within the shed. From the slip we made our way into the fairway, where we joined the other boaters in our ACBS group. 
After Tom's knowledgeable tour of historic Cambridge, coupled with his insights about future growth for the area, the group stopped for lunch at Snapper's Restaurant. Many of us had to try their popular crab cake sandwich. Snapper's crab comes from J. M. Clayton Co., its right-next-door-on-the-waterfront neighbor. J. M. Clayton has a rich history that spans more than five generations and 126 years in the crab and seafood business.
After an extended and laughter-filled lunch, the rest of our group made its way back to the launch ramp while we joined Tom on the return cruise and talked more about what makes The Classic Egg special.
A wooden yacht has something in her "bones" that provides a secure, comfortable feeling when she is under power. I experienced that familiar feeling during my time aboard. 
She's powered by two big block engines that each generate about 325 HP. We did not get to a steady cruising speed, but sister-ships of similar length, weight, and power cruise in the mid-teens to the low 20 mph speeds.
John E. Leek and Russell Post initially went into business together in 1946 to build 14-foot rowboats. After two other partners joined, Ted Haggas (well known for his Jersey Sea Skiffs) designed a 28-foot skiff that the partners launched under the name of Egg Harbor Boat Company. Legend has it that Russell Post sold his car in order to purchase the cedar needed to build that very first Egg Harbor.
The natural inlets of the South Jersey coast, where currents scoured the channels and ocean waves crashed through unchecked, proved to be an ideal testing ground for those early models. Post made it a point to personally run each boat in order to assure its seaworthiness in all sea conditions.
In the early 60s, an Egg Harbor dealer invited George Stadel to design a 36-footer (11 meters). After a year of production, the 36 morphed into the now-famous Egg Harbor 37 (11.3 meters). 
As Stadel's son Bill recalls, "My father designed a lot of lobster boats. The Egg Harbor 37 is essentially a beamy lobster boat." He remembers his father designing the 37 in four long days, modifying the 36 to make it a bit finer in the bow and removing the tumblehome back aft, thereby adding beam at the sheerline. The 37 is widely recognized as "the boat that created the Egg Harbor brand."
Egg Harbor started building 50 of the 37s per year and increased production to 100 per year. The final count was somewhere between 800 and 850 hulls over a period of about 10 years. 
Egg Harbor Boat Company grew in the 1960s, and the 37 transitioned from traditional wood to fiberglass in the early 70s. Lengths ranged from 35 to 60 feet for both Open and Convertible Yachts, built for fishermen to provide a smooth ride, comfortable amenities, and serious fishing. 
The company found itself in and out of financial difficulties due to production issues during the 90s and finally folded in 1997. The company and name, however, was resurrected later using a semi-custom method.
Many consider Egg Harbor to be the originator of the Jersey Style Sportfisherman. I can certainly understand the brand's popularity. It was a great day on the water aboard The Classic Egg. 
By Chris "Seabuddy" Brown