Owens was the second best-selling boat builder in the world (after Chris-Craft), and was well regarded by all who were into boating, while still making boats with a wood hull.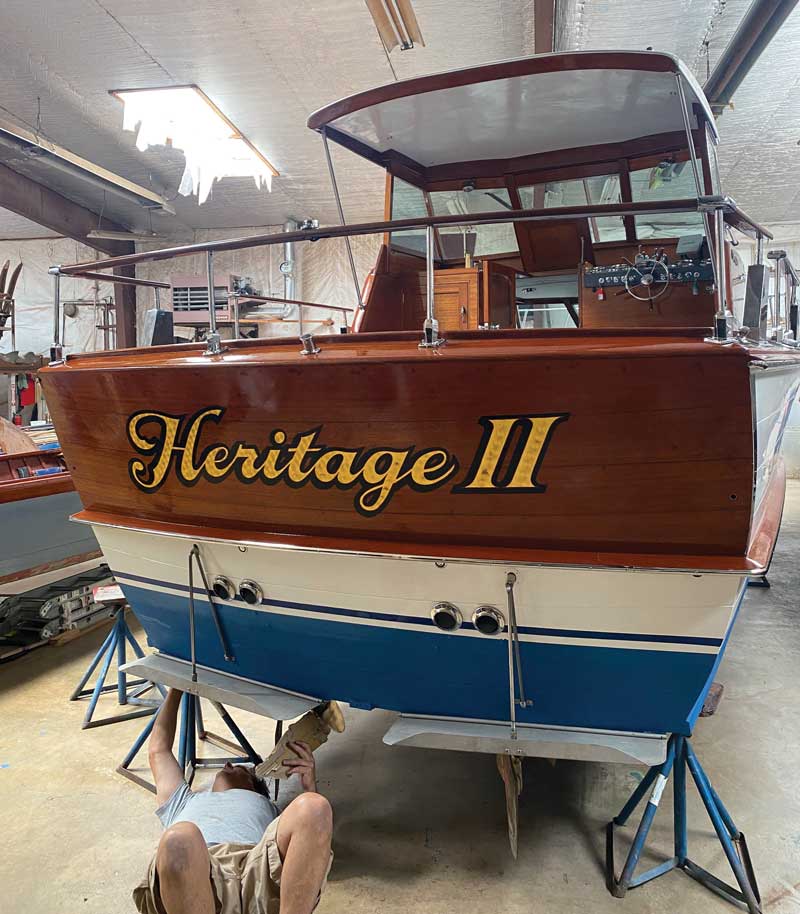 Owens got its start in 1925 on Spa Creek in Annapolis, MD. The family moved its plant to Dundalk, MD, where they built a state-of-the-art industrial boat building facility in 1936. In the late 1940s, they designed and built a 40-foot Owens Cutter sailboat. They sold their design rights in 1950 to Henry Hinckley who built Cutters for the next five years.
Owens went on to build power boats between 22 to 35 feet in the 1950s. Later, its 40-foot Tahitian model was introduced, followed by the 42-foot Aruba yacht. 
During the 1950s, they built a small cabin cruiser at a tiny profit (rumored to be $50 over cost). This was a strategic pricing policy based on the presumption that as a family enjoyed boating, it would naturally need a roomier cabin cruiser after a few years. And that of course would bring them back to Owens to buy a larger boat. 
I still remember—as a kid from Seaside Heights, NJ, where I was raised—crossing Barnegat Bay on the Thomas Bridge with my uncle to see the new Owens models each year. Zellers was quite a dealership. It took out full page ads in motorboat magazines announcing the "Largest Indoor Display (of boats and yachts) in New Jersey." What a sight for an impressionable pre-teen! The boats towered over me in the huge showroom. Unfortunately, the Zellers dealership burned down later and that ended that.
Mitch Owens (son of one of the three brothers that moved the Owens plant to Dundalk) spoke at the Classic Boat Event in St. Michaels, MD, June 17-19.
Mitch found the boat in California after a long search. Her bottom was best described as watertight prior to her return to Maryland. Since then, George Hazzard of Wooden Boat Restoration in Millington, MD, has been managing the process.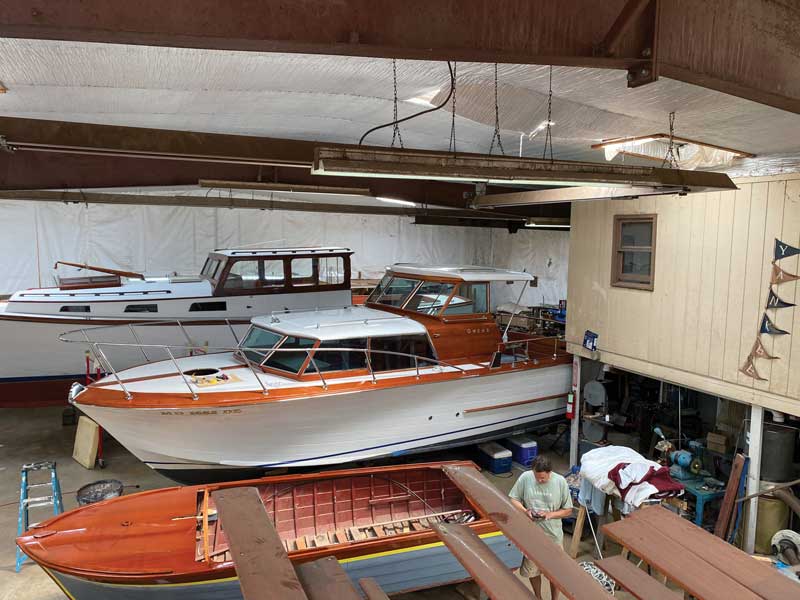 George Hazzard's is a restoration shop and marine service. George is known for his piano-like finishes and great (often award-winning) work that you'll also see in her generous brightwork both inside and on the outside of the yacht. The interior also needed to be re-done during this process including countertops in the galley that properly restored the yacht to "as new" condition. This project has been three years in the making, with typical starts and stops as restorations often go. 
This yacht has been repowered with twin 350 Chevy inboard engines with counter rotation as a part of its overall restoration. The 350-cubic-inch (5.7-liter) small block V8 has a 4.00-inch bore and 3.48-inch stroke. These new, replacement engines provide increased reliability while cruising the yacht on the Chesapeake Bay. 
Back in 1958, the Owens twin engine 28-foot cabin cruisers were delivered with counter-rotation gas engines. A few were offered with a single engine set-up. Owens had Flagship Marine, a subsidiary with a nearby plant in Baltimore, build its marine engines by converting them from automotive engines. Flagship Marine and Owens Yachts were acquired in 1960 by Brunswick Corporation.
The Owens 28 with an 11'5" beam was a popular step-up boat. It was a good model in the 1959 line-up that consisted of yachts from 22 feet with a 7'10" beam to 35 feet with a 12'1" beam. 
Owens Yachts was acquired by Brunswick Corporation in 1960. Initially, Brunswick reorganized the company into three divisions: Owens Yachts, Larson Boats, and Cutter Boats. Each operated from different plants.
After the selling season ended in 1961, Brunswick moved all three divisions to Warsaw, IN where they were led by a management group from Chrysler Corporation.
The most recent Owens Yachts that I've found were built in 1969—a combination of wood and fiberglass models from 27 to 47 feet.
[Note: This article was written prior to the Chesapeake Bay Chapter of the ACBS' Antique & Classic Boat Show on June 17-19 where George Hazzard's work was displayed in the Nautical Vendor section.]
By Chris "Seabuddy" Brown