Chris-Craft's "Special Race Boat" was launched in the middle of the depression, late in the 1930s. For several years they were produced in short runs and then discontinued in 1937.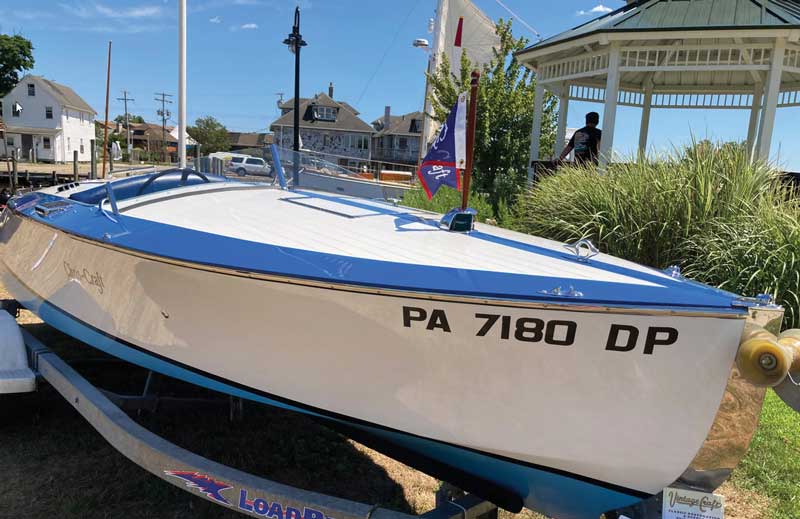 Chris-Craft used a 19-foot length overall but chose to narrow the beam to only six feet, two inches. Forward of her hull was 21 inches with 16 inches aft. In other words, a "small 19."
She was a racer, designed and built as a lightweight race winner! Although primarily sold for a racing class in Europe, some were also sold and successfully raced in the US.
To reduce the weight, thinner planking was used, and fewer accessories were offered as standard. The lighter weight, however, made these boats less likely to survive the hard rides and high speeds required in competition. As a result, finding a truly original version of this boat is almost impossible.
Today we're viewing a "made in Philadelphia" racer—a replica built from the original Chris-Craft drawings. Classic Restoration and Supply/Vintage Craft Boats built her in its fully equipped shop.
Its owner is Chad Brenner. The shop does restoration work on wood and fiberglass boats. Garwood, Chris-Craft, Lightning sailboats, a Shephard wood boat, and a Glastron fiberglass boat are among their recent restorations. Customized, handcrafted new boats to order are also built. 
Now this "small 19" speedboat looks like a fresh restoration of a very desirable model. She also has a major advantage: her speed and handling are worthy and fit for today's boating. 
She is powered by a marinized Chevy V-8 gas engine. It is Indmar's marine version of the Chevy V-8. The bore is four inches, and the stroke is 3.48 inches. It develops 350 horsepower with Indmar's special version and changes. With it, she is quick to get on a plane with two or more aboard and is a very fast boat.
Loafing at a smooth 2000 rpms on the tach is a pleasant cruising speed. Top speed with this prop is just under 50 mph. She is fast to react to any steering wheel movement and takes any turns like a bandit. A true racer.
Indmar Marine Engines has a history going back 50 years in the inboard marine industry and a proud tradition of pointing the way forward with its engines. Indmar is the world's largest privately held manufacturer of gasoline powered inboard marine engines and is recognized for its ability to push the envelope. Dick Rowe, a Marine Corps veteran, founded Indmar in Millington, TN, in 1971. To this day, it remains family owned, with Dick's son, Chuck Rowe, currently at the helm.
She was on display at the 2022 land and in-water boat show at Huddy Park in downtown Toms River, NJ. It was a nice boat show in a beautiful waterfront park at the top of the river.
Toms River has about 95,000 people now. It is the county seat for Ocean County. Founded in 1768, it has a central business area (the village) as well as the much broader suburban residential population area. During the 19th century, Toms River became a center for shipbuilding, whaling, fishing, and iron and lumber production. There was also a salt mining operation.
Back to Chris-Craft now. Joseph Napoleon Lisee was the hull designer behind Chris-Craft's race winning days. He was nicknamed "Nap." He was a master builder, designer, pattern-maker, wood turner, and had a reputation as a real perfectionist. 
He was born in 1891, died in 1946. He started working at Chris-Craft for Chris Smith in 1905. He designed Smith's 1916 successful Gold Cup raceboat, Miss Detroit. That racer was "a broken, battered hulk after the race, fit only for junk." 
"Nap" designed another racer (Miss Detroit II) to use the 250-hp engine from the remains of the original Miss Detroit boat. That was also a successful single-step hydroplane. She was 20 feet long. Miss Detroit II set a speed record of 61.724 mph. Jay W. Smith was aboard as the riding mechanic when the record was set. All the later Miss America hulls were a "Nap" design, including Miss America X, which set a record at over 124.42 mph. 
Chris-Craft has racing boats in its blood.
By Chris "Seabuddy" Brown