Before you dismiss wooden boats as too classic and/or high-maintenance, take a look at how Erik and Stacy Anderson found a 1963 custom wood Brownell fishing boat that satisfied the needs and interests of their entire water-oriented family. Allow me to introduce you to Seneca.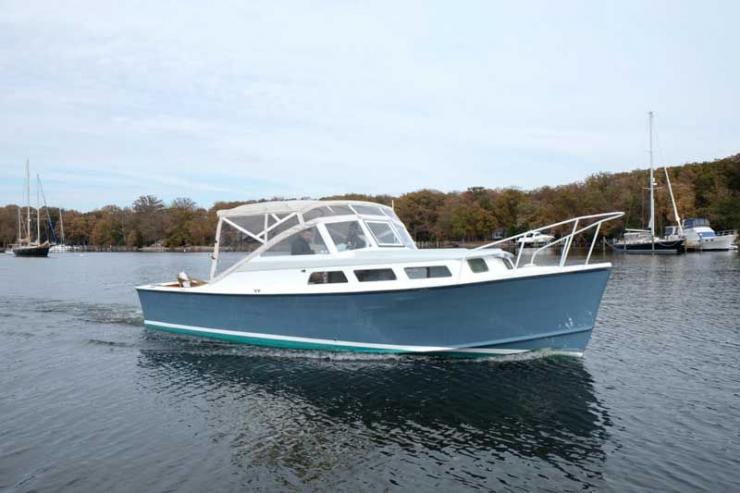 As a fishing boat, Seneca is naturally a great way for their family to catch rockfish or perch—either trolling or with light tackle. A freshly caught fish dinner onboard this boat is truly one of the joys of Chesapeake Bay boating.
This 32-foot beauty is multi-faceted though, making Seneca a perfect fit for the Andersons. Whenever a family member races sailboats locally, Seneca provides an ideal vantage point. From regular school-year racing and summer sailing programs to other water-based sports and activities, the family uses this boat frequently to directly participate or cheer them on. That makes for a full calendar of multi-season boating enjoyment along the rivers and Bay of the Chesapeake watershed.
Seneca also has the "bones" to go cruising, including onboard accommodations. The diverse rivers and anchorages around the Chesapeake Bay attract the family to getaway explorations. In fact, Seneca is a natural solution for visiting countless anchorages along the East Coast.
We automatically presume that wooden boats will require more attention. However, it's actually the amount of varnish that often dictates the timing and degree of outside maintenance needed. Here's where Seneca also has an advantage. Only her trim is bright finished—the balance is a painted in three colors that last substantially longer than varnish.
Erik relies on this approach, which makes owning a wooden boat very manageable. He expressed that regular work that keeps ahead of boat maintenance is the key to enjoying any boat, wood or fiberglass. Neither will be a burden as long as it isn't neglected. When you make a plan and keep to the plan, taking care of a boat is part of a family's fun. A fresh coat of hull topside paint had just been completed when I recently visited, and Seneca absolutely glistened. Hard to believe she's a 54-year-old! The topside paint had been completed four years prior to this fresh paint job, plus Seneca's bottom paint had also been renewed.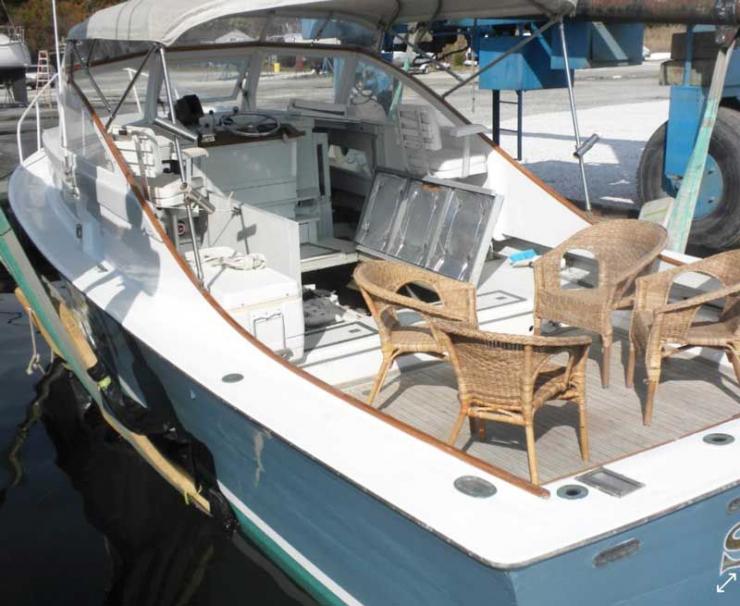 A quick look at the bottom while she was out of the water revealed a single propeller with a large keel. She has a shallow-vee, hard-chine hull shape. A sharp vee at the bow coupled with an easily driven configuration makes her a nice boat to run on the Bay. Figure on a 14-knot cruise at 2400 rpms.
Seneca is powered by a remanufactured Cummins diesel. That engine develops 210 horsepower and is believed to be only the second engine in the boat's long history. This is a popular engine for re-power from the yard that did the work. The Cummins engine replaced a GM Detroit Diesel Allison 6V-53 series diesel.
The hull is comprised of oak framing with mahogany carvel planking. The painted wood surfaces make her stand out whether underway or at a slip. I particularly like the sweep of her cabin trim.
Brownell is best known for boat-moving equipment such as oversized and specialty trailers, as well as boat hauling tractors and jack stands to store and stabilize boats put "on the hard."
Brownell still moves and transports boats. Now run by a third-generation family member, the company dates back to David "Fred" Brownell's custom boat building business that he started in 1954 up in Mattapoisett, MA. From the mid-1950s to the 1970s, a Brownell boat brought to mind a 26- to 33-foot boat that had fishing at the core of its design. Although Brownell no longer makes custom boats, it is still recognized for inventiveness in boat hauling.
After owning a 26-foot Chris-Craft for a number of years, Erik and Stacy find that Seneca perfectly fits their diverse needs and interests and is truly an active member of their family. By the way, Seneca is named after their grandfather's tug boat. Clearly boating—whether for recreation, sport or income—has deep roots in their family tree.
by Chris "Seabuddy" Brown