This Riva speedboat has Diva on her transom. This 18-foot, eight-inch by six-foot, one-inch V-8 speedboat model is affectionately known as the Riva Junior among Riva aficionados.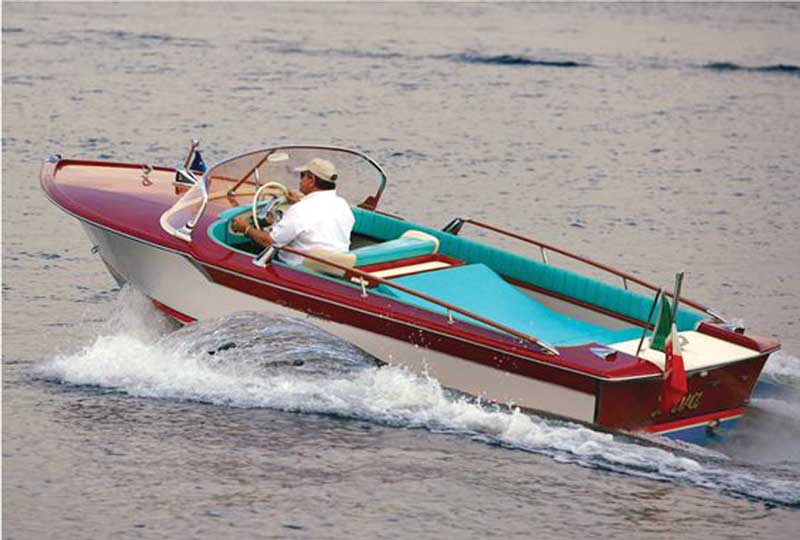 Diva was the boat displayed for four years in a special Riva showroom inside New York City's Rockefeller Center in the late 1960s. Although her model year is 1966, she was first sold as a 1969 model in 1970.
She was "dressed up" for the showroom with several features. The most notable is her engine, capable of attaining 45 mph, using the chromed engine exhaust manifolds that come on a Riva Aquarama model. She also had all the accessories that were available in the 1960s, like the swim ladder, flags, ski tow, paddles, etc.  
Fast forward to May 2001. Diva underwent a major restoration after she was purchased by her current owner, Peter Takvorian.
Since then, this speedboat has been an award winner, taking home "Best Preserved," "Most Original Boat," "Best in Show," "Best in Class," and "Platinum" awards at various Classic Boat Shows. 
In fact, I discovered Diva at the Bristol Classic and Antique Boat Show, where Peter had just won another award for this boat from the Mid-Atlantic Chapter of the Antique and Classic Boat Society. The attention to detail on this boat is impressive. It's no wonder she wins awards whenever she is shown. 
Earlier this year, Diva's Chevy V-8 was modified by Crusader USA Engines to meet Riva's specification: rated 180 horsepower at 4800 RPM with a two-barrel carburetor.
Let's take a closer look now at Crusader USA and its remarkable engines. Flash back to 50s speedboat racing when Cal Connell—local Detroit Cadillac dealer, successful entrepreneur, and a man who loved fast cars, fast boats, and powerful engines—decided to build his own brand of marine engines.
Since he was a Cadillac dealer, Cal's first inboards were built on a big, Cadillac V-8 block. Demand for those V-8 Cadillac Crusaders spread like wildfire among owners of homebuilt hydroplanes, classic wooden runabouts, and even some sailboats. Since Cal's engines immediately earned a reputation for reliability and performance, the demand for his Crusader engines soon spread nationwide to production boatbuilders.  
In 1972, Cal sold Crusader to Thermo-Electronics, a Fortune 500 holding company that specialized in high tech. Crusader continued to expand during the next 30 years, increasing production of its engines and securing business from a growing list of boat builders. 
Although the marine industry faced challenging economic times during the late 1980s, Crusader managed to not just survive, but prosper. In fact, the company was able to acquire Chris-Craft's engine division.
Now for a bit more about Riva, which describes itself as the "best-known nautical brand in the World" due in part to its more than 175 years of history as well as its sophisticated designs, superb craftsmanship, and high visibility among celebrities (in addition to appearances in countless movies). 
Today Riva's high style consistently turns heads worldwide. Buyers love Riva's upscale fit and finish. Both new and used Rivas are also in demand based on the quality of their construction. Owned by stars like Brigitte Bardot and Sophia Lauren, Riva boats express classic Italian design while using exceptional materials and powerful engines.
In 1842, Pietro Riva was a young shipwright who was staunchly committed to restoring a damaged fishing fleet after a bad storm on Lake Iseo in Northern Italy. His exceptional restoration work on the fleet quickly established his reputation. He opened a boating yard in Sarnico, where he built legendary wooden hulls. Over the years, the Riva name and reputation were further enhanced by his son Ernesto's designs for boats with internal combustion engines.  
The family's commitment to the brand continued into the 1950s, when Carlo Riva capitalized on the allure the Riva had among celebrities, royalty, and business owners. Carlo's talents and natural drive for perfection were legendary. During that period, he collaborated with designer Giorgio Barilani. That led to the introduction in 1962 of Aquarama, a wooden runabout that became an instant classic.
Carlo Riva also co-developed the technologies necessary to build his boats, including wood laminates, varnishes, chrome plating, and construction methods. In addition, he was involved with "the masterly development of the Riva Chevy engines."
By Chris "Seabuddy" Brown