Here's a runabout whose popularity lives on. She is an original 1956 AristoCraft Torpedo with a matching Wizard 25-hp, four-cylinder outboard. This 14-foot, four-seater wood runabout provided amazing family fun!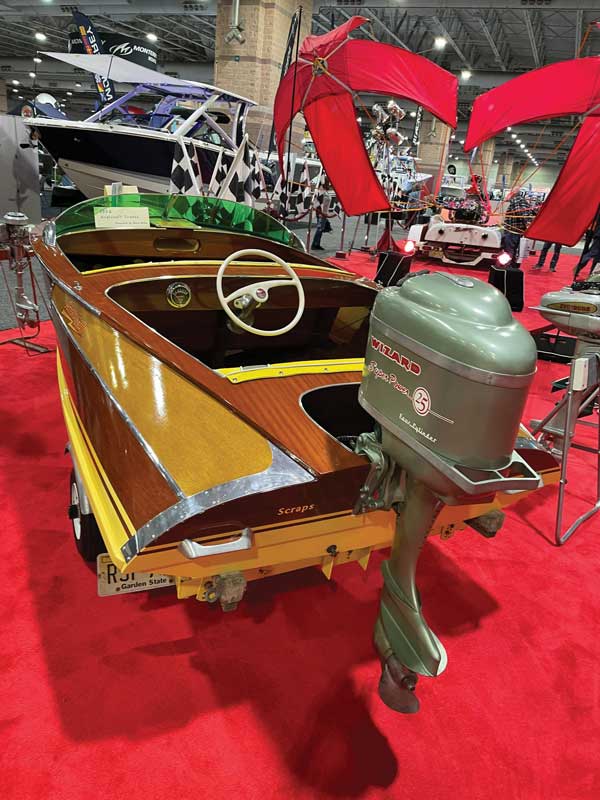 AristoCraft's founder was Claude Turner. After World War II, he started building small boats out of wood in Atlanta, GA. By 1947, wooden boats in a variety of lengths and hull styles were becoming popular and more affordable, so a variety of enterprising boat builders sprung up to meet that recreational demand. As we look back in time, that period spawned so many of the classic beauties we still treasure today. 
First up for Claude Turner was his Typhoon model, a 12-foot, two-seater runabout. Next was his 13-foot Barrelback in the late 1940s. This Torpedo made an entrance in 1956 in both 14- and 16-foot lengths. Claude's boats were all wood until 1959. Then, the company ventured into fiberglass and built a 19-foot model. 
Production stopped in 1980. Claude's son, Bill, only offered restoration and parts work until 1987, when he re-activated their production of new, historically correct AristoCraft wooden boat models in addition to managing the parts and restoration businesses. 
Because it's such a popular classic, AristoCraft is now producing the 1956 Torpedo runabouts using the same jigs that Claude used in the 1950s. Scott, Claude's grandson, has officially joined the business, too. His company usually has a display every March at the Sunnyland Antique and Classic Boat Show in Florida. I spotted one on display in a prior year that had a modern four-stroke motor under a 1960s two-stroke housing. She looked vintage but ran modern. Each year that's a display you won't want to miss if you're into classic wooden boats. Truly an iconic boat that oozes history.
Her engine was built by Mercury Marine but sold under the Wizard brand name, thanks to a private label arrangement that Western Auto requested from Mercury. The Wizard name also applied to the control box, which includes the throttle and shifter. 
This engine is a lot like a Mercury Mark 30 of the same year. The Mark 30's controls display a KAMINC label (for Kiekhaefer Aero Marine INC), which differentiated it from Mercury's "Quicksilver" accessories.
This 25-hp Wizard outboard motor was made for the freshwater environment, so it had to be cleaned after each saltwater use. The piston displacement is 29.78. The bore and stroke are 2.11 inches and 2.12 inches respectively. This outboard has a starter of the recoil type. 
The Mark 30 Merc powerhead is similar. It has the same basic block, but the Wizard has different reed blocks and different intake port covers. The top cowling is unique to the Wizard, as are the faceplates. The Wizard WA-25 also used the Merc Mark 20 tower and foot along with the MK20 transom bracket.
Then and now, the Torpedos show off their ribbon-stripe mahogany planking, finished with hand-brushed varnish. All the other materials used in this boat's construction are top-notch as well. Exact specs for this 14-footer include its 13-foot, nine-inch overall length, a five-foot beam, and approximately 297 pounds in weight (for the boat hull only).
She is a show queen and displays today like the star that she is. She was restored in about 2001 and has enjoyed heated storage ever since. 
All the interior seating surfaces and middle deck wood were replaced, along with the transom supports and the trim wood pieces. In other words, the worn pieces were either re-finished or replaced.
We recently saw her on display at the Atlantic City Boat Show. This year's large booth for the Mid-Atlantic Chapter of the Antique and Classic Boat Society (ACBS) had a great collection of fiberglass and wood boats. They even had two sailboats that they helped the local Sea Scouts restore, and there was also talk about restoring a Coast Guard steel boat as a group project. Another vintage head-turner was a 1962 turquoise Land-and-Sea outboard powered boat, dating back to the brand's days as the Michigan Fiberglass Co. The display was well staffed by the Mid-Atlantic club's volunteers who also love the classics, from race boats to very rare fiberglass runabouts that are all part of our hobby. 
By Chris "Seabuddy" Brown