Barnegat Belle is a 1946 Gar Wood 22-foot, six-inch runabout. She shines with her mahogany hull and deck polished to a smooth and glossy varnished finish. For several decades, however, this classic boat completely lost her beauty.
And then, Chris Johnson, with a passion for restoration and a collector of other classic wooden boats, rescued her from neglect in New Jersey and spent 10 years returning her to the life and attention she deserved. Chris' commitment was well-rewarded when she took home the "Best Restored Award" at the Antique and Classic Boat Festival in St. Michaels, MD.
Here's why she's so special…
Her length to beam ratio as well as underwater running surface demonstrates the genes of her speedboat performance heritage, thanks to Chris Smith, Nap Lisee, and Gar Wood.
Plus, as a post-World War II boat, she has deck styling touches from the industrial designer, Norman Bel Geddes. Note the chock hardware at the bow, along with the other bow-mounted metal trim and her windshield. Once your eyes head aft, take a look at the metal trim that draws your attention to the curves of the wood, from deck to transom. Be sure not to miss her upgraded trim-end pieces, too. These are the subtle marks that came with this built-to-be-sold-at-a-premium-price woody.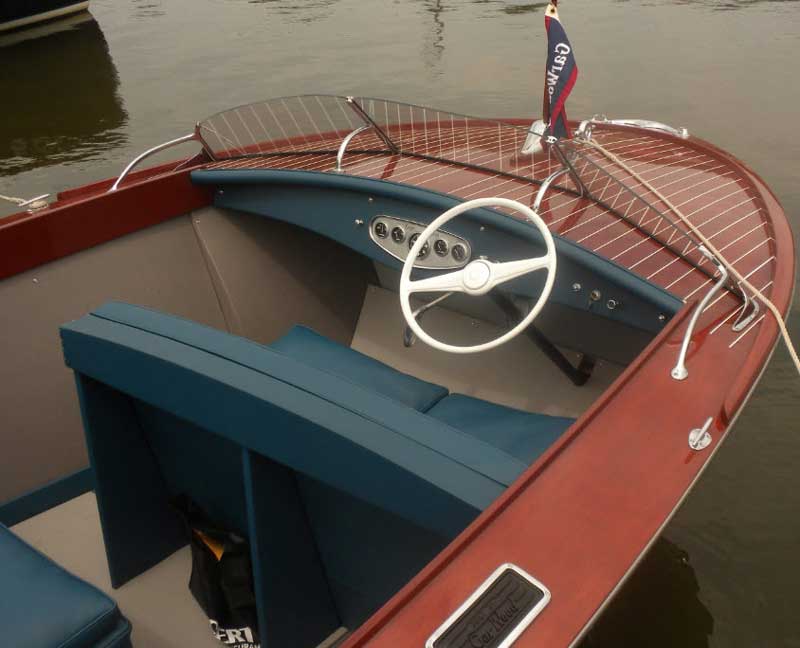 The open cockpit of this utility design offers good seating in three rows and plenty of walk-around room. For an open speedboat, she is powered by a fairly rare Chrysler Royal marine engine with a straight eight that generates 143-hp at 3200 RPM—the top engine for this boat model. Gar Wood stock-piled larger and more powerful World War I airplane engines for boat use, but that inventory was used up by the time this boat was manufactured. Plus, those engines were for use in longer length boats.
When we think about Gar Wood boats, images of the Miss America X race boat immediately come to mind. Images of Gold Cup racers and the Harmsworth Trophy competitions are among your first thoughts. Gar Wood has been called the "unlimited hydroplane racing's first superstar."
Gar Wood set records. He also did publicity stunts. He often wore a formal white suit complete with matching formal tails. Twice he also raced against land-based trains and beat them. In 1920, Gar was the first to average over 70 miles per hour in a Gold Cup competition.
Now for the story behind the creation of Miss America X. From a napkin sketch Gar Wood's famous 38-foot speedboat came to life. He envisioned a four-engine boat with two engines in tandem, each pair of engines in two banks. Gar needed that many engines to go fast enough to win the upcoming Harmsworth Trophy Competition. When he previously raced Miss America IX (a two-engine racer), his best speed was 111.712 mph. But his competition in Kaye Don's Miss England III outran him at 120.5 mph.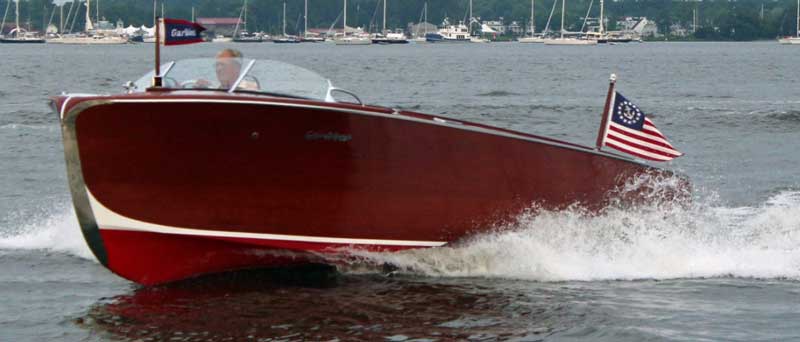 Miss America X was designed by Lisee based on Gar Wood's sketch. Lisee was the designer for Chris-Craft (then known as Smith and Sons), but he left them to join Gar Wood.
The Harmsworth rules called for a boat maximum LOA of 40 feet. Thus, the packaging was a driving force in designing a four-engine racer. Gar Wood wanted his 12-cylinder engines bolted together to effectively run as one 24-cylinder engine on each side. The Packard engineers wanted a flexible coupling between the two V-12s (set as two engines together and then two sets of the two engines for a total of four engines) but Gar said "No."
Gar and his experts continued to work on his engines every day for months, finally getting each engine to 1 800-hp at 2500 RPM. She had 7600-hp in her four engines. Launched in July of 1932, Miss America X set a world record of 124.91 mph on September 30 that year.
Gar Wood Inc. started in business in 1921. It closed up in 1947. By the way, his full name was Garfield Arthur Wood in honor of the newly elected U.S. President, James Garfield, and his Vice-President, Chester Arthur.
My photos are from the Classic Boat Show at its twelve acres in St Michaels, MD.
By Chris "Seabuddy" Brown
---
For more articles like this, visit our Classic Boat page.