We were in the middle of Lake Clarke, PA, in search of a lady. Nick Rosa and I were cruising in Teacher's Pet, his 1960 Century 19-foot classic boat, enjoying the purr of the Gray Marine (AMC Rambler) straight inboard engine.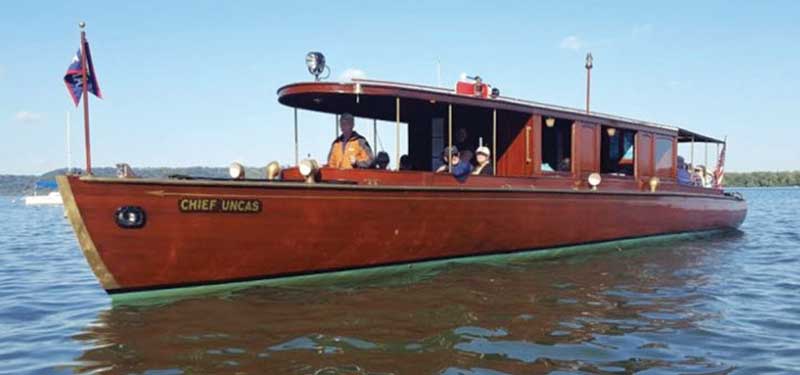 She's a lady! Named Chief Uncas, she is 55 feet long with a nine-a-half-foot beam and powered by the electric of 16 batteries. She weighs 12 tons with an all-mahogany hull and deckhouse. You'll see her along the pier at the Zimmerman Center in Wrightsville, PA, home of the Susquehanna National Heritage Area (SNHA).
Adolphus Busch, co-founder of Busch beer, had this electric-powered cruiser/launch built in 1912. 
Chief Uncas is well known for cruising Otsego Lake, the headwaters of the Susquehanna, for more than 100 years. Today she cruises the Susquehanna 400 miles downstream as the flagship for the SNHA's River Discovery Tours. 
Special guided tours are available every weekend and two tour options are available: A one-hour tour for 24 passengers, which runs three times/day. Or, the hour and a half "last of the day" cruise for 12 passengers. This tour offers a unique opportunity to roam the historic Chief Uncas as it silently cruises and is popular for its "spectacular views under the setting sun."
The staff guides you during each tour, sharing the Susquehanna's natural beauty and cultural heritage. It's great to hear stories of the river and view the scenic landscapes and abundant wildlife aboard this unique and historic treasure.
Tours depart from the Zimmerman Center at 1706 Long Level Rd. in Wrightsville, PA, June through mid-October. Donations are required for the cruise. Call (717) 252-0229 or visit susqnha.org/programs/heritage-program.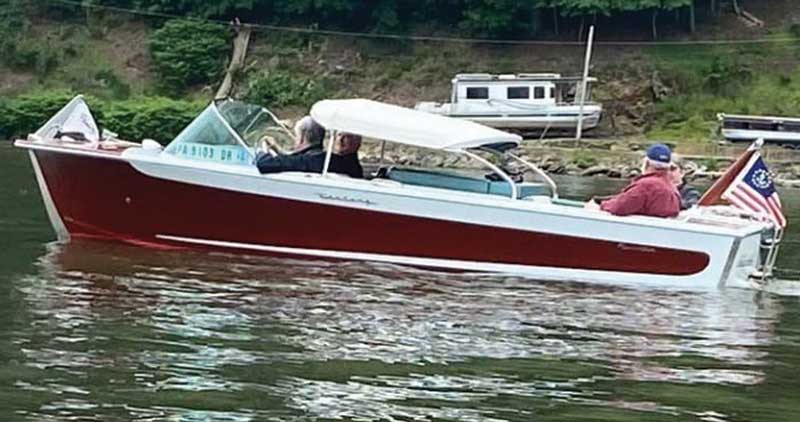 Now about Nick's Teacher's Pet. She is an ACBS award-winning classic inboard Century. The detail and fine craftsmanship of Nick's restoration over a 15-year period is apparent to all who approach her. Admiring looks and comments from the launch ramp and while cruising were all compliments on this 1960-era boat. 
Century boats built in wood are called "The Thoroughbred Fleet." Most had a big powerful V-8 or a big six-cylinder inboard engine in a direct drive marine power set-up. Century's "Resorter" boats were style leaders, both in the Century line-up and within the boating industry.
Century's wood boats relied on styling, use of color, hull design, and usefulness to grow their market share. The hull design for their boat models was often the fastest hull within their size range. They used paint and chrome as trim accents on their varnished mahogany runabouts. Their windshields were trendsetters in boating, often adapted from those on automobiles. 
Century had its own ideas about what made for a useful boat. Many of its competitors kept their seating within the boat in contained, separate cockpits. Two cockpits were the most popular. Three cockpits were also offered by other brands. During the Classic years, Century wanted better walk-around function than a cockpit-themed boat offered. So, the designers at Century combined the rows of seating into one big, open cockpit with a box over the engine. This allowed for full front-to-back access around the boat away from the dock float. In a Century Resorter utility, there was no more climbing over decking that separated seating areas.
My photos show a style of a wood Classic Century runabout that is nicknamed "the Carrier deck" in a 19-foot Century Resorter. The foredeck broadens out to a wide, almost aircraft carrier style, piano level finished varnished planked wood platform. You can get a glimpse of it in this photo. A very different and now rare boat design.
At 238-hp, this boat has the highest horsepower version of the 327 cubic inch "Fireball" engine. These engines were introduced into Century boats in 1958. It was offered in Rambler Rebel cars from about 1957. Thanks also to Classic Restoration and Supply for a great ride and an interesting visit to the SNHA!
The Mid-Atlantic Chapter of The Antique and Classic Boat Society is not only dedicated to the preservation and restoration of recreational boats and their history but also their operation and using them. For information about their programs and events, visit mid-atlanticacbs.com. 
By Chris "Seabuddy" Brown