Jimmy Buffett passed away on the Friday of Labor Day Weekend. "Come Monday" I wanted to be on the water and was determined to affect some sort of rum-based toast to commemorate the "Son of a Son of a Sailor" while on the Chesapeake Bay.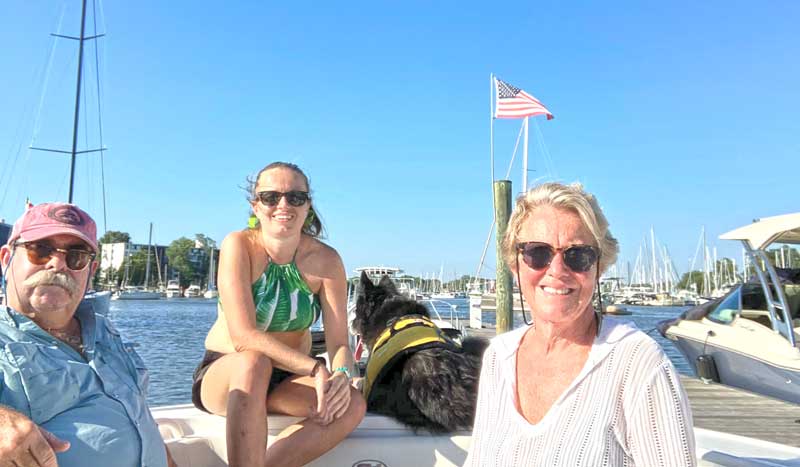 The forecast for Monday, September 4, Labor Day, was mostly sunny, with temperatures expected to reach over 100 degrees, low wind at five to eight knots, and waves less than one foot. Except for the typical Labor Day boat traffic, it promised to be a fantastic day for a boat trip.
On the boat with me was my wife Neile, my daughter Emma, and our border collie Cap. We planned to circumnavigate Kent Island, and this would be the first big day trip for us on our 25-foot Sea hunt CC Blue Pearl. I figured it would be about a 38- to 45-mile cruise and take approximately two to three hours with a stop for lunch.
We departed the dock at Bert Jabin Yacht Yard around 12:30 p.m. We plotted our course across the Bay to the Bay Bridge, continuing north to the approaches of Rock Hall toward R N "2" and, staying west of any shallows, turning south around Love Point. Then, we would head to the mouth of the Chester River and the entrance of Kent Narrows channel.
We arrived at the channel entrance about one and a half hours before low tide. The chart says it is 60 feet wide and four feet deep at MLW. With two-way traffic, the passing boats create the illusion of a narrower passage. We were following a 30-foot trawler in, and my depth sonar showed three and a half feet of water. Our boat draws about 30 inches with the motor down, so I raised my motor up about three to four inches as a precaution.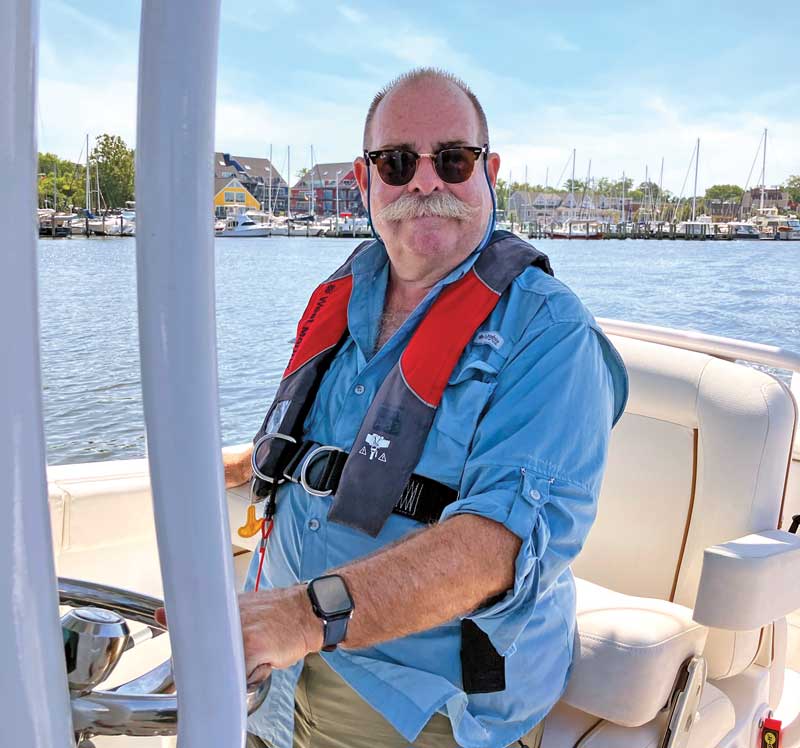 My mind flashed back to when we had the 20-foot Trophy CC motoring south of Sarasota on the ICW. Before I had an electronic chartplotter, I missed a slight dog leg in the waterway. The boat slowed some. When I looked back, there was a brown sandy colored cloud plowing up behind the Trophy. I raised that motor and turned left back into the waterway. Idling through Kent Narrows, I looked back a few times as well. No issues.
People who live and work around Kent Island and boat the Narrows regularly tell me that there's always plenty of water there. (Next time maybe arrive at the channel closer to high tide.)
Approaching the bridge at Kent Narrows and passing serval dockside bars, you could hear the sweet familiar sounds of Jimmy Buffett music: "Fins up" at Red Eye Dock Bar to our left and "fins up" at Dock House bar to our right booming an homage to the old troubadour. 
We continued out of Prospect Bay and opened up the throttle on the smooth waters of Eastern Bay, making our way toward the Chesapeake Bay. Boat traffic seemed light for Labor Day, but there were still a few boats to deal with.
Our plan was to come out of Eastern Bay, head north into the Chesapeake, and stop and anchor off Thomas Point Light. We would have lunch there and, with Thomas Point Light in the background, snap a few pics of us sharing a splash of rum hoisting a glass and tossing one into the Bay in memory of Jimmy Buffett.
The Annapolis anchorage was packed with ships. One loaded container ship was heading north toward the bridge, and a barge was pushing south. After the barge and push boat passed, we turned west and motored over to the lighthouse. But with the movement of those big boats creating a long tail of a wake and a few recreational boats playing around Thomas Point Light it made the water a bit too choppy to comfortably anchor for lunch, so we continued north toward Back Creek.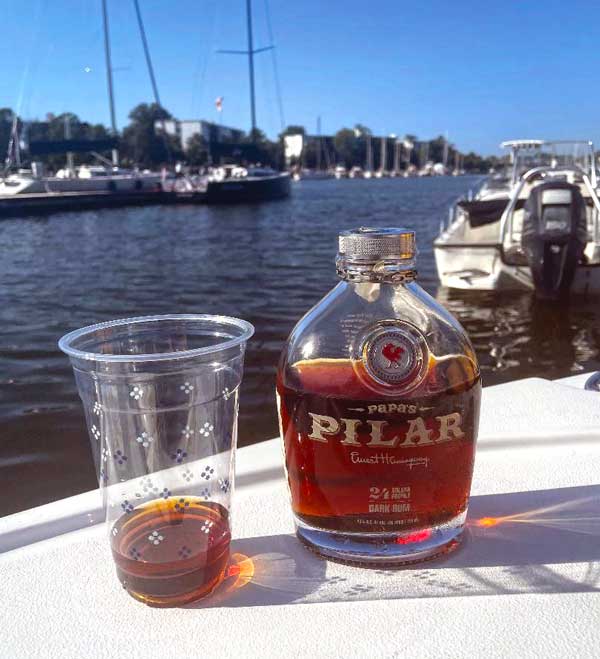 We arrived back at Bert Jabin Yacht Yard around 4 p.m., docked the boat, flushed the motor, did a quick top-side wash down, and then sat on the boat and enjoyed our lunch.
After lunch we poured four shots of a Key West rum. With Jimmy Buffett crooning "Mother, Mother Ocean, I have heard you call…Yes I am a pirate…" from our boat's speakers, we hoisted our glasses and tossed a shot of rum into Back Creek for the Old Salt. 
By G. Steven Martin