Once assessed at around 600 acres, Sharps Island is now completely lost from view, no more than an underwater shoal marked by a small sign and a nearby lighthouse. The former island lies just west of the mouth of the Choptank River, off Talbot County, MD.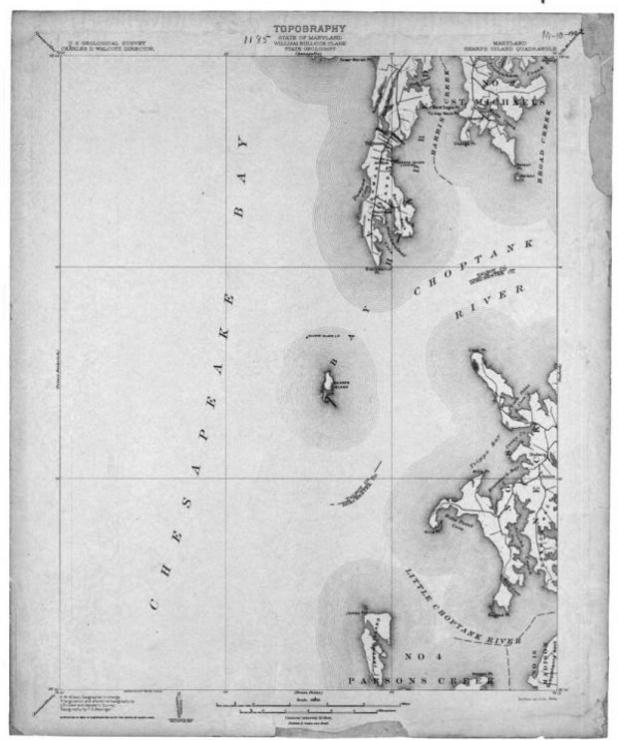 For much of its short history, Sharps Island was used primarily for farming. Wheat, tobacco, corn, potatoes, and produce were raised on its shores. By the 1830s, the island had been reduced to nearly half its original size. It was around this time that the federal government began drafting plans for the first of three Sharps Island lighthouses. Built in 1838 using a $5000 appropriation from Congress, the light quickly became a welcome aid to boaters navigating the dangerous shoals of the Eastern Shore. It was erected on a small frame house 30 feet above sea level. But despite its height, wind and waves continued to batter the island and erode away its shoreline.
In 1848, additional acreage had to be purchased and the lighthouse was moved inland, but this was only a temporary fix. In 1866, when the base of the structure was compromised, it was replaced with a screwpile lighthouse and placed a third of a mile off the northern tip of the island. That structure did not fare much better than its predecessor, lasting only 15 years. The screwpile light remained in operation until the winter of 1881, when ice floes dislodged its supports and carried the house away. The lighthouse keepers were on duty at the time and became trapped inside the structure. They were carried nearly five miles until the light ran aground and they were able to escape unharmed, with the lighthouse's lens.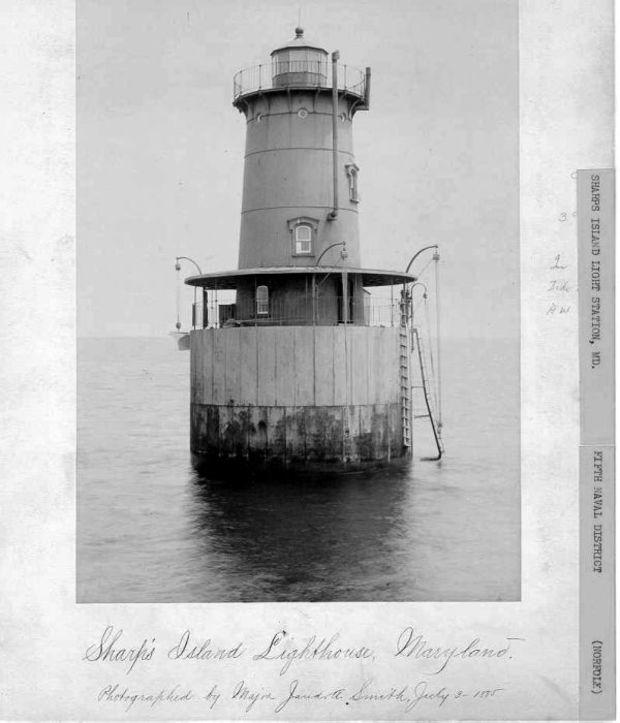 The Lighthouse Board was soon granted $35,000 in funds to build a replacement light, completed in 1882. It was attached to an underwater plot and featured a concrete caisson foundation and a 35-foot tower. The light was manned until 1938 when it was automated by the U.S. Coast Guard. It marks both the entrance to the Choptank River and the main shipping channel of the Chesapeake Bay.
Toward the end of the nineteenth century, Miller R. Creighton purchased Sharps Island and built a three-story hotel, along with a boardwalk and steamboat landing on its shores. Given the popularity of Victorian-era bayside resorts, the hotel was a great success, with wealthy Baltimoreans flocking to its shores in the summer months. Unfortunately, that idyllic atmosphere could not last. By 1900, the island had shrunk to only 94 acres, and the steamboat pier was completely gone. Within 10 years the Sharps Island Hotel was closed and torn down. The only remnant of the once thriving resort was its lumber, which was allegedly used to build homes on the nearby Tilghman Island.
After the closing of the hotel, Bay waters continued their advance on the remaining land at an alarming rate. By 1960, Sharps Island had been reduced to a shoal, completely lost from view. Now all that remains is the third lighthouse, currently featuring a 15-degree list after it was damaged by ice in 1977, and a small warning buoy. On charts it is simply known as "Sharps Island Obstruction."
---
For more Chesapeake history, check out some of our other articles: