When the weather gets too cold to be out on the water, head inside to these Chesapeake Bay winter boat shows to stock up on boating gear, find deals on new boats, sit in on a seminar, and catch-up with fellow boaters and anglers. We will continue to update this page as more dates are announced. Be sure to check event websites for any updates and/or cancellations before heading out.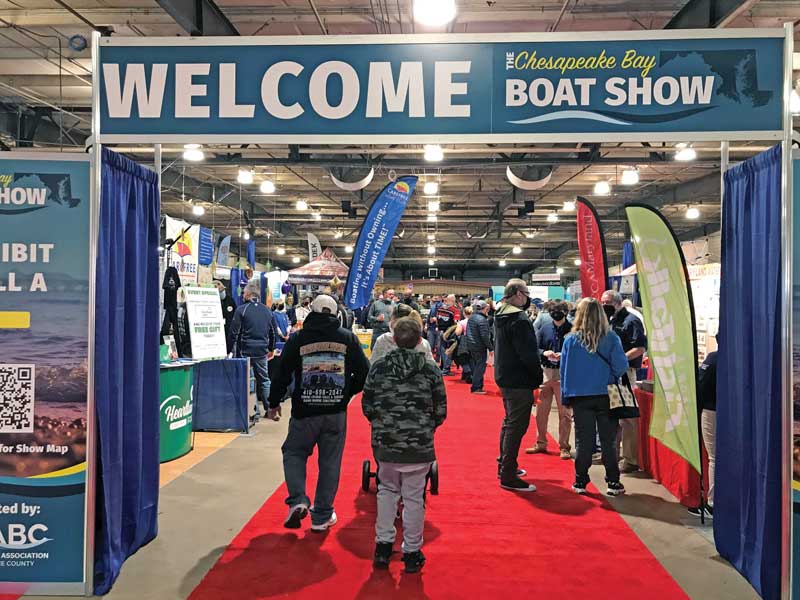 January
13-15: 48th East Coast Commercial Fisherman's & Aquaculture Trade Exposition at the Roland E. Powell Convention Center in Ocean City, MD. $15 a day, $25 for two days, $30 for three days. 
14: First Annual Fishing & Outdoor Expo and Flea Market at the North Beach Volunteer Fire Department in North Beach, MD. 8 a.m. to 2 p.m. Parking at the firehouse and Kellam's Field (shuttle provided). $5 entry for adults, kids 12 and under are free. Inshore/offshore tackle vendors, charter captains, boating and fishing supplies, marine artists, crabbing supplies and vendors, rod and reel vendors and repairs, used supplies, boat vendors and marine techs, custom rod builders, and more.
20-22: The Chesapeake Bay Boat Show at the Maryland State Fairgrounds in Timonium, MD. Presented by the Marine Trades Association of Baltimore County. Show times are Friday 10 a.m. to 7 p.m., Saturday from 9 a.m. to 8 p.m., and Sunday 9 a.m. to 5 p.m. General admission tickets cost $10 (ages 13 and up), $7 for military with ID at door, and free for ages 12 and under. The show will feature over 30 Maryland boat dealers showcasing new boats and marine equipment, including sport fishing boats, performance boats, ski boats, cruisers, cabin cruisers, and more. It will also include entertainment, food and beverages, free educational seminars, The Fishing Pier, and plenty of free parking. Stay tuned for a full guide to the show in PropTalk's February issue. 
20-22: The Richmond Fishing Expo held at Meadow Event Park in in Doswell, Virginia will feature a large array of fishing tackle combined with some of the finest professional anglers around. Friday 9 a.m. to 7 p.m., Saturday 9 a.m. to 7 p.m., Sunday 10 a.m. to 5 p.m. Admission:  Adults $9, Seniors 60+ & Military $8, Jr. Anglers (6-12) $5, Children 5 & under FREE.
26: Get Hooked Fishing Seminar – 6 to 8 p.m. at Bosun's Marine Maryland. "Jigging and Trolling Tips for Catching Middle Bay Rockfish" with Lenny Rudow. Free. 
28: Tri-State Marine's Annual 'Early Spring' Open House at Tri-State Marine in Deale, MD. 8 a.m. to 5 p.m. 
28-29: Kent Island Fisherman's 12th Annual Fishing Flea Market at the Kent Island American Legion Post #278 in Stevensville, MD. 8 a.m. to 3 p.m. Admission costs $4 (ages 16 and under are free). Fishing rods, reels, lures and other fishing accessories, fishing charters, crabbing supplies, food, and more. 
February
3-5: The Mid-Atlantic Sports and Boat Show at the Virginia Beach Convention Center in Virginia Beach, VA. Tickets cost $10, children under 12 are free. 
4: Fisherman's Flea Market sponsored by Electric Bass Anglers -  New and used freshwater and saltwater tackle for trout, snakehead, and more! 8 a.m. to 2 p.m. at Hereford Volunteer Fire Hall, 510 Monkton Rd., Monkton, MD 21111. Admission: $4 adults, children 12 and under are FREE. 
4-12: Great American Outdoor Show - More than 1,000 vendors will exhibit the latest in gear for hunting, fishing, and camping at the Pennsylvania Farm Show Complex & Expo Center in Harrisburg.
17-19: Philadelphia Fishing Show at the Greater Philadelphia Expo Center in Oaks, PA. Free seminars, saltwater, freshwater, fly, trout pond, lodges and guides, charter boats, apparel and gear, boats, RVs, art, marine electronics, and more. Tickets cost $10 for adults, $5 for kids ages six to 12, and free for kids five and under. 
17-19: 40th Annual OC Seaside Boat Show at the Ocean City Convention Center in Ocean City, MD. Admission $10, children under 14 cost $1. 
18: Central MD Bassmaster Flea Market at the Gamber & Community Fire Company in Finksburg, MD. New and used fishing gear, 50/50 raffle, and door prizes. 8 a.m. to 1 p.m. Admission: $4, children 12 and under are free.
18-19: 30th Annual Pasadena Sportfishing Expo at Kurtz's Beach (2070 Kurtz Ave.) in Pasadena, MD. 8 a.m. to 2 p.m. both days.
23: Bosun's Get Hooked Fishing Seminar at Bosun's Marine in Grasonville, MD. 6 to 8 p.m. "Fishing Kent Island" and "Rod/Reel winter maintenance" with Bill O'Brien and Captain Mark Galasso. Free.
24-25: 77th National Outdoor Show at 3485 Golden Hill Road in Church Creek, MD. Admission: $8 adults, $4 children. This show has the goal of preserving Dorchester County's heritage by recognizing its resources and spotlighting the people who carry out unique talents in their way of life.
25: Fishing, Hunting, and Boating Flea Market at the American Legion Post 91 in Cambridge, MD. 8 a.m. to 3 p.m. $5 entrance fee, children 12 and under are free. Held by the Mid-Shore Fishing Club. 
25: Saltwater Fishing Expo at the Annapolis Elks Lodge. 8 a.m. to 3 p.m. Presented by the Annapolis Anglers Club. Seminars on Bay fishing techniques along with a panel discussion on light tackle fishing will help anglers hone their skills for the upcoming season. Dozens of local tackle vendors will be on hand to offer their tackle innovations at show prices for the Chesapeake Bay and the DelMarVa coast. Admission is $5 at the door.
March
4: The Ultimate Light Tackle Seminar presented by Island Tackle Outfitters and Shimano at Cult Classic Brewery, 1169 Shopping Center Road, Stevensville, MD 21666. 11 a.m. - 4 p.m. Featured speakers and vendors - Lenny Rudow (FishTalk Magazine), Capt. Jamie Clough (Eastern Shore Light Tackle Charters), Shawn Kimbro (Chesapeake Light Tackle), Capt. Steve Griffin (Griffin's Guide Service), David Sikorski (CCA MD), Patrick Latham (Shimano), Rich Jenkins (Coach Jigheads), and Capt. Lonnie Johnson (G-Eye Jigs). Limited tickets available at Island Tackle Outfitters - $75 each or $450 for a table of 4. Includes catered lunch, complimentary beer, captains bag, door prizes, and raffles.
11: Great Bridge Fisherman's Association Annual Fishing Flea Market at Chesapeake Conference Center in Chesapeake, VA. 8 a.m. to 2:30 p.m. New and used rods and reels, fresh and saltwater gear, custom lures, boats and trailers, hot food and cold refreshments. Admission: $5, free parking. 
11-12: Essex Middle River Fishing Club Annual Flea Market at the Rosedale Volunteer Fire Company (8037 Philadelphia Rd. Rosedale, MD, 21237). 8 a.m. to 2 p.m. both days. Food and refreshments. $5 admission, under 13 are free. For more info, call Frank at (410) 686-2348.
18: Maryland Fly Fishing and Collectible Tackle Show at West Village Commons in Towson, MD. Tickets cost $15 for adults, $5 for ages 10-16, and free for children nine and under. 
25-26: MD Sportsman Expo at the Howard County Fairgrounds in West Friendship, MD. This show offers a one-stop shopping experience, with great values on hunting and fishing gear, clothing, ATVs, boats, RVs, and trucks.  
Find a directory of fishing clubs on FishTalk's website.