The Maryland Department of Natural Resources announced results of this year's juvenile striped bass survey, which tracks the reproductive success of the iconic fish in the Chesapeake Bay. The 2021 young-of-year index is 3.2 which is slightly higher than last year but still below the long-term average of 11.4.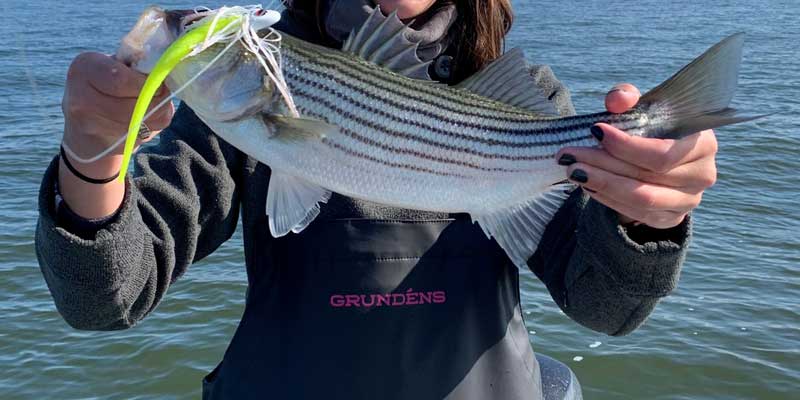 The coastal striped bass population has decreased in size, but is still capable of strong reproduction with the right environmental conditions. Variable spawning success is a well-known characteristic of the species. The index is slightly higher than 2020 but consecutive below average indices are a concern, and biologists continue to examine factors that might limit spawning success. 
Atlantic Coast states enacted responsible conservation measures in recent years to reduce harvest and protect striped bass during spawning season. Maryland will work with other states in the Atlantic States Marine Fisheries Commission to develop additional measures to enhance the striped bass population through the Atlantic striped bass fishery management plan.
Other noteworthy observations of the survey were increased numbers of Atlantic menhaden in the Choptank River and healthy reproduction of American shad in the Potomac River. The survey also documented reproduction of invasive blue catfish in the upper Chesapeake Bay for the first time.
Twenty-two survey sites are located in four major spawning areas: the Choptank, Nanticoke, and Potomac rivers, and the Upper Chesapeake Bay. Biologists visit each site three times per summer, collecting fish with two sweeps of a 100-foot beach seine net. The index represents the average number of recently hatched striped bass, commonly called rockfish, captured in each sample.
The Virginia Institute of Marine Science conducts a similar survey in the southern portion of Chesapeake Bay.
Response from the Chesapeake Bay Foundation
CBF's Maryland Senior Fisheries Scientist Allison Colden issued this statement in response to the declining Maryland numbers:
"With the third year in a row of below average striped bass recruitment, we cannot continue to ignore this troubling trend. Progress must be made to reduce mortality, protect spawning striped bass, and safeguard the above average 2015 cohort of fish that will soon enter the fishery. We also must double-down on our efforts to prevent pollutants from reaching the Chesapeake Bay, which exacerbate dead zones that contribute to greater striped bass mortality."
Chesapeake Bay Foundation Senior Regional Ecosystem Scientist Chris Moore issued the following statement.
"The low recruitment of young-of-the-year striped bass in parts of the Chesapeake Bay, a crucial nursery area for 70 percent of striped bass on the East Coast, continues the troubling news about this iconic fish. With the Atlantic States Marine Fisheries Commission meeting next week, this in another reminder of the need for decisive action to rebuild the striped bass population in the Bay and up and down the East Coast.
 "Rebuilding striped bass numbers is going to take all of us working together, from coastal states carefully managing the fishery to anglers ensuring that released fish survive. Despite encouraging news about the reduction in harvest last year, we still have much to do in order to restore the striped bass population."