The holidays are hard to beat no matter where you're celebrating, but Chesapeake towns know how to put their own twist on the festivities. From crab basket Christmas trees to Chesapeake Bay lighted boat parades, there's no shortage of fun happenings.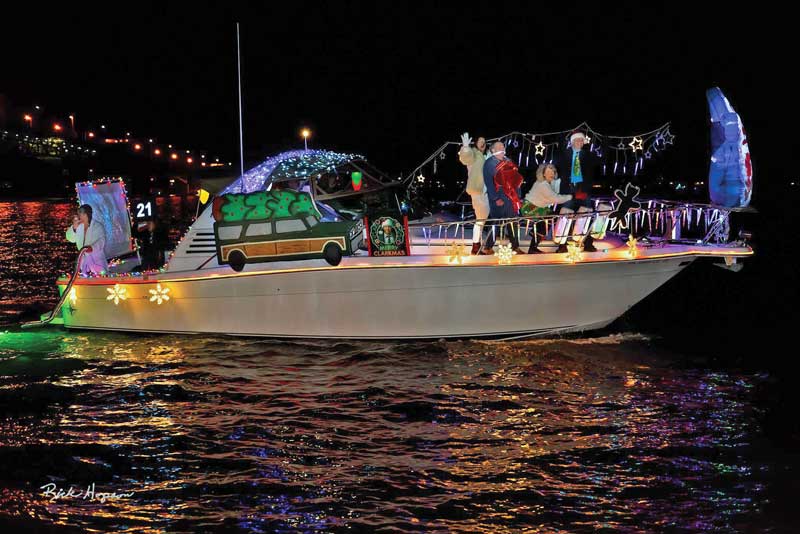 Upper Bay
Middle River Parade of Lighted Boats: November 26
Cheer on the nearly 100 boats that participate in this annual tradition in Middle River, MD. This is the Mid-Atlantic's largest lighted boat parade, and now the fifth largest in the US! Boats will start at Stansbury Yacht Basin at 5:15 and then the parade route is as follows: Carson's Creekside/Dark Head Cove/Lagoon, Crazy Tuna/Riverwatch, MRYC, Middleborough/Norman Creek/Crescent YC, Bauernschmidt Manor/Eastern YC, Rockaway/Turkey Point, Bowleys Point, Frog Mortar Creek/Bowleys on the Bay, and then back to Stansbury. The route is subject to change based on weather conditions and parade size. To register, text your name, address, and boat length to (410) 463-2686 (the captain's package includes gift cards worth more than $300!). Learn more at facebook.com/mrboatparade.
Pasadena Lighted Boat Parade: November 26
The route starts at 5:15 p.m. at The Rumor Reel and ends at the Broken Oar Bar and Grill at approximately 8:15 p.m. This year's parade will be live streamed! Call (410) 255-1771 to register your boat and/or purchase tickets to the after-party. The $25 registration fee includes the captain's meeting with goodies, two tickets to the after party, and prizes. The after-party starts at 8 p.m. at the Broken Oar Bar & Grill in Glen Burnie, MD. There will be food, music, non-alcoholic drinks, and drink specials (cash bar). Tickets cost $40. Learn more at facebook.com/PasadenaBoatParade.
34th Annual Baltimore Parade of Lighted Boats: December 3
A spectacular display of decorated boats will parade through Baltimore's Inner Harbor and Fells Point. Find a spot at the Inner Harbor Promenade or choose a waterfront restaurant to watch from. The parade is scheduled to begin at 5 p.m. at Anchorage Marina and lasts until 8 p.m.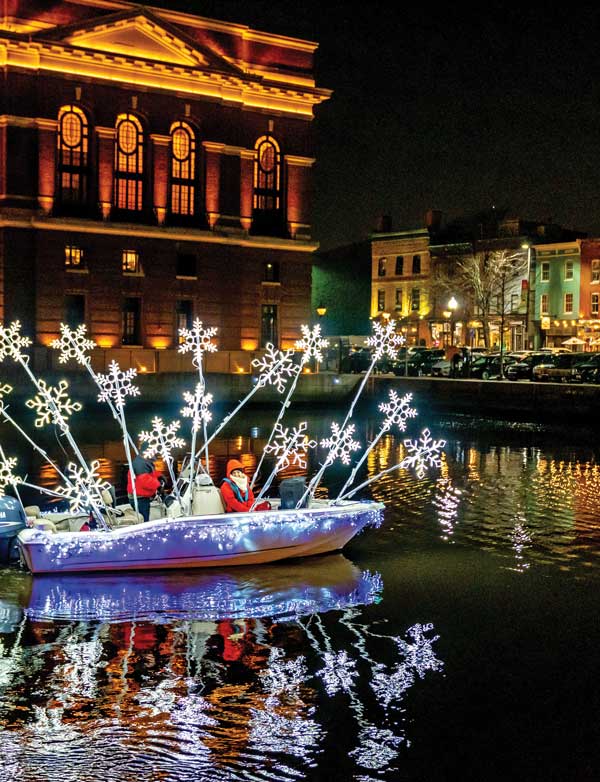 Bear Creek Lighted Boat Parade: December 3
Starting at 5 p.m. at Hard Yacht Café in Dundalk, MD. Visit the Bear Creek Sailing Association Facebook page to register your boat. 
Christmas in Chesapeake City: December 10
On December 10 from 10 a.m. to 6 p.m., Poplar Hall presents the Christmas Parade of Horses and Market. The day begins with an amazing parade of horses directly through and around Historic Chesapeake City, MD. Afterwards, enjoy an all-handmade artisan Christmas market, bagpipers, a European Father Christmas, and so much more. The Chesapeake City Candlelight House Tour takes place the same day from 6 to 9 p.m. Learn more at chesapeakecity.com.
Middle Bay
Colonial Beach Lighted Boat Parade: November 26
Boats adorned in colorful lights will move in formation up the beachfront of the Town of Colonial Beach, and then make their way back to Monroe Bay. The parade, which begins around 5 p.m. at Marker 2, is part of the town's annual Winter Festival, which also includes a Tree of Lights, pictures with Santa, and all sorts of other holiday delights. Prime viewing areas include the Riverboat restaurant or anywhere along the beachfront or boardwalk or the end of the Town Pier. 
St. Mary's County Exhibits
From November 27 through January 1, guests can enjoy tours through a family-friendly retro holiday exhibit in the Piney Point Lighthouse Museum and keeper's quarters in Piney Point, MD. And at the St. Clement's Island Museum, December 1 through January 1, there will be a holiday exhibit featuring antique and collectible dolls, classic trains, and other retro toys in Colton's Point, MD.
Midnight Madness in Annapolis
The streets and storefronts of Historic Annapolis will be adorned with holiday decorations and lights to create a downtown winter wonderland. Visitors are invited to stroll along Main Street, West Street, Maryland Avenue, State Circle, Market Space, and Dock Street from 4 p.m. until midnight. Midnight Madness dates include December 1, December 8, and December 15 (shops only open to 11 p.m. on the 15th.). 
Alexandria Christmas Walk Parade and Holiday Boat Parade of Lights: December 3
The 51st annual Alexandria Scottish Christmas Walk Parade takes place December 3 at 11 a.m. Dozens of Scottish clans dressed in colorful tartans parade through the streets of Old Town, joined by pipe and drum bands from around the region, as well as terriers and hounds.
Dozens of brightly lit boats will cruise along one mile of the Potomac River shoreline for the Holiday Boat Parade of Lights, starting at 5:30 p.m. at the Alexandria City Marina. The duration of the parade can vary from 30 minutes to an hour based on total participants, cruising speeds, and river conditions. Find directions and parade viewing areas at visitalexandria.com/holidays/boat-parade. Dockside festivities start at 2 p.m. at the Old Town Alexandria Waterfront at Waterfront Park including a pop-up beer garden from Port City Brewing Company, food, activities, and more. 
The District's Holiday Boat Parade: December 3
Celebrate the holidays with this iconic Washington, DC, event (it's the 30th anniversary!) that features over 60 beautifully decorated boats parading along the Washington Channel. Enjoy activities through The Wharf from 6 to 9 p.m., including a waterfront beer and wine garden, s'mores, and live music. Boats arrive in the Washington Channel at 7 p.m., followed by a fireworks salute at 8 p.m. and live music on the District Pier Stage from 8:15 to 9 p.m. This event is free and open to the public and will take place rain or shine. 
"Crabby Christmas" Parade: December 3
The 73rd Annual Cambridge-Dorchester County Christmas Parade takes place Saturday, December 3 in Cambridge, MD. The parade is hosted and brought to the community by a small group of community volunteers for their love of community and the holiday season. The parade is 100 percent donor funded by local businesses, charities, and the community at large. Each year brings something new and exciting, and this year's theme is "Crabby Christmas." The parade route begins at Long Wharf, progresses down High St., turns left onto Poplar, straight down Race St., and ending at Washington St. by Haddaways. Lineup begins at 4 p.m. and the parade kicks off at 5 p.m. You can find a map of the parade route at christmasparade.org.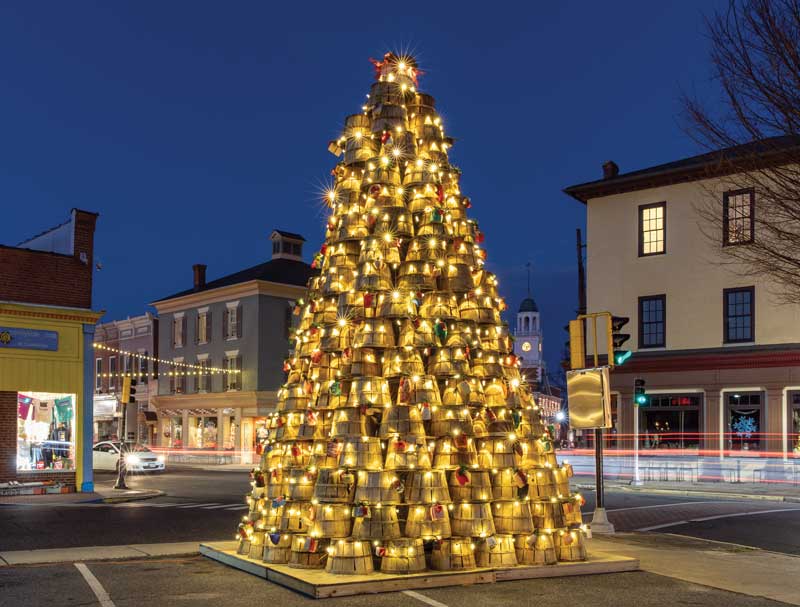 Rock Hall, MD
In the town of Rock Hall, you'll want to mark December 3 on your calendar as Santa arrives to light the crab basket tree at 5 p.m. And on December 10, the Rock Hall Holiday Market takes place from 11 a.m. to 4 p.m. Stay tuned for more details at rockhallmd.com.
Christmas in St. Michaels: December 9-11
This year's Christmas in St. Michaels events include a lighted boat parade and festive Talbot Street Parade (Saturday, December 10 at 10:30 a.m. from Perry Cabin south to Seymour Avenue), a home tour, breakfast with Santa, holiday music and meals, a Santa dash, marketplace and sweet shop, and a "Light up the Night" drive-by house and harbor tour.
The Lighted Boat Parade takes place December 10 at 6 p.m. around St. Michaels Harbor. This is a judged competition for bragging rights. Find a map of the parade route and a registration form at christmasinstmichaels.org. The Chesapeake Bay Maritime Museum will open its campus to view the lighted boat parade and admission is free after 4 p.m. (The exhibition buildings will be closed, but the bathrooms will be open. Please, do not leave trash behind.) All proceeds from the sale of the limited-edition collector's ornament and other products directly benefit local, nonprofit organizations in the community.
Eastport Yacht Club Lights Parade: December 10
This year marks the 40th anniversary of the Eastport Yacht Club Lights Parade! 6 to 8 p.m. in Annapolis Harbor. The city will be extremely busy the night of the parade and traffic movement will be limited before, during, and after the parade. Please note: the Spa Creek Bridge will be closed to vehicles crossing between downtown Annapolis and Eastport periodically from 5:30 to 8 p.m. Find a parade route, viewing locations, parking, and public transportation information at eastportyc.org/lights-parade. You can also find decorating tips and a registration form at the same link. Skippers must register and attend the Skipper's Meeting Thursday, December 8 at 7 p.m. at Eastport Yacht Club (EYC). The parade is open to anyone with a lighted boat, power or sail, EYC members and non-members. 
Solomons Christmas Walk: December 10
This year, Solomons, MD, celebrates its 41st Christmas Walk! The Christmas tree in the Solomons Riverwalk Gazebo will be lit at 6 p.m. on Friday, December 9 (the 15- to 18-foot tree will arrive Monday, November 28). At the gazebo, you'll also find Santa's mailbox for letters to Santa, and the island will be decorated with lights and banners. The deadline for judging the Best Decorated Home and Best Decorated Business is Saturday, December 19. Decorated houses and businesses in Solomons/Dowell will be scored and voted on by the public on the Solomons Business Association Facebook page. Other events include the Patuxent High School Jazz Band, professional pictures with Santa, refreshments, cookies, and of course, the lighted boat parade.
The Solomons Lighted Boat Parade will be held on December 10, weather permitting. Lighted sail and powerboats of any shape and size are welcome. The captain's meeting is at 5:45 p.m. at the Solomons Yachting Center dock office (next to the fuel dock) and the parade starts at 6:30 p.m. The awards ceremony begins at 8 p.m. at Solomons Island Yacht Club. To register, visit solomonsmaryland.com or call the fleet captain at Solomons Island Yacht Club at (887) 256-6272 or email [email protected].
Lower Bay
Christmas in Onancock: December 2-December 11
Events vary, from Holiday Wine Wednesday to a tree lighting (Friday, December 2 at Ker Place at 6 p.m.) and holiday movie screenings but boaters will want to mark Saturday, December 10 on their calendars because Santa arrives by boat at the Wharf at 11 a.m. The 10th also features a holiday artisan market, Christmas homes tour, caroling, a music festival, and more. The Onancock holiday parade takes place Sunday, December 11 at 5 p.m. Learn more at onancock.com.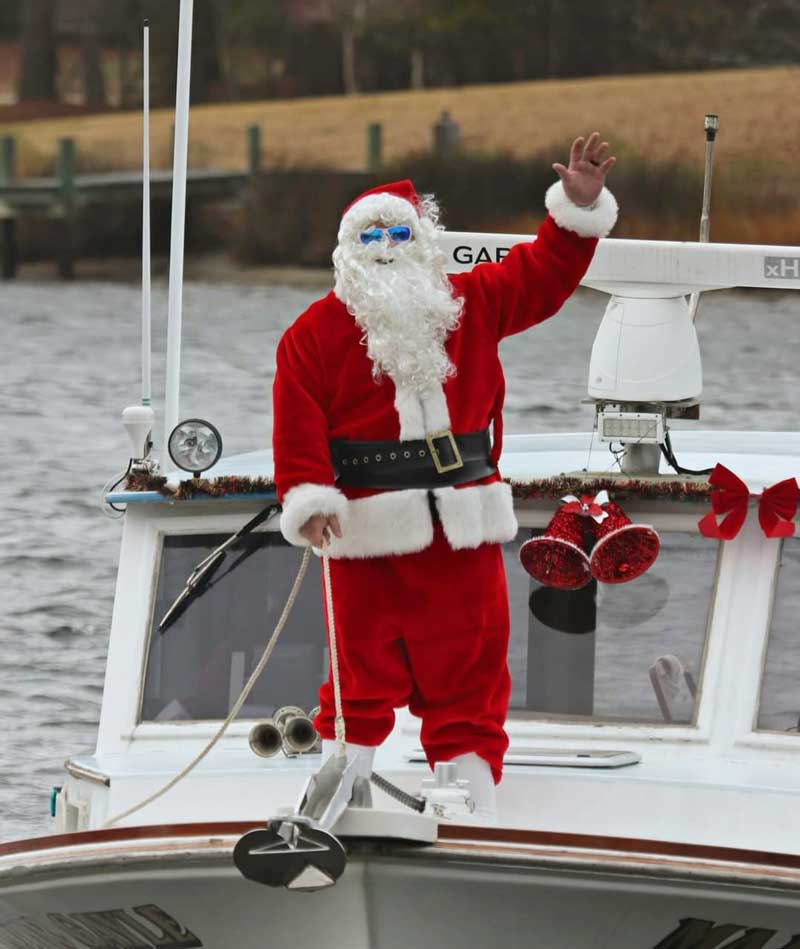 Christmas in Yorktown
The holiday fun kicks off with Yorktown's annual Christmas Tree Lighting ceremony Friday, December 2. This community tradition goes all the way back to 1945. Everyone is invited to gather at the Yorktown Victory Monument by 6:30 p.m. for live music including a performance by the Fifes and Drums of York Town. From there, the procession will make its way from the Victory Monument to Riverwalk Landing, where the tree lighting ceremony will begin. 
One of the most anticipated Yorktown holiday events every season is the Christmas Market on Main, which has been extended to two days (December 3 and 4). Close to 100 vendors line the street selling everything from nautical paintings to handmade soaps to Christmas wreaths. The Town Crier will ring in the market at 10 a.m. on Saturday, followed by a performance from the Fifes and Drums of York Town to officially open the market. Then, Santa Claus himself will ride in on York County's first fire truck, before mingling with the crowd to greet families. Expect strolling musical entertainment throughout the day to add to the festive atmosphere. 
The Yorktown Lighted Boat Parade takes place December 3. Pre-parade festivities start at 6 p.m. and include caroling around a beach bonfire, a musical performance by the Fifes and Drums of York Town, and complimentary hot cider. The boats will finish out the evening, as they make their way down the river in a dazzling show of lights that starts at 7 p.m.
Other events include Cookies with Santa (December 4), An Enchanted Evening on Main Street (a nighttime Christmas market December 9 from 5 to 9 p.m.), Yorktown Market Days – Mistletoe Market (December 10), and more.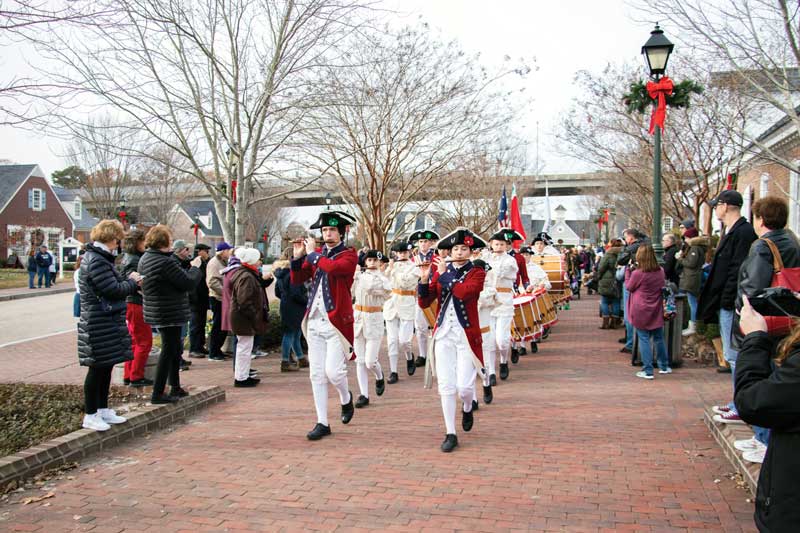 Hampton Lighted Boat Parade: December 10
The Hampton River will come to life as a fleet of decorated boats parade past the Downtown Hampton waterfront. The parade runs from 6 to 7:30 p.m. and concludes with an awards ceremony at 8 p.m. Following the parade, Santa will join the fun dockside from 7:15 to 8:15 p.m. to provide one last chance for your family to visit with him! This event is free and open to the public. Learn more and register your boat at downtownhampton.com/lightedboatparade.
Be sure to check event websites for any updates or weather cancellations before heading out.