As boaters, we know the best place to catch a Chesapeake Bay fireworks show is from the water. Be sure to use caution when boating at night, be courteous and stay alert, and always have a designated skipper at the helm. Whether you are anchoring out or kicking back on the shore, we wish all of our readers a safe and happy holiday.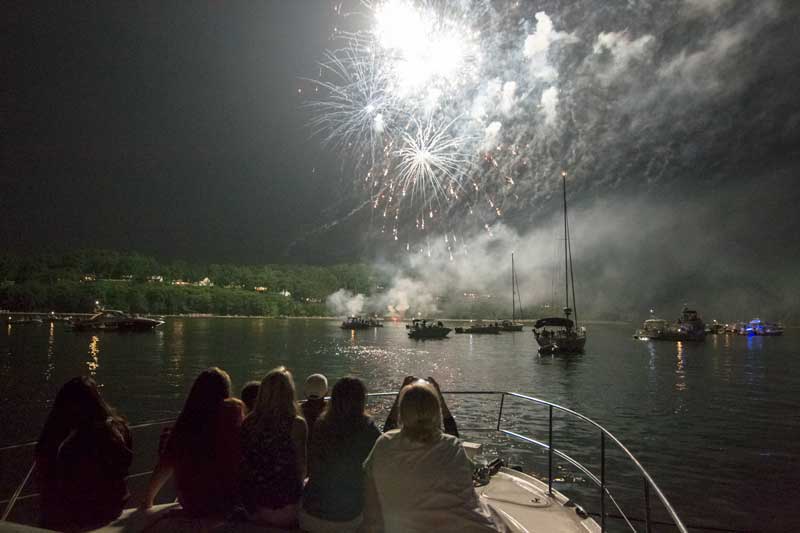 Chesapeake Bay Fireworks Shows
Stay tuned for any weather updates on event websites and be sure to check that shows are still planned as scheduled before heading out on the water. If we missed your favorite fireworks show, email [email protected].
July 2
Middle River, MD: The Marine Trades Association of Baltimore County (MTABC) Fireworks Extravaganza takes place at dusk over Middle River. All new this year, the fireworks will be simulcast to music on social media. Your support is needed to make this show a success—any and all donations are welcome and appreciated. Send donations to: MTABC, P.O. Box 18137 Middle River, MD, 21221 or visit mtabc.org.
St. Michaels, MD: Big Band Night from 7 to 10 p.m. at the Chesapeake Bay Maritime Museum. The fireworks will launch after dusk from CBMM's waterfront campus. Rain date July 3. Purchase tickets at cbmm.org. 
July 3
Chesapeake Beach, MD: Every year the Town of Chesapeake Beach sponsors a fireworks display at the center of town. The display is held at dusk and viewable along the Fishing Creek bridge, Kellam's field, Veteran's Memorial Park, or at one of the local waterfront restaurants or the Rod 'N' Reel Resort. Bring a blanket and a picnic for a fun family evening at Kellam's field (glass containers and alcoholic beverages prohibited). Rain date July 9. 
North East, MD: Salute to Cecil County Veterans. Starting at 6 p.m. there will be a ceremony, followed by family fun, food, music, displays, and fireworks at North East Town Park. Seating is on the grass and along the waterfront in the park; bring blankets and chairs. 
Rock Hall, MD: Fireworks over Rock Hall Harbor at dusk (9:15 p.m.). This amazing tradition would not possible without the support of the community. Any amount is helpful. Donations: please make checks payable to Rock Hall Fireworks and mail to PO Box 571, Rock Hall, MD, 21661. 
July 4
Annapolis, MD: The Annapolis Fourth of July parade runs 6:30 to 8:30 p.m. and kicks off at Amos Garrett and West Street. It will head down West Street, the wrong way around Church Circle, and down Main Street. Fireworks will be launched from a barge in Annapolis Harbor from 8 to 9:45 p.m. The best viewing areas include public spaces northeast of the Severn River, City Dock, along the Naval Academy Bridge (limited parking area), any of the street end parks facing Spa Creek, and aboard a boat in the Annapolis harbor. The Spa Creek Bridge will be closed to traffic from Eastport into Annapolis beginning at 6 p.m. The bridge will remain closed until the conclusion of the fireworks at approximately 10 p.m. 
Baltimore, MD: Baltimore vents include musical performances, street performers, a spoken word performance, and more. At 8 p.m., the BSO will host a Star Spangled Celebration concert at the BGE Pavilion in the newly renovated Rash Field Park. The full orchestra performance will culminate around 9:30 p.m. with a dazzling 13-minute fireworks display. The best views are along the Inner Harbor promenade and surrounding areas, including Canton, Federal Hill, Fells Point, Harbor East, and Locust Point. Find more details at promotionandarts.org.
Cambridge, MD: 9 p.m. at Great Marsh Park in Cambridge. 
Kent Narrows, MD: Queen Anne's County fireworks and family fun event at the Chesapeake Heritage and Visitors Center beginning at 6 p.m. qac.org
Newport News, VA: The Stars in the Sky patriotic event from 7 to 9:15 p.m. includes a spectacular fireworks show, live musical entertainment, strolling performers, children's activities, face painting, food vendors, and giveaways. At Victory Landing Park in Newport News. Fireworks display starts at 9 p.m. Free admission, free parking. 
Norfolk, VA: The 4th of July Great American Picnic and fireworks will be held from 5 to 10 p.m. at Town Point Park along the Downtown Norfolk waterfront. Relax on the lawn and enjoy an evening of All-American fare, along with live musical entertainment from military brass bands. The night is capped off by the sensational fireworks show high above the Elizabeth River, beginning at 9:30 p.m. Free and open to the public.
Ocean City, MD: Fireworks and music at two Ocean City locations: downtown on the beach at N. Division Street at 9: 30 p.m. and uptown at Northside Park at 9:30 p.m. For more information, call (800) 626-2326 or (410) 250-0125.
Washington, DC: The National Park Service will once again host the annual Independence Day fireworks celebration on the National Mall. The fireworks start at 9:09 p.m. and will be launched from both sides of the Lincoln Memorial Reflecting Pool. The 42nd annual A Capitol Fourth concert will be presented as a pre-recorded show due to the pandemic at 8 p.m. Updates on the Independence Day celebration can be found at nps.gov/foju.
Yorktown, VA: The morning starts at 8 a.m. with an 8K Run/Walk followed by a patriotic parade along Water and Main Streets. Evening activities include a bell-ringing ceremony, patriotic concert, and an amazing fireworks display over the York River beginning at 9:15 p.m. This is a free, family-friendly celebration. Find a schedule of events at visityorktown.org.
Tips for Anchoring Out:
Pay attention to off-limits areas, such as the restricted zone around the Naval Academy seawall. If no boats are anchored in a particular spot, there may be a reason for it.
Have a chart with you to monitor water depth.
Mooring and docking prices vary by town, so inquire before you go.
While your boat is at anchor, running lights should be off and a single white anchor light on. As soon as the anchor comes up, the running lights should be on.
Use a spotlight sparingly and keep it aimed low. Avoid shining it directly at other boat operators.
Try not to anchor too close to other boats, and make sure you've let out enough line to ensure your anchor will hold. Dragging anchor through the spectator fleet will definitely make you unpopular.
Kids and poor swimmers should wear a lifejacket at all times.
Give commercial vessels, such as water taxis and tour boats, room to maneuver.
Use common sense and courtesy. Avoid collisions, keep your speed down, and have a non-drinking designated operator at the helm.