The design of a modern boat is often a combination of tradition and the demands of a specific trade or locality where the boat is used. For example, Chesapeake workboats and Down East lobster boats look similar at first glance, but are in fact, very different. The Chesapeake Deadrise is narrow and sharp with a hard chine vee bottom to cut smoothly through the shallow chop of the Bay. The Down Easter, on the other hand, is beamier with a round bottom to comfortably ride the oceanic swells of the Gulf of Maine. Both of these types suit their home waters well, and have been around for a long time, mostly built of wood or fiberglass. However, in the modern era, the boat builder has a much broader spectrum of materials and power options upon which to draw to build a boat to do a specific job well. And often the key to a successful boat is design.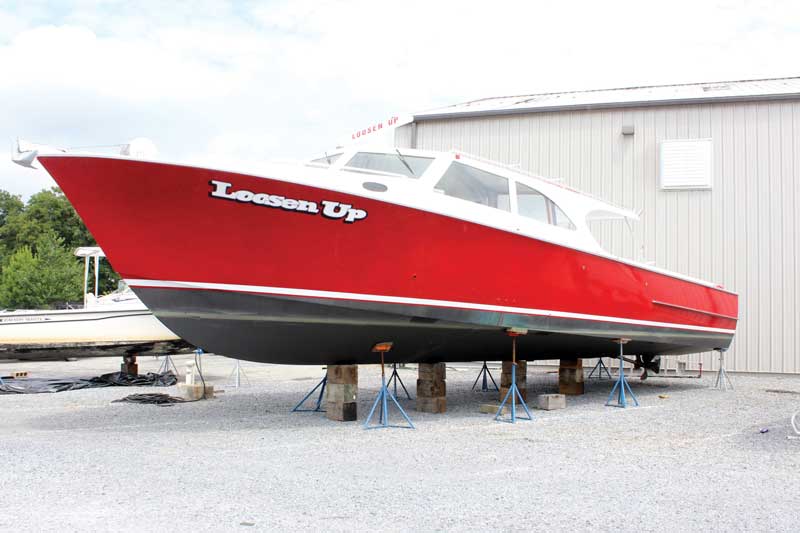 When Frank Carver, who owns and operates Loosen Up Fishing Charters, decided he wanted a new boat, he turned to his old friend Jim Weaver. Jim builds a whole line of beautiful sport fishermen in his shop in Deale, MD. Frank was very specific in what he wanted. The new boat should have the traditional Bay built profile and layout, but she should be faster, comfortable, and more efficient than his current boat and meet all Coast Guard requirements. Jim knew that faster and more efficient usually means lighter, among other things, so instead of suggesting a traditional Bay built design, he recommended they consult his naval architect Chris Swanhart. The result of this collaboration was Loosen Up, a 50-foot single engine charter boat with many traditional Bay built features. She has the sharp entry, flaring topsides, and vee bottom of the traditional Bay built boat, but incorporates many new ideas.
Loosen Up was launched late in the season in 2019, so it wasn't until the end of the 2020 season that Carver was able to really evaluate her performance. "Compared to my old boat, which was a 46-foot glass over wood Carman with a 3406E Caterpillar diesel, the new boat performed very well. I ran her about 1800 hours this year and had a 40-percent drop in fuel consumption and a 30-percent increase in speed, running with an average load of eight to 10 passengers. Those are very conservative numbers too. It's been an unbelievable fuel consumption rate. Of course you are going faster. The performance and the fuel burn have been so much better." 
Jim the builder attributed this great increase in performance to the design of the new boat, designed from scratch to be a charter fishing boat. "We told the naval architects what we wanted and that's what they delivered, Performance by Design. It's not that we did anything more spectacular than any other boat builder would do. It's really about the design. About how you put it together to perform the way it's supposed to."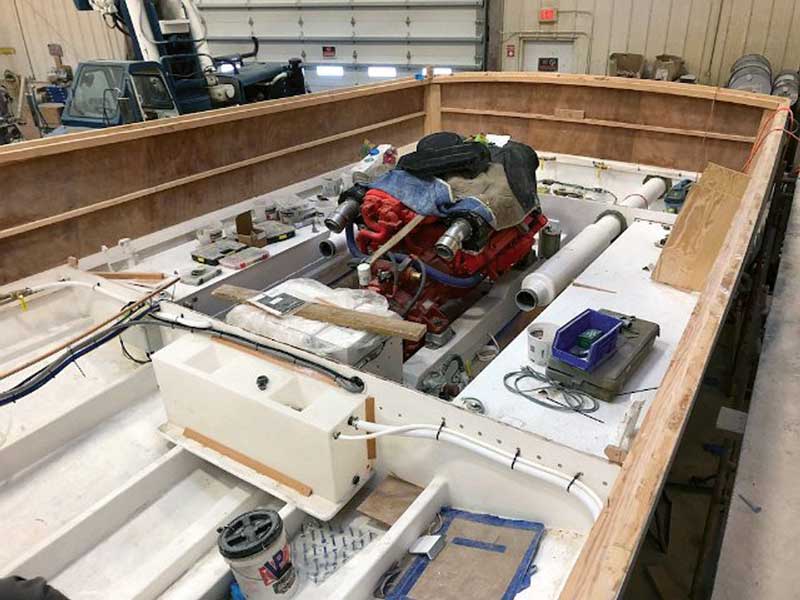 Chris Swanhart, director for recreational boats for DLBA Naval Architects, explained some of the innovations in Loosen Up's design. "I think Jim and Frank are being a bit modest. They did a great job in executing the design that we gave them. Stellar performance in terms of the build and quality and executing everything we gave them. They deserve a lot of credit," he stated.
"From our end, we always look at a full weight estimate, what we expect the boat will weigh, where the center of gravities (CG) are. That's very important on a planing craft. This is a planing hull. It's not super, super high performance but it is going pretty fast. Those issues are critical, and we try to optimize the running surface based on the expected use. We looked at how Frank was going to be using the boat, what the conditions, speeds, and loads would be. On this particular design, we had to consider the changes in load from a few people up to her inspected limit of 47 passengers. That's a big range. At 47 people that's over 7000 pounds, close to a quarter of the boat's weight. So that's a big part of it. We had to make sure the bottom was drawn in such a way as to accept those varying loads. That was a big part of this design," he explained. 
One of the major innovations on the boat is the position of the engine, an 800-hp Scandia diesel. It is positioned all the way aft and driving through a Vee drive and shaft tunnel. Chris explained, "Another challenge on this boat was keeping enough weight aft. You have people and load forward. The structure of the house is forward, and we wanted to make sure we had as much weight aft as possible. Having that engine aft, with an engine box on the deck, is easily the heaviest thing on the boat and that allowed us to keep the CG where we wanted it. If we went with a standard down angle gear, for example, not only would that weight be farther forward, the cockpit arrangement would not be as good."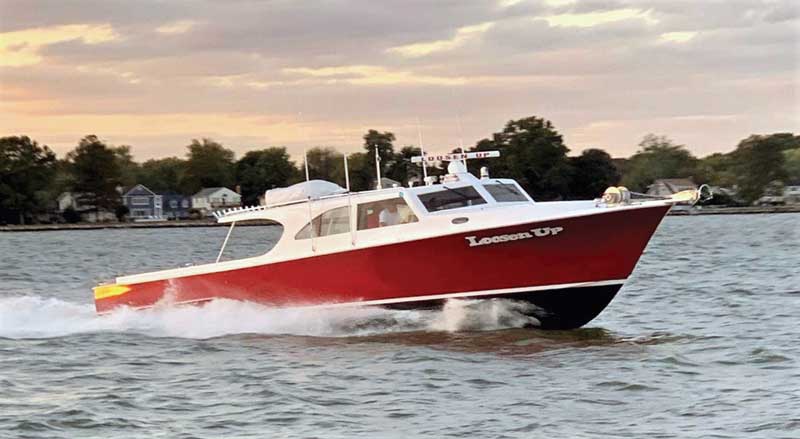 Chris also commented on the choice of engines. "Modern engines just keep getting lighter and more powerful. That gives us a great deal of latitude in making those decisions. This was a great power option for this boat. We knew we wanted just one engine, not twins, and this one has more than enough power. Everybody talks about top speed and that's important, but if you have enough power, you can drop down a few knots to a comfortable cruise and that's where your efficiency point really is."
Jim added his thoughts on the engine placement as well. "When you have a lot of people on a sportfish design, most of them are going to be in the cockpit or in the salon or on the bridge and their weight is aft of the CG and the boat planes well. With this kind of design, when people move into the cabin, they are forward of the CG and pulling the bow down and creating drag pushing the stem through the water, which you see on 90 percent of the charter boats on the Bay. Having the engine and the fuel tanks all the way aft keeps that CG where it should be for her to plane properly and keep her bow out of the water even with a full load," he concluded. "To me, Loosen up is a great example of what's possible when you create Performance by Design." 
Weaver 50 Bay Built Loosen Up
Hull Description
Type: Modern Bay Built
Engine: Single Scandia 16L V8 800HP
Hull: Cold Molded
LOA: 51.07'
Beam: 15.0'
Displacement: 32,318 lbs.
Fuel: 450 Gallons
Water: 55 Gallons
Hull Color: Red
Performance:
WOT: 2330 RPM, 29 Knots, 44 GPH
1500 RPM 15.8 Knots, 16 GPH
2000 RPM 24.7 Knots, 31GPH
By Captain Rick Franke