To become a SpinSheet Century Club member, boaters need to log 100 days on the water within the calendar year on any type of vessel. Dave Nestel has logged 265 on four types of vessels. Below find his journey in his words: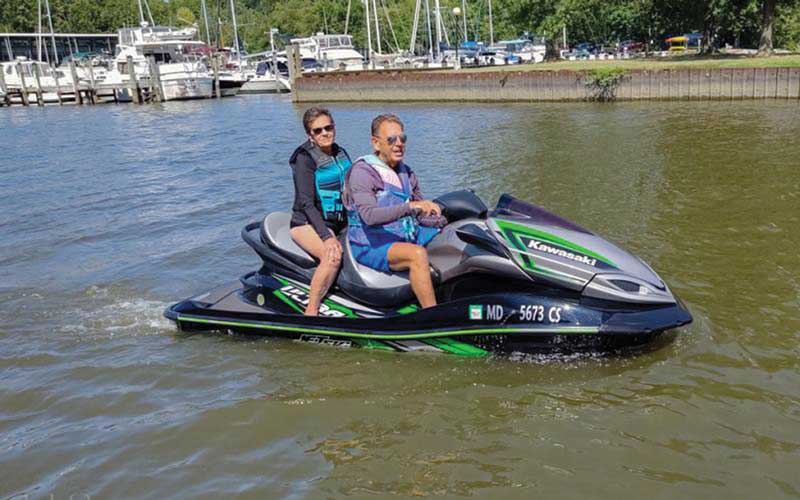 When I first read about the formation of the Century Club challenge, I was already tracking my days on the water with my kayak and Windrider 16 sailboat. Submitting my days this year at spinsheet.com/century-club has been really enjoyable. I take time each day to look at the pictures and entries other members make and am fascinated by their various experiences. 
Having four different types of boats allows me to match more ideally with the weather conditions at hand. I row an Adirondack Guide Boat, and because of its versatility, I am able to log many days that would never happen if I was counting on using my sailboat, runabout, or Jet Ski. There were lots of hot, windless days this summer, so I used my power vessels more than previous years. When I walk out my dock, I often struggle with the decision whether to use my Whaler or Jet Ski. That decision was simplified while my Whaler was out of commission for five weeks. 
The Jet Ski is the most versatile of all types of boats that I own. Calm or rough, deep or shallow, close or far away destinations aren't a problem. I used it to participate in the CRAB Poker Run Pursuit event in August. I traveled in the open Bay to Bloody Point Light House, Thomas Point Lighthouse, and Sandy Point Light House for three of my "card stops." I traveled on the South, Severn, and Magothy Rivers until I reached the six-mph zones and logged 80 miles in four and a half hours. It was so much fun that I returned several days later and circumnavigated Kent Island, ducking into all the creeks and bays on the south and east side, traveling another 63 miles in three hours.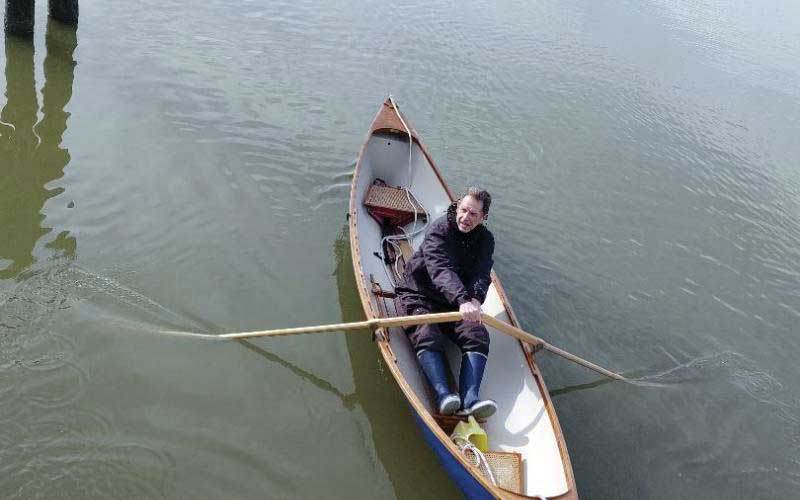 On my most recent trip, unlike the above two trips where I launched my jet ski from Sandy Point State Park, I left my home on the Upper Bay, met two "crazy" Jet Skiers like myself, and toured the entire Wye River covering 131 miles over a six-and-a-half-hour time frame. Making the trip even more special was when I came upon the participants of the Bay Paddle event that raised money for oyster restoration on the Bay (see page 30). I had been following fellow Century Club participant Kevin Littell and knew that he was participating the first day of the event. I got to meet him and his daughter Regan (who just happened to be a few hundred yards ahead of him on her standup paddleboard) in person while he was paddling his SUP down the Bay. 
In my daily rowing I have come to realize that the great blue herons seem to have favorite perches along the shoreline. I've noticed that every day I pass a certain fallen log along the shoreline that a great blue heron is there (I am pretty sure it's the same one). I've been able to get within 10 feet as the summer progresses. He or she seems to be getting used to my daily appearance. 
As boaters we hope to have that "perfect day" that we experienced in the past when everything was in harmony. Speaking from experience, going out frequently does not increase the number of times that I encounter those memorable conditions. I have learned that great fun and satisfaction can and do happen when you use your boat in less than "ideal conditions" if you force yourself to take the initiative. Although it has been tested frequently, my motto is still "a bad day of boating is better than a good of work." 
When in doubt, know that you will be able to admit to yourself that "I must really be stupid, crazy, or both to have come out today in this weather." Having returned 100 percent of the time in those types of conditions, I still haven't figured out if my wife's expressions are those of relief or disappointment! If you have yet to achieve the 100-day mark, simply adopt the following rule into your routine: "Never let work interfere with play." I'll guarantee that you'll get an invite to the Century Club Party in 2022!