When one speaks of practicing 'boating safety,' the first thoughts that usually come to mind are wearing your lifejacket and not falling overboard. These are of course extremely important elements of boating safety, but what about onboard fires? Fires occur all too frequently on powerboats underway, and they are extremely dangerous. This is in part because of the fuel and flammable liquids (engine and stove fuels, for example) that a boat carries, but even more critically, because there is no place to get away from a fire on a boat (which is in itself built of flammable materials such as wood, fiberglass, paints and adhesives) short of jumping overboard. The size of the vessel doesn't matter; when a fire breaks out, even a ship is ultimately too small to offer complete safety anywhere onboard.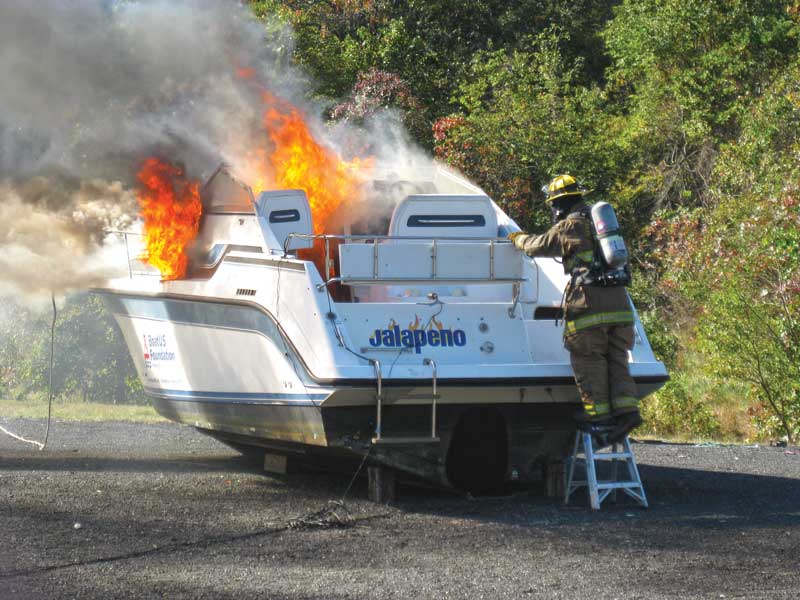 Fires can start quickly and often by total surprise. Their origin might be the engine compartment, most likely, or the galley, or in battery storage and electrical systems. In the event of a fire, there are plenty of guidelines available regarding what type of fire extinguisher to use, how to aim its discharge at the base of the fire, to use a sweeping motion, and such. We can go on and on about fire prevention, storage of flammable materials, and more, but the simple fact remains that once you have a fire, whatever methods were employed in terms of prevention become moot. The focus then becomes keeping safe, getting help, and putting the fire out if possible. Whatever factors contributed to the fire starting must also be addressed. Guidelines include immediately shutting down the engine(s) and electrical system, since a wire fault, for example, may have caused the fire in the first place and keeping the power on may only make it accelerate.
If you haven't experienced a fire onboard, published guidelines concerning what to do seem to make perfect sense. If you have had one, however, you realize that many published guidelines are at best unrealistic. For example, one guide that I read instructed the boater to shut everything down, engines and electrical power, but then to position the boat so that the fire and smoke blow downwind… Using what, I ask, oars? Impractical advice is useless in an emergency.
Another checklist I read instructs the passengers and crew 'not to panic.' Well, when your boat is on fire a couple of miles offshore and you are on it, panicking is perhaps the easiest thing to do and most difficult NOT to do. Your boat is on fire, and you are surrounded by water. You aren't towing a dinghy. It's time to think fast, especially if your powerboat is gasoline-fueled.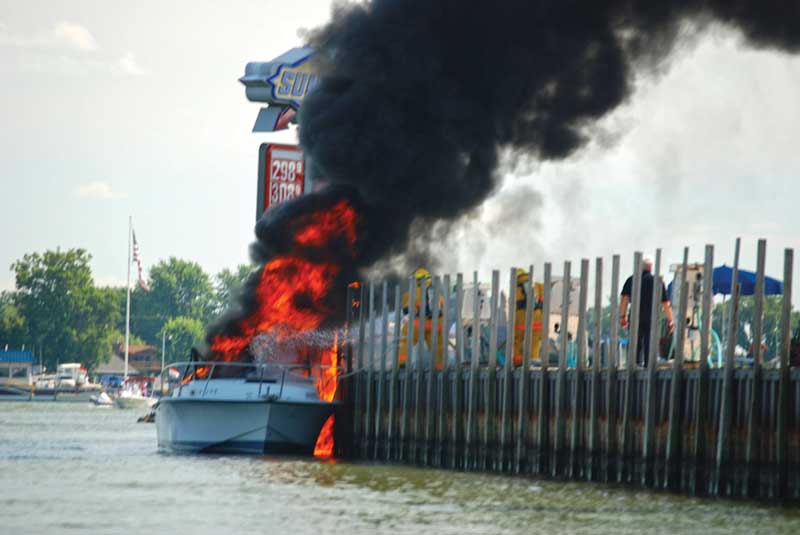 Yet another checklist advises calling for assistance on the VHF once the fire is extinguished. Right. You had better have a hand-held VHF, because you powered down your DC electrical system, or perhaps the fire has disabled it. Got flares? Are they accessible? Hopefully, although you're better off with a radio or mobile phone, since many ordinary people (non-mariners) might see flares (not so visible anyhow on a sunny day) and think that you're just having a celebration—until the thick black smoke from your fire suggests otherwise.
The best way to deal with a fire aboard is to do whatever is necessary to prevent it from starting in the first place. Then make sure that you have the USCG suggested complement of fire extinguishers aboard and that they are charged and not beyond their expiration date. They are, after all, your first line of defense if a fire should break out, and perhaps your last line as well.
A couple of years ago my friend Captain Bill and I were hired to deliver a boat from Providence, RI, to Portland, ME. It was an older model Mainship cabin cruiser with twin Crusader 454 gasoline engines, eight cylinders each; powerful gas-guzzlers. Apparently, the new owner had gotten a 'great deal' on the old boat, and she carried a lot of fuel in her tanks. I did not envy the owner, however. She would be an expensive boat to operate, and I personally don't like gas-powered motorboats, but that is irrelevant. Sixteen cylinders produce a lot of thrust as well as a lot of heat and exhaust.
We left the marina in Warwick, RI, and had barely reached the entrance to Greenwich Bay when it became apparent that something was very wrong. I could smell hot paint, and then something burning, and as Bill, up on the flybridge deck, throttled the engines back, smoke began to pour out of the doorway to the main cabin. "It's the port engine!" I shouted to Bill. "She's burning up!" Bill shut down the engine immediately and turned the boat around, heading back toward the marina, still visible in the distance. But an overtemperature engine of that size does not suddenly cool down. More smoke began to pour from the cabin, and now I could smell burning fiberglass resin. My God, I thought to myself, we must be on fire down in the engine compartment. I could smell burning rubber from the exhaust hose. "Not looking good, Bill!" I called out.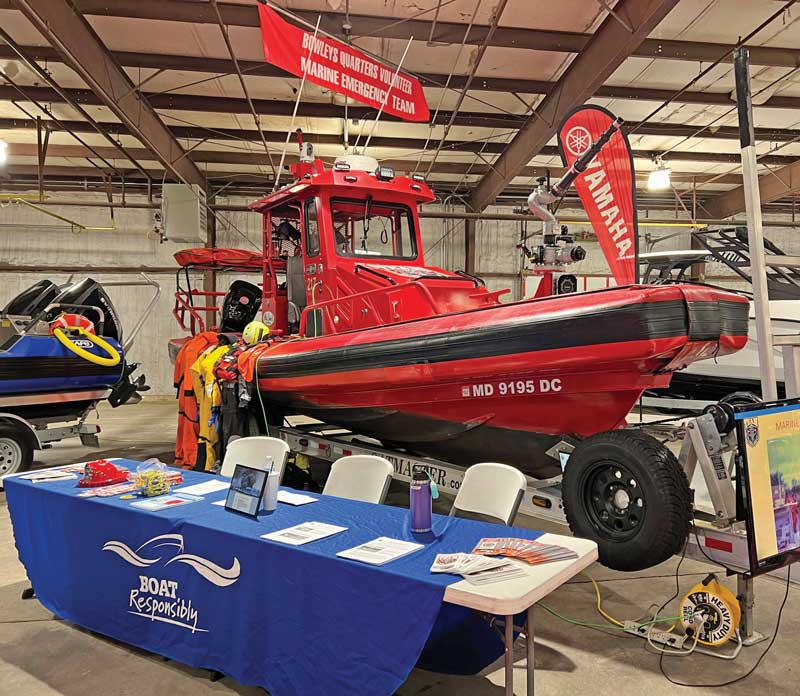 The mind works quickly in times of perceived crisis. I glanced longingly at the shore, not a quarter mile distant. Thoughts going through my mind included wondering if we could beach her, how far I might be able to swim if we had to abandon ship, and other similar frantic ideas. I couldn't see any flames below, or actually anything at all except thick gray smoke, but the starboard engine appeared to still be doing fine, and we were making steady progress back toward the marina. If the structure of the boat caught fire, however, I knew that there was no way that we could bring a blazing inferno to the dock.
As we drew closer to the marina, I noted that the volume of smoke began to abate and gradually thin. Bill was on the radio talking to the boat owner and his mechanic, who was already down at the dock waiting for us. It turned out that the raw water pump for the port engine had failed. The mechanic made the repair once the block had cooled down enough to work on it. Even though the paint on the engine was charred black and there was heat damage to the blistered exhaust system, we were eventually on our way once more and everything seemed to be fine. Then, near the eastern end of the Cape Cod canal, the starboard engine simply quit. Happily, there was a marina nearby, and we were able to motor into a slip using the burnt engine. Did I say that this was a boat delivery? We got a lift home, and a day later we returned to the boat after the mechanic had replaced a faulty fuel pump. We finally got the old monster to Portland.
Should the U.S. Coast Guard pull you over and board your boat, for whatever reason, you can be sure that one of the first things that they are going to do is check your fire extinguishers. If any (or all) of them are discharged or expired/out of date, you can expect a hassle. If you are that boat's delivery skipper, you could be in for an even bigger hassle. I'm not going to go into a long litany of the many items that they may check, but this is key. And, should you have a fire aboard, regardless of the outcome, be sure to document it completely and down to the most minute detail. Do this while you remember all the details, since you will probably be required to do so anyhow for the Coast Guard, marine police, insurance company, or other parties.
We can't always know when a fire will break out aboard a boat. The best advice when one does is like the old adage about an ounce of prevention being worth a pound of cure. 
First, keep your head on straight. Don't panic; radio for help and know the locations of your fire extinguishers and how to use them. Make your passengers don their PFDs while you wait for help to arrive and keep them upwind of any smoke and fire. Above all, keep everyone safe! 
About the Author: Capt. Michael L. Martel holds a 100-ton near-coastal master's license and delivers power and sail vessels when he's not working on his own boat restoration. He is a lifelong boating and marine industry enthusiast, ex-US Coast Guard seaman, private boat owner and rebuilder, and has sailed offshore as captain and mate on bluewater yacht deliveries to Bermuda and the Caribbean and from Maine to Florida.
---
The Importance of Smoke Alarms, courtesy of Capt. John McDevitt: 
The best defense in any fire situation is to know about it right away. For over 50 years, smoke alarms have done just that. And they should be installed in your boat. No other fire protection provision has saved more lives and reduced property losses than smoke alarms.
---