When we see the word "cruiser" in a boat's model name, most of us envision mellow runs across the Bay, kicking back on a comfy settee to enjoy socializing with friends and family, and enjoying meals cooked in full-sized gallies. But when we see the word "sport" in front of "cruiser," our mental image immediately shifts to a sleek boat that places the added emphasis on speed as opposed to luxury. And on different boats, usually one element or the other wins out. There are sporty boats that are still plenty comfortable and comfy boats that have enough zip to call "sporty" with a straight face, yet as with most combined-task vehicles, they aren't usually great at either specific mission. When we sea trialed the Tiara Sport 43 LE, however, we found that this model exudes all the best elements of both sport-boats and cruisers—and adds a few surprises into the mix.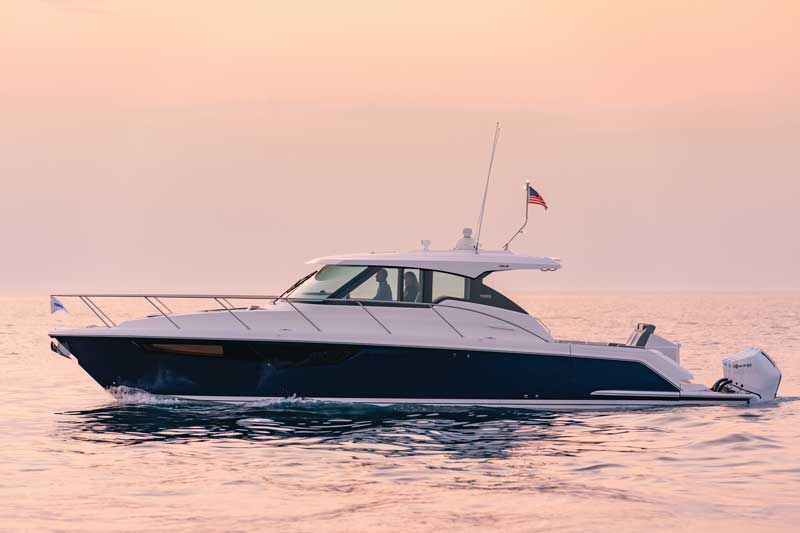 As for cruising comforts, the 43 LE is riddled with them. The cockpit is designed with an aft-facing lounge up forward on each, and a centered forward-facing lounge back aft. That's great for schmoozing at anchor or kibbitzing while motoring along at mellow speeds, but it gets a whole lot better when you pull a pin, push on that aft lounge, and discover that it spins 360-degrees. You can set it up to face either one of the aft-facing lounges, or spin it around to face out over the water. And facing it over the water doesn't necessarily mean facing aft, thanks to another surprise ability this boat has: press a button on the inwale, and the entire port-side gunwale slowly folds down and out over the water to become a huge swim platform. Just imagine cocking the rotating lounge sideways and kicking back to watch as the kids enjoy their splishing and splashing, always in full view, and with an easy way to reboard at any time.
Ready to go for one of those mellow runs? Raise the gunwale back up, spin the lounge to face forward again, swing the transom gate shut, and bring the boat up on plane. You'll enjoy fresh Bay breezes on the helm-deck since the 43 LE is open aft, rather than being enclosed. The down-side? It'll also be a bit loud, thanks to the engines and all that water noise. On most boats with no aft helm-deck bulkhead that can be addressed by zipping up and snapping down clear canvas curtains. They help cut the noise a bit, though most mariners would agree that clear canvas curtains can be a pain in the keister to deal with. And here's where Tiara whips out another unique advantage. In the moldings supporting either side of the hard top, you'll see stainless-steel handles. Stand between them, grab each with one hand, and pull. Clear canvas doors magically glide out from their hidden enclosures and latch together in the middle. Deploying a canvas enclosure has never been this easy, period, and since these doors go from the deck to a track in the overhead, once they're shut, they do a far better job of sealing out noise and weather than the average folding, zipping, snapping curtains.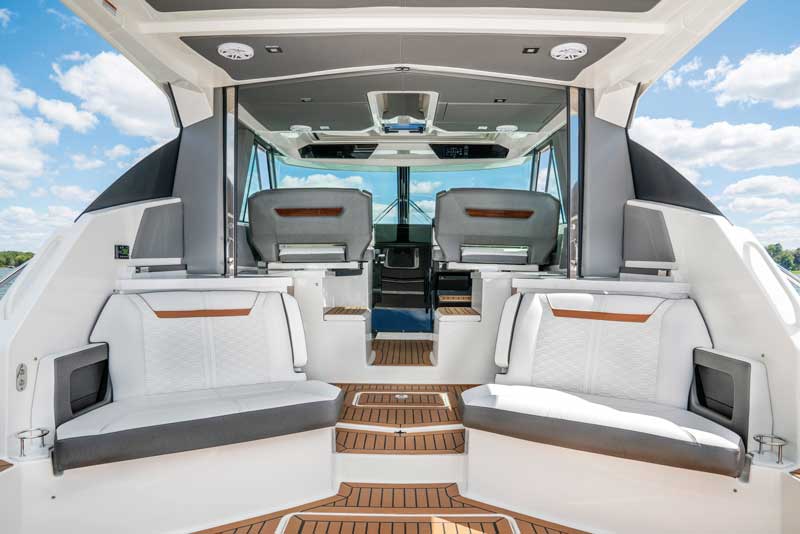 Put these elements together, and you have an unusually comfortable cruiser before you even walk down into the lower cabin and check out the roomy forward stateroom with a queen pedestal berth or the walk-in mid-cabin with its extra sitting area. But one question remains: just how much does this boat deserve to have the word "sport" in its name?
During our sea trial, when we gave a warning for everyone to hold on tight and hit the throttles on the triple Mercury 450R outboards, we cruised at 4500 rpm in the mid-30s. Opened all the way up we blasted to a top-end of 58.8-mph. And that was with five people aboard—run it light, and this will be a 60-mph boat. For a 43-footer that's not merely sporty, it's red hot. And sheer power isn't the only reason why the Tiara can hit these sorts of numbers. The hull and stringer grid are resin-infused so they have maximum strength with minimum weight, and the hullsides are structurally foam-cored to pull weight down even more.
You're looking for a comfy cruiser, but you want one that actually justifies having the word "sport" in its name? Spend some time checking out the Tiara Sport 43 LE, and we'll bet you discover everything you envision—and then some.
By Lenny Rudow
Tiara Sport 43 LE Specifications:
LOA: 43'6"
Beam: 13'0"
Draft (max.): 2'3"
Displacement: 22,100 lbs.
Max HP: 1350
Fuel Capacity: 400 gal.
Water Capacity: 60 gal.
Price: approx. $999,900
Local Dealer: North Point Yacht Sales in Annapolis, MD: (410) 280-2038 and Gloucester Point, VA: (804) 885-4090