A 30-foot center console is a midsized fishing machine, but how do you make it look and feel like the king of the fleet? Equip it like it had 10 more feet of LOA, power it for highway speeds, and finish it as finely as a center console yacht. Net result: the Sportsman Open 302.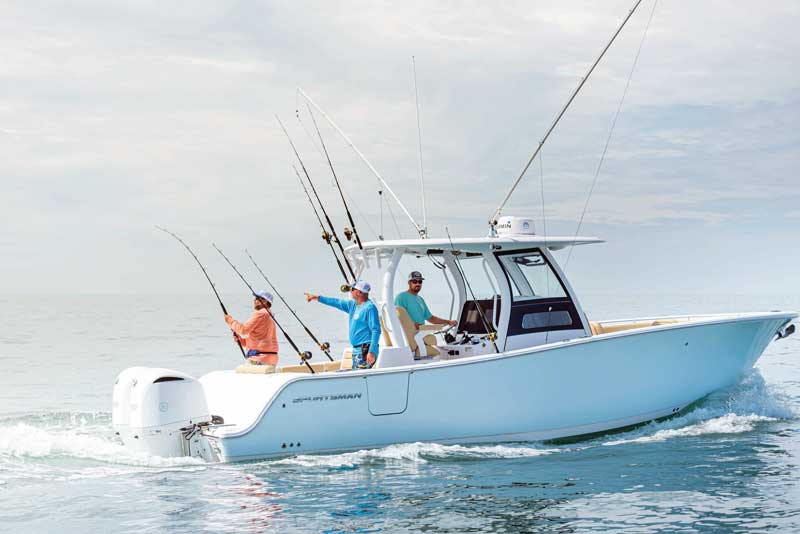 The twin pressurized 30-gallon "aquarium style" livewells bracketing the transom on this new model are akin to the livewell rigs you'll find on uber-expensive center consoles in the 40-plus-foot range. Six flush-mount gunwale holders, three flush transom rodholders, under-gunwale rodracks, five console-cabin rodholders, rocket launchers, and a tackle station with six boxes and four drawers give you the ability to haul plenty of armaments. The console cabin has a compact berth/stowage area and a head compartment with as much elbow room as many significantly larger CCs. And, is there any other 30-footer like this on the market that can boast twin side-entry doors, so you can step in and out easily no matter which side the pier is on? We think not. 
The aforementioned goodies are all standard features, and all in all the stock Open 302 isn't equipped as well as most 40-footers—it's equipped better. In fact, peruse the standard equipment list and you'll discover that everything you need to hit either the Bay or bluewater is included in the package. For the most part, the optional features consist of specialized goodies (like under-gunwale electric reel outlets and add-on sun shades) or big-ticket items that aren't for everyone (such as an upper station or a Seakeeper 2 gyro-stabilization system).
Now, as for performance: hold on to your hat or kiss it goodbye. The Open 302 is designed to run with a pair of F300s and hits an eye-watering 55.3 mph with two people aboard and about a half-load of fuel. Pull the throttles back to a 4500-rpm cruise, and you'll be charging forth at around 42 mph. That'll more than keep pace with most of those big center console yachts but unlike those triple and quad engine rigs, fuel efficiency never goes below a mpg. In fact, if you can stand to pull the throttle back even more (a big if!) and cruise at 3500 rpm and 31 mph, the boat gets an impressive-for-size 1.8 mpg. 
Shall we move on to the fit and finish? Yes, let's, because this is one of the things about the Open 302 (and all Sportsman boats, in fact) that sets them apart from the pack. As anyone who's been center console shopping lately knows, Sportsmans are not notoriously expensive boats but rather are priced competitively with the market average. Yet they still manage to produce a fit and finish that's right up there with the diamond-encrusted crowd. 
Swing open a deck hatch and it'll rise up on gas-assist struts to show off fully finished surfaces on both sides, with the hinge hardware flush and smooth. Belowdecks the compartments will be finished off just as nicely, and you won't see any of those ragged fiberglass edges nor exposed screw-ends that plague many cost-conscious boats. Walk the deck's perimeter, and you'll note that every inch of inwale is padded with coaming bolsters. Pop off the access hatch to the back of the helm, and you'll discover wiring that's neatly loomed and organized. The T-top incorporates integrated stereo speakers and lights; its supports don't create tripping points, every latch and pull-ring on the boat sits flush, reel pads are added at the rodracks, cleats are pull-ups—the list goes on and on.
Wait a sec… did we accidentally mix up the Open 302 up with the Open 402? Nope, no such model exists. But you could have fooled us. 
By Lenny Rudow
Sportsman Open 302 Specifications:
LOA: 30'2"
Beam: 10'4"
Draft (min.): 1'10"
Displacement: 8245 lbs.
Max HP: 700
Fuel Capacity: 295 gal.
Price: approx. $205,995
Local Dealer: Riverside Marine in Essex, MD, (410) 686-1500 or riversideboats.com