Bowriders have always been a popular type of boat because they're easy to run, easy to afford, easy to maintain, and—most importantly—easy to have gobs of fun on. And day by day, it seems like everything about owning a bowrider is getting even easier. Case in point: the new Sea Ray SLX 260 OB.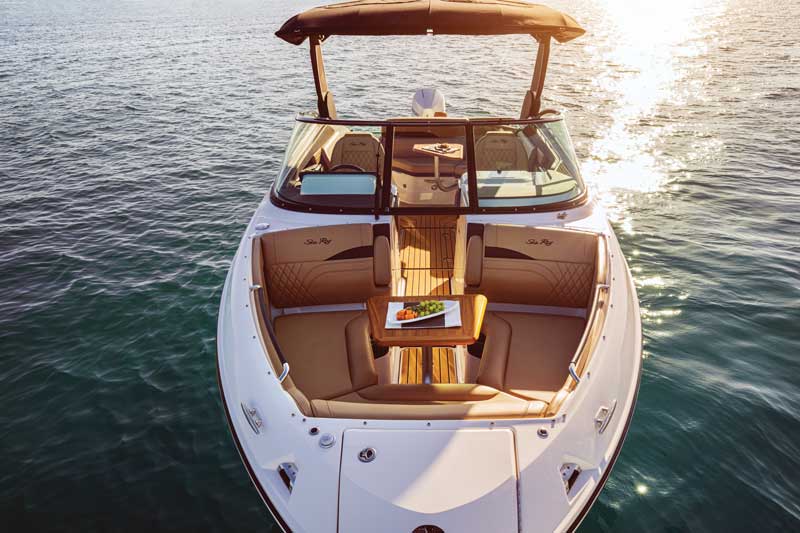 The SLX 260 OB makes its strides in the ease-of-use department via tech. It comes with a pair of nine-inch Simrad touchscreens at the helm, which are your user-interface with the boat. With CZone digital switching built in, whether you want to turn on the bowlights or turn off the freshwater pump it's a finger-swipe away. You can also bring up Mercury VesselView data on-screen to get full engine monitoring and receive alerts, and if you download the free app, you can see all that right on your phone, too. Mercury's Active Trim (which uses GPS to help keep your boat trimmed to the most efficient angle) is also part of the life-simplifying mix. And of course, all the techy enhancements we've come to expect from modern cars like streaming audio, inductive phone charging, and geofenced security systems, are also available.
Relaxing was never exactly difficult aboard a bowrider, but here again, it's certainly better than it was on boats of the past. Check out the swim platform, for example, and you'll discover an integrated, insulated cooler is within easy reach, built into the back of the transom. Sea Ray put a gas-assist strut on the cooler hatch and did a great job engineering the back of the sunpad and the cooler hatch to slide out of each other's way, so it's easy to open and close without having to undo a bunch of snaps or remove the cushion. Yet the cushion still remains secure when cruising. Right next to the cooler there's a stowage area and on the other side a pull-out freshwater shower for rinsing off after a dip. Since this is the outboard version of the boat you do lose a bit of swim platform as compared to the stern-drive model, but you also gain a ton of stowage space beneath the aft sunpad. One more hassle-eliminator: make sure you opt for the onboard air compressor, so you don't have to huff and puff when the kids are ready to go tubing.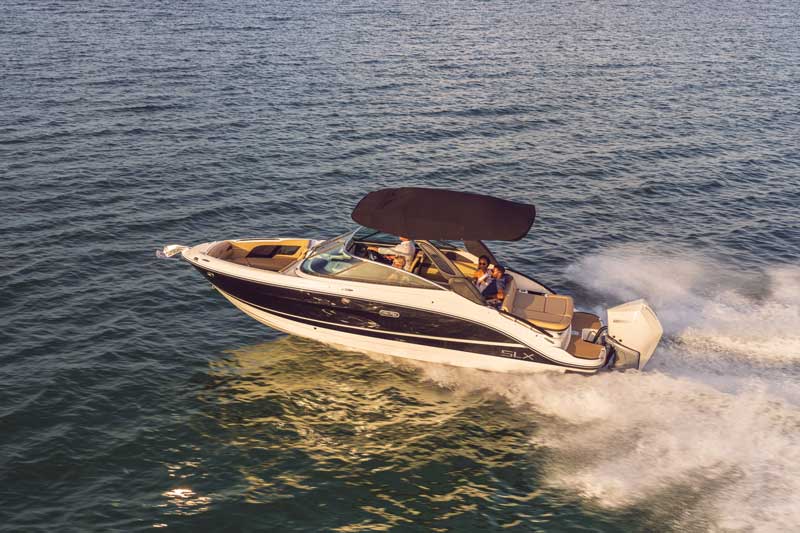 The cockpit features the standard Sea Ray bowrider wraparound seating, helm, and passenger's chairs, plus an enclosed head compartment molded into the passenger's side console. In the bow cockpit you'll spot still more relaxation-enhancing features. The entire cockpit is cushioned 360-degrees with wide bolsters and backrests stretching from the seats all the way to the gunwales. Kick back facing forward, and you have swing-down arm rests, there are cupholders within easy reach, and wherever you put your feet down on the deck they land on cushy foam padding instead of hard fiberglass. 
That it's easy to have fun aboard this boat is a no-brainer, but what's even better is that it's also easy to have a few thrills. With the stock 300-hp Mercury FourStroke on the transom cruising speed is in the low 30s. That's plenty peppy, and better yet, top-end breaks the 50-mph-mark. We enjoyed a sea trial at Mercury's Lake X aboard one of the first of these models to hit the water and if opening up the throttle on this boat doesn't plaster a smile on your face, well, your face might just not know how to smile. We should also note that even with a hefty crew of five aboard, we still managed to hit 50.
If you're concerned that learning how to run your boat might lead to more worrying than relaxing, put your mind at ease. Or, just put it on a Sea Ray SLX 260. The "at ease" part will come naturally. 
By Lenny Rudow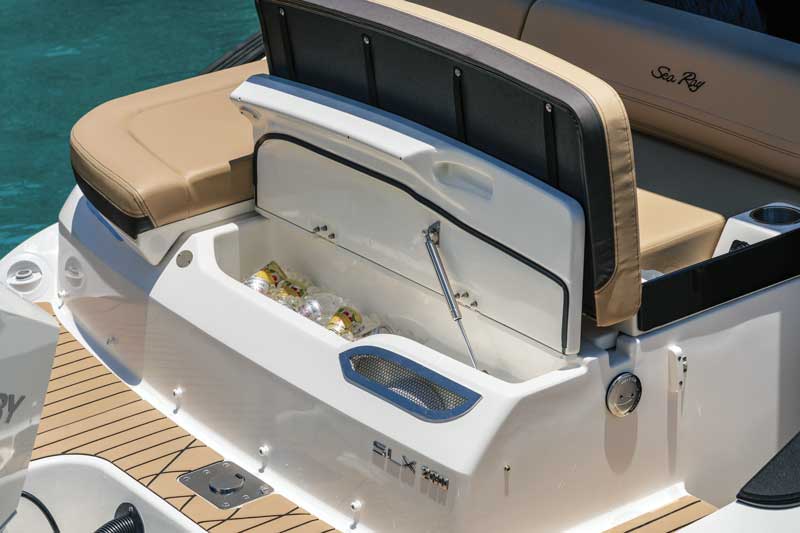 Sea Ray SLX 260 OB Specifications:
LOA: 28'7"
Beam: 8'6"
Draft (min.): 1'7"
Displacement (approx.): 5564 lbs.
Fuel Capacity: 75 gal.
Water Capacity: 14 gal.
Max HP: 300
Learn more: searay.com
---
For more boat features, visit PropTalk's Boat Reviews page.