At first glance, the Riviera 64 Sports Motor Yacht looks like a sportfishing boat. Jump aboard and walk through it, however, and you'll realize that it's really a big, luxurious cruiser. Spend some time on the boat with a group of people, and you'll quickly discover that it's also a gigantic socializing platform.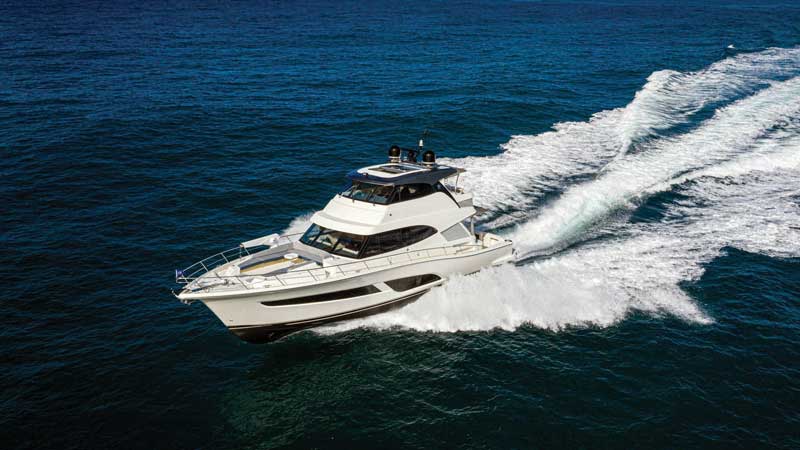 First, let's dispense with the fishability: like several other Riviera models, the 64 we sea-trialed has a large, open cockpit. Unlike many of its brethren, however, it also has a livewell in the transom, rodholders in the gunwales, and hydraulic outriggers sprouting from its sides. Is it a hardcore fishboat? Heck no. But, can you enjoy fishing from it anywhere from the Bay to the bluewater? You bet. 
The moment you step out of that cockpit and head forward you'll run into one of the features that sets this boat apart from its competitors and gives you a view into its social nature. Rather than walking into the saloon, you first enter a semi-enclosed area with an L-shaped dinette to starboard and a settee to port. The aft sides and the back are protected by clear canvas curtains which can be removed to give the space an open-air feel, and it has an environment that seems very much like a screened-in back porch attached to a luxury villa. It'll be an ideal place for al fresco brunches and cocktail hour kibbitzing.
Social hour continues inside the main cabin where there's a gloriously equipped galley (including perks like a full-sized upright refrigerator, a dishwasher, and a wine chiller) and a roomy saloon. Some interior volume gets taken up by the staircase to the flybridge, but since the steering station's up on the bridge, additional living space is gained up forward. Besides, it isn't as if there's a shortage of space in this 63-foot, eight-inch by 19-foot, one-inch footprint. And Riviera gives you a number of ways to customize much of this space. Owners can opt for a four-stateroom layout or a three-stateroom layout that gets you a lower lounge. In the three-stateroom version each has its own en-suite head.
Another area you get to pick and choose can be found between the full-beam amidships master stateroom and the engineroom. This space can either be finished as a mini-stateroom with a head (likely to be the crew's quarters if the boat's run by hired hands) or as a utility room. The model we were on had a utility room, and from a cruiser's perspective, this will be the option of choice. It has enough space for a full-sized washer and dryer plus enough bulk stowage for a year's worth of supplies.
Wait a sec, we need to backtrack because the Riviera somehow seamlessly took us from its social aplomb right to its cruising amenities. And while this is reflective of how well the boat transitions between these missions, there are still more social areas to be examined. In addition to the open cockpit, the back porch, and the saloon, the bridgedeck is yet another place where people will gather. Its sheer size is a bit of a shocker, with seating for eight between the L-shaped settee, the forward loveseat, and the helm and passenger's chairs. Swing open the aft door and you'll discover another al fresco dinette. And would you believe, there's still another social scene aboard? Walk forward to the bow, and feel free to stretch out in the massive U-shaped seating area.
Cool factoid: whichever of those social areas or staterooms you might be in, you can control the 64 Sports Motor Yacht quite literally from the palm of your hand. This is a digital-switching boat, and the entire CZone system can be controlled via an iPad you can carry around with you. More tech comes into play when you start running, because the boat is also rigged with a Humphree Interceptor Active Ride Control system that deploys the interceptors at rapid speeds to mitigate pitch and roll. 
Speaking of running: rigged with the max power MAN V12 1550 horse diesels, we hit 39 mph at top-end and cruised at 33 mph while turning 2100 rpm. That's more than enough speed, whether your day's plans include fishing, cruising, or just some good old-fashioned schmoozing.  
By Lenny Rudow
Riviera 64 Specifications:
LOA: 69'8"
Beam: 19'1"
Draft (max.): 5'6"
Displacement: 94,755 lbs.
Max HP: 3100
Fuel Capacity: 1717 gal.
Water Capacity: 198 gal.
Price: approx. $3 million
Local Dealer: Grande Yachts International in Stevensville, MD. (410) 204-2031 or grandeyachts.com