Ever since its inception, Regulator has been known for building deep-V fishing boats ready for offshore action. Its latest model, however, the Regulator 26XO, represents a serious departure from the norm. This boat is not a deep-V, and it's designed for the Bay. Yes people, Regulator has built a bay boat.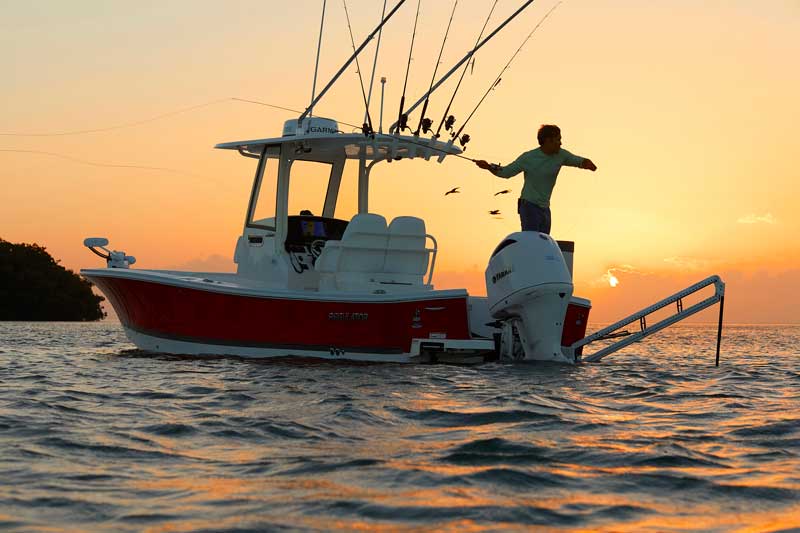 Any discussion of the 26XO really has to start with its hull design, since this is the first time Regulator's taken a stab at a semi-V of this nature. It sports 17 degrees of deadrise, giving the boat a serious stability-boost over deeper V hulls and trimming hull draft down to a mere 14 inches. And the boat gets yet more stability thanks to the generous nine-foot, three-inch beam. But looking at this boat on the beam, you'll also notice that the bow rises up a bit higher and has substantially more flare than the norm for an average bay boat. 
What gives? As usual for this company, Regulator puts an added emphasis on seakeeping abilities. You can see it in the bow, and you can also see it in the fuel capacity of 107 gallons. Yes, 107. With a single Yamaha F300 on the transom, that gives this boat extremely long legs for a bay boat. At most efficient cruise (28.8 mph while turning 4000 rpm), range is a hair over 220 miles with a 10-percent fuel reserve. Even at a wide-open throttle speed of 45.5 mph the boat maintains 1.7 mpg and can run for over 160 miles. You have a weather window with calm seas and the tuna are biting offshore? Heck yes, this boat will take you there—quickly. In fact, many would eyeball the 26XO and peg it as a crossover boat including the attributes of both bay and offshore fishing machines, as opposed to being a purebred.
Speaking of fishing machines: The 26XO has a 32-gallon livewell plus an integrated tackle station in the leaning post, a monster 70-gallon fishbox in the deck, and 73-gallon boxes integrated into the foredeck seating compartments (which can also serve as locking rodboxes or for dry stowage), rodracks under the gunwales, a raw water washdown and transom freshwater shower, a 14-gallon console cooler seat, four flush gunwale rodholders (and the option for two more), coaming pads all around, and a 16-inch Garmin GPSMAP 8616 XVS installed at the helm. The only optional items anglers need to consider adding are the T-top, Power Pole, and the bow-mount electric trolling motor.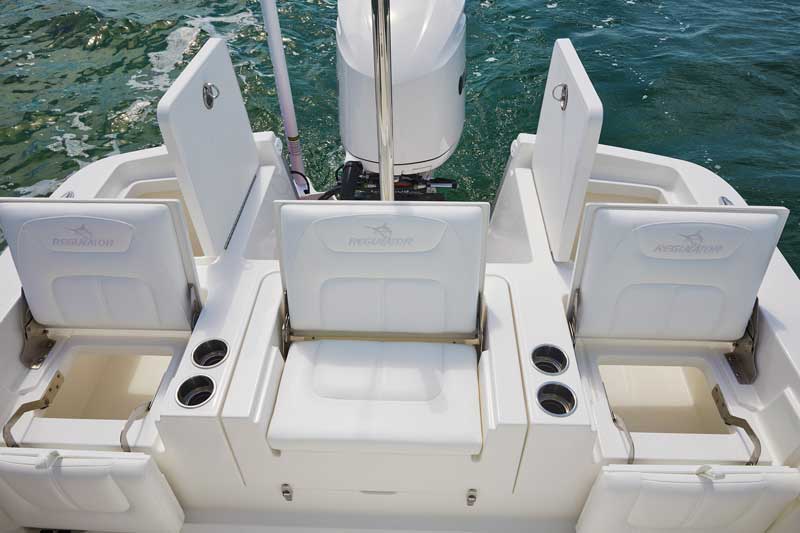 So it's got tons of fishing features. No surprise there, since this is after all a Regulator. But those who want a do-everything boat also have the option of adding a head to the console compartment and a removable tow-bar for pulling the kids around on tow-toys. Other comfort features we need to call out include flip-up backrests for the bow seats and USB ports in the bow seating area. And if you give this boat the once-over, be sure to put up those backrests and lean against them. Some similar arrangements found on boats with forward seating feel a bit flimsy, and you might wonder how they'd hold up if your 300-pound cousin Bubba rode up front in a reclined position. But that's not the case here—these backrests are rock solid.
There's also more seating in the form of aft casting deck flip-up jump seats. Again, all the hinges, supports, and pieces-parts are thoroughly beefy and built for heavy-duty use. Like everything else on the 26XO, they're also built with an exceptional eye for detail. Flip up one of the aft stowage compartment hatches and give it the once-over, to see another example. It's fully finished on both sides, gasketed, guttered, and rises on a gas-assist strut.
Yeah, we know, it seems really weird to think about a Regulator that doesn't have a deep-V. And we agree; it's just as unfamiliar to consider Regulator as a builder of bay boats. But when push comes to shove, we're darn glad for this departure from the norm. If you're a fan of bay boats but you also want to run offshore on occasion, we're betting you'll be glad, too.
Regulator 26XO Specifications: 
LOA: 26'9"
Beam: 9'3"
Draft: 1'2"
Displacement: 5900 lbs.
Max HP: 300
Fuel Capacity: 107 gal.
Water Capacity: 20 gal.
Price: $139,995
Dealer: Bluewater Yacht Sales (Kent Narrows, Baltimore, Ocean City)
By Lenny Rudow
---
For more, check out our Boat Reviews page.