You fawn over Ferraris, you swoon at the Sistine Chapel, and you go gaga over Gucci? You could move to Italy. Or, you could bring a healthy dose of Italian style to Chesapeake country—in the form of the Pardo Yachts P38.
The P38 isn't merely styled to look like an Italian boat, it's the genuine thing. Built at the Cantiere del Pardo factory near Bologna, Italy, the boat's design comes from the minds at Zuccheri Yacht Design, which also calls Bologna home. Pardo's smallest model (the line stretches up to 60 feet), the P38 raised plenty of eyebrows upon its introduction and was named European Powerboat of the Year in 2020.
While we've come to expect some unique design traits from Euro-boats, the P38 takes things up a notch. This is most evident in the bow, which is not only plumb but actually reverse-raked to a slight degree. It also has a through-stem anchor system, but rather than leaving it exposed, the bow's lines and curves are preserved by hiding the anchor away behind a hatch that swings up and out of the way when it's time to deploy the hook. The stern is also reminiscent of boats designed across the pond, with no discernable transom spanning the gunwales but instead the farthest aft seat blocking off the middle, and a pair of swinging gates sealing off either side. And on the outside, the transom takes an angular downward swoop until it hits a pair of swim platforms to either side of the outboards.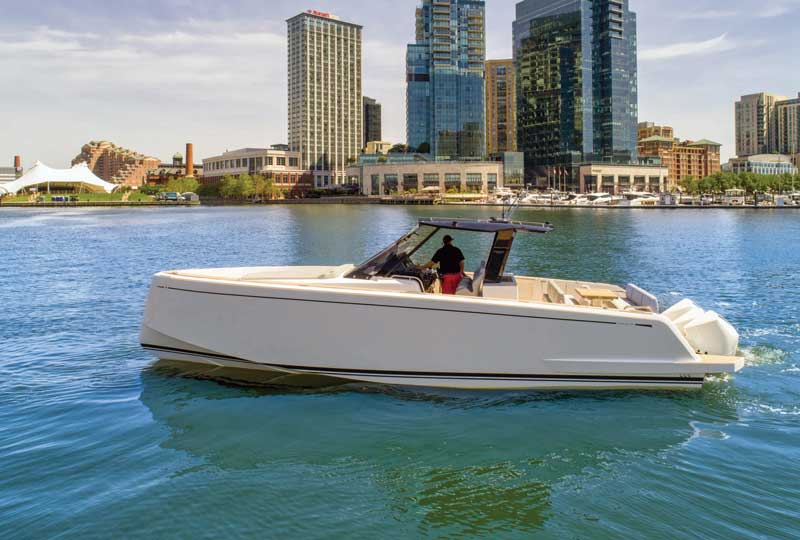 The P38 is a dayboat at its core, with oodles of seating running along two rows in the aft cockpit which are convertible to face either forward, face aft, or face each other with a dinette table in the middle. They can also all fold flat, creating a monster sunpad. The model we were on had no less than four refrigerators, so chilly beverages will always be close at hand, and on top of that the cockpit sported an integrated grill.
But this boat is also a weekender. The cabin has a queen pedestal berth, a fully enclosed head, and a one-of-a-kind mid-cabin berth. Like most mid-cabins there's not a ton of height and you have to crouch to move between the berths. Unlike any other on the face of the planet, however, in the center, under the leaning post, it rises up with standing headroom. The standing area also has ports that allow natural light into the mid-cabin, something that's sorely lacking on most other boats with a similar layout.
The cabin is topped with a monster-sized lounger in the bow, with beverage holders close at hand. Our favorite feature of the bow, however, is how easy it is getting up there. Rather than try to expand cabin size by pushing it out from gunwale to gunwale, fitting in with the dayboat theme Pardo instead designed in deep, wide side-decks that make it easy to walk around fore and aft.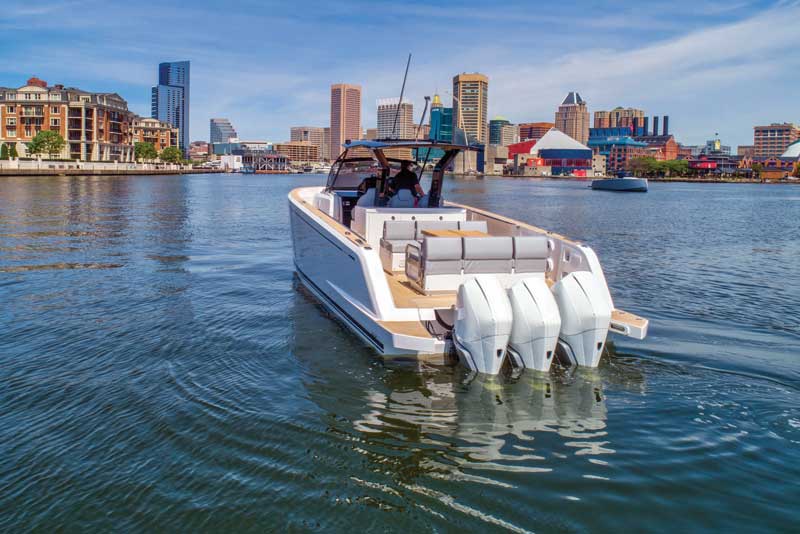 The P38 is available with twin Volvo-Penta inboard diesels, twin outboards to 350-hp, or in the form we saw it, triple Mercury Verado 300 outboards. That's a lot of power options, but it also just begins to scratch the surface when it comes to the different choices and options available for this model. An electric extending Bimini top, different fabric materials and colors, outdoor kitchen arrangements, and much more can be tweaked to your own personal tastes.
Speaking of personal taste: if you're one of those people who values Italian design, styling, and craftsmanship, the P38 is likely to strike a chord. One look, and you'll be saying ciao, amore mio!
By Lenny Rudow
Pardo Yachts P38 Specifications:
LOA: 35'11"
Beam: 11'8"
Draft (min.): 2'9"
Displacement: 15,400 lbs.
Fuel Capacity: 260 gal.
Water Capacity: 47 gal.
Max HP: 900
Local Dealer: Chesapeake Yacht Center in Baltimore, MD, (410) 823-2628