As the pace of our work and school worlds has grown faster and faster, so have our powerboats. Nowadays we not only race to the office and then race home to make dinner, many of us also race across the water's surface to get wherever we're going in a hurry. Ironically, in no genre of boat is this more evident than the trawler. Once upon a time trawlers were designed with displacement hulls that were quite slow but enjoyed fabulous fuel economy and tremendous range. Yet many of today's boats billed as "trawlers" are really planing or semi-planing powerboats with exteriors designed to look trawler-like and fuel efficiency that makes a Boeing 747 (averaging around 0.6 mpg) look like the Green New Deal by comparison. For those of us who want a true trawler, the real deal, thank goodness we have the Kadey-Krogen 58.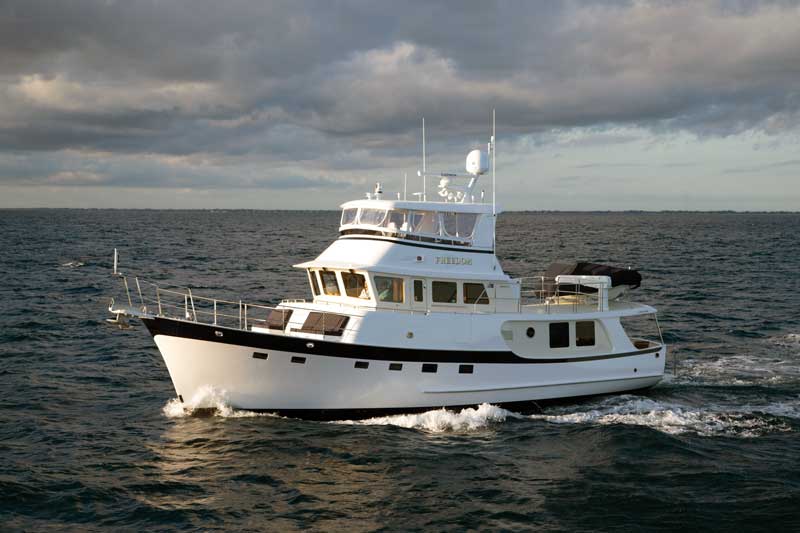 Outfitted with a single 325-hp or twin 160-hp John Deere diesel inboards, the 58 can cruise along at seven knots while getting in the range of 2.3 to 2.6 mile to the gallon. Pull it back to half that speed and you can more than double the efficiency. Either way your range will be measured by thousands of miles, not by hundreds—you could literally cruise this boat from Baltimore to Belfast. Top end is around 10 knots, and at that speed, range remains in excess of 1000 miles even while accounting for a 10-percent reserve.
Not only is the Kadey-Krogen 58 a trawler in the sense of hull design and performance, it's also built for comfort on extended voyages. Many builders try to cram four or five staterooms into a boat of this size, but as a result they're cramped enough to trigger a claustrophobic attack. The 58, however, incorporates two- and three-stateroom arrangements so each of the staterooms has plenty of room to stretch out. You can also choose between having two or three heads or carving out some of the extra room for an office nook.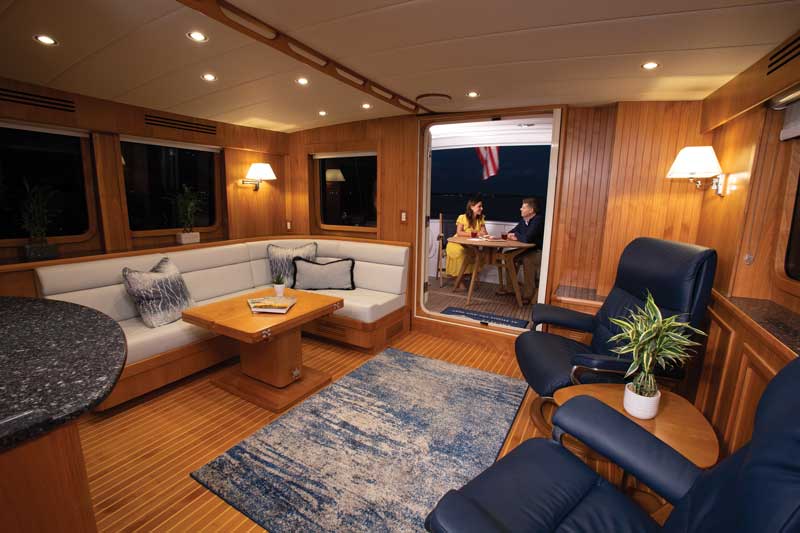 Serious long distance cruisers need to be able to handle and maintain their boats on their own, and when there's a long stretch between you and the nearest boatyard, you'll be thankful for the walk-in engine room with an oil exchange system, fuel polishing system, and sight-gauges on the tanks. When it's time for close-quarters maneuvering, you'll be thankful for the Portuguese bridge wing control stations. And when it's time to get from the anchorage to port, you'll be thankful for the Steelhead Marine ES-1250 hydraulic davit.
If you're going to spend days, weeks, or even months aboard your boat—certainly a realistic option, with a trawler like this—naturally you want to be comfortable. And the saloon on the 58 lands you squarely in the lap of luxury. Valences, cabinetry, and much of the furniture is cherry wood, upholstery is Ultraleather or Ultrasuede, and galley countertops are granite. You get to choose between having an ice maker or a wine chiller in the bookcase, and the list of appliances aboard the 58 even includes a dishwasher and washer/dryer.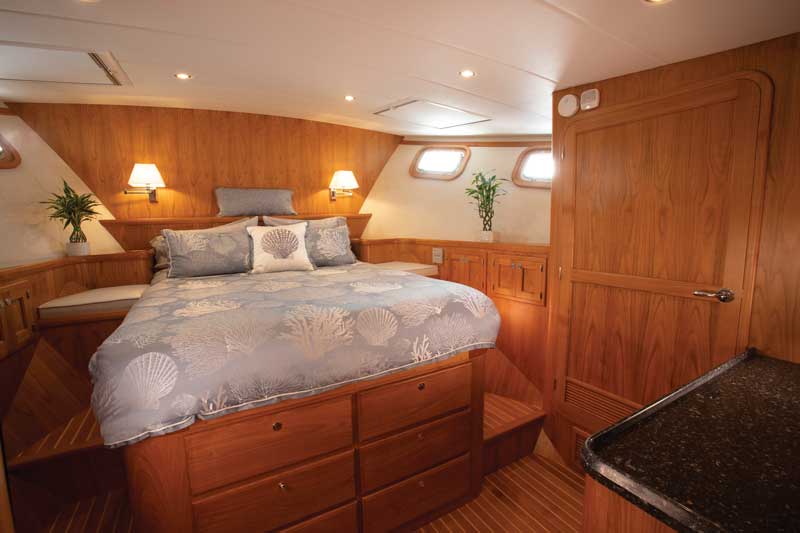 Does keeping in true trawler tradition mean tech gets left in your wake? Heck no. The pilothouse in this boat is downright dazzling, with triple MFD displays, an overhead electronics cabinet, multi-color overhead lighting, and a pair of Stidd Admiral pedestal seats. Plus, the 58 comes with the Vessel Vanguard digital yacht management system. For you old-school navigators, there's also a dedicated chart table with chart lights. Our favorite thing about the pilothouse, however, is its size. Here again, Kadey-Krogen chose to create fewer, larger areas, rather than shoehorning in lots of small ones. And in this case that means there's a settee and cherry dinette behind the helm station, so friends and family can hang out and socialize while underway.
If you want to get where you're going in a hurry, this isn't going to be your next boat. But if you believe getting there is half the fun, you'll have a tough time finding a more competent and more comfortable place to be than on the Kadey-Krogen 58. 
By Lenny Rudow
Specifications:
LOA: 63'3"
Beam: 18'1"
Draft: 6'4" (single engine) / 5'4" (twin engine)
Displacement: 99,230 lbs.
Fuel Capacity: 1810 gal. (single engine) / 1760 gal. (twin engine)
Water Capacity: 400 gal.
Max HP: 325
Dealer: kadeykrogen.com
Contact dealer for pricing.