We know you recognize the name Hacker-Craft, right? While their boats may be few in numbers compared to some modern builders, Hacker-Crafts register a perfect 10 on the recognizability scale. In 1891, John Hacker built the first boat to be known as a Hacker-Craft, and amazingly to this day, the Hacker Boat Company continues to create the same sort of hand-crafted mahogany powerboats. Each and every one is unique in its own way, boasts a gold-gilded Hacker-Craft emblem, and has thousands of man-hours of labor put into its construction and finish work. Each and every one is, unquestionably, a work of art.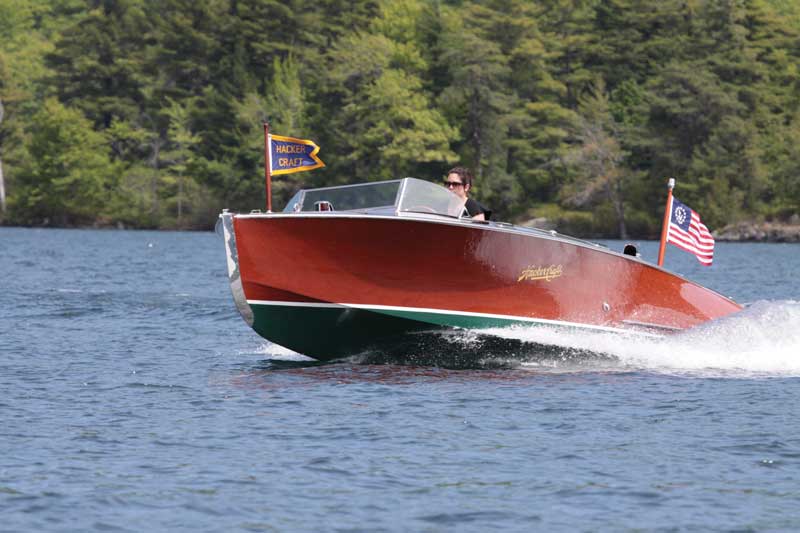 Hacker-Craft more or less invented the classic runabout inboard early last century, with the 1918 introduction of a V-hull inboard with a cockpit forward of the engine. Today's 24 Runabout model maintains this classic design in a 24-foot-long package with an eight-foot beam, providing comfortable seating for five in fore and aft cockpits. By all outward appearances, the boat is a throwback to the roaring 20s, with tumblehome tapering back to a rounded transom, a cambered engine hatch, gleamingly polished fittings, and high-gloss clear-coated mahogany decks and hullsides. Even the gauges are classically styled, and not only are they analog, the needles are the vintage arrow-styled pointer types arranged in a single oval cluster sitting next to the solid mahogany steering wheel.
Just about the only thing about this boat that looks modern, in fact, is the 5.7-liter, 350-hp Ilmore V8 inboard. Equipped with this powerplant, top speeds reach into the low 40s, a testament to another part of Hacker's history: building boats that perform beyond expectations. They launched the first 50-mph boat in the U.S. in 1912 and won three Gold Cup World Championships in the 1930s.
Sporty performance is, however, a secondary characteristic of the Hacker-Craft. Owning this boat is all about owning a piece of art built by modern craftsmen on American soil in upstate New York. But don't mistake the models they build these days for mere reproductions. Each has genuine timber frames, a keel, an inner skin, decking, and planking, laid in essentially the same way as it has been laid for over a century. So, while the 2021 24 Runabout is a "new" boat, it's also authentically antique in its own way.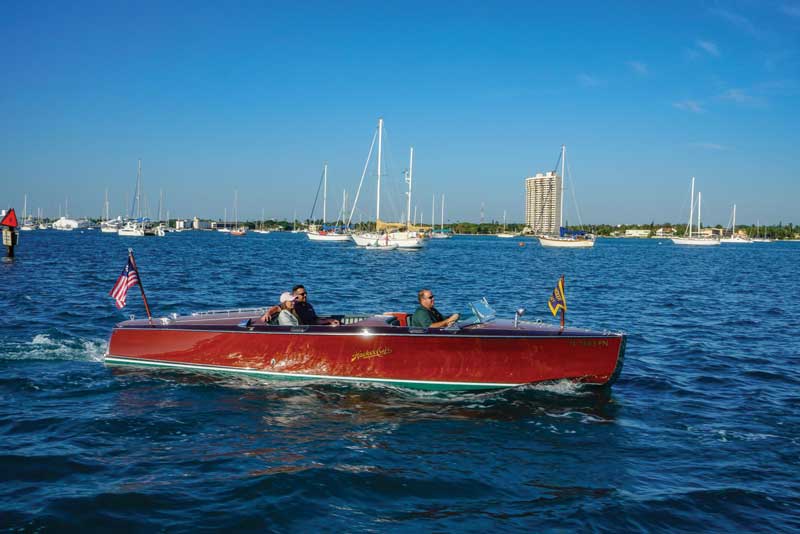 Touches of modernity? Well, they do add two pairs of cupholders. It's also equipped with a modern Bluetooth stereo system. You might not notice at a glance, though, since the speakers sit behind hand-crafted mahogany grilles (of course!). There's also optional engine room lighting that certainly wasn't part of the deal in the Roaring 20s. Otherwise, however, the 24 Runabout maintains its original appeal.
If you like the idea of owning a boat of this vintage but 24 feet is on the small side for your tastes, note that this is Hacker-Craft's smallest Runabout. They build them up to 34-foot twin-inboard engine models, as well as offering Sport models (with transom steps and swim platforms), Sportabouts (best for water skiing and watersports), Sterling (barrel-back styled), and Racer (the original engine forward, cockpit aft layout) models.
Obviously, a boat of this caliber isn't for the average runabout owner. In fact, the list of luminaries who own Hacker-Crafts is long and lofty, including celebrities like Donald Southerland, Rachel Ray, and Tommy Hilfiger. And someday soon, maybe you, too. 
Hacker-Craft 24 Runabout Specifications:
LOA: 24'6"
Beam: 7'3"
Draft: 2'0"
Displacement: 3800 lbs.
Max HP: 430
Fuel Capacity: 45 gal.
Price: approx. $399,000
Local Dealer: Tome's Landing Marina in Port Deposit, MD, (410) 378-3343 or tomeslandingmarina.com
By Lenny Rudow