The Cruisers Yachts 338 Bowrider blends the best parts of a bowrider with the livability of a cabin cruiser. If a bowrider fell in love with a cabin cruiser and they had a baby boat, it would grow up to be the Cruisers Yachts 338 Bowrider.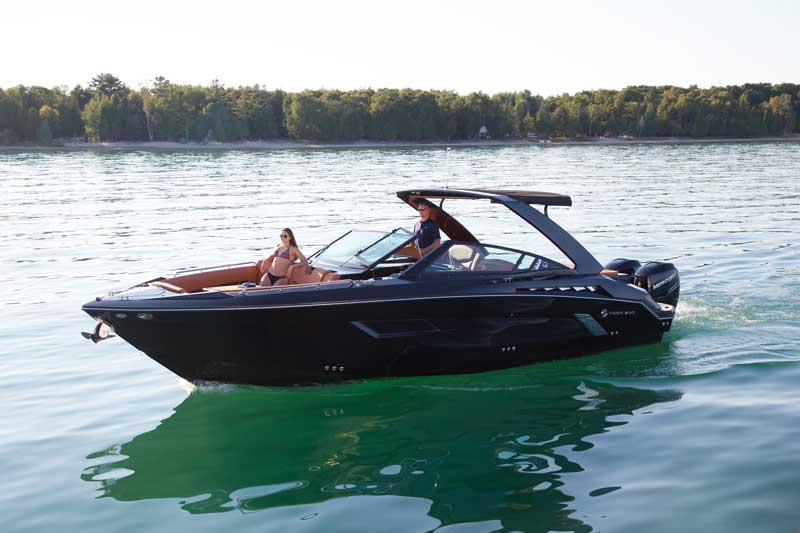 Don't let the model's name fool you. Yeah, it has a bow cockpit like a bowrider, but it's a whole lot more than a bowrider. In between the aft cockpit and the forward one, there's a surprisingly large cabin. It includes a full-sized stand-up head, a settee that converts into a berth for two, galley basics such as a microwave and a refrigerator, and an entertainment center with a flat-screen television recessed into the bulkhead. It's significantly more than just a spot to get out of the weather and makes weekending aboard a very comfortable proposition.
Thanks to a healthy 32-foot, 11-inch LOA and a stocky 10-foot, 10-inch beam, even with the cabin there's plenty of room for a spacious bow cockpit. It has seating for a half dozen people (though having more than three up front while underway would be a stretch) with integrated stowage for a 48-quart cooler under one of the seats, a dedicated trash bin, and additional stowage. Double-articulating hinges on the seat bottoms mean accessing those stowage areas is easier, too, since they flip open and hold the cushion in place and out of the way.
The walkthrough to the bow cockpit is on the port side, leaving the cabin entry centered and the helm to starboard. Take note, people: this is a gorgeous helm. The gauges and lighted toggle switches are set in brushed stainless-steel and carbon-fiber panels, the MFD is integrated, and the wheel is leather-wrapped.
Another stand-out feature is the aft seat, overlooking the double-wide swim platform. Press a button and the backrest opens and folds flat with the forward-facing transom seat, turning the two seats into a giant sunpad. That transom seat is really a part of an L-shaped settee, as it continues to the corner of the cockpit and then wraps up the port side. Then, there's a double-wide passenger's seat, plus the helm seat (both equipped with flip-down bolsters). All in all, there's seating for eight. But the cockpit in a boat like this just wouldn't be complete without a wet bar, so naturally you'll find one just behind the helm seat. It includes an uber-chic half-pipe sink, stowage, and a refrigerator.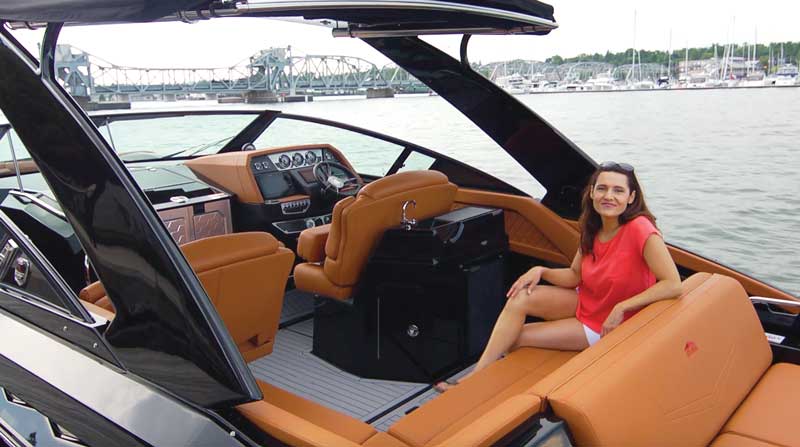 This is the sportiest model in Cruisers Yachts' line-up—they even offer it in "Palm Beach" and "South Beach" editions featuring different gel coat and upholstery color schemes—and it can be powered with V8s to hit speeds of over 50 mph. With a pair of 320-horsepower Volvo-Pentas in the engine room, cruise speed is in the mid- to upper-30s, and you can get a pair of 380-horse powerplants if you'd like to up the ante. In fact, this August Cruisers announced that they have also developed an outboard version of the 338 which carries a pair of Mercury 350s on the transom. Outboards on a Cruisers Yacht? That's a first, but it certainly falls in line with the rather sweeping advent of outboards on cruising boats. There's also a diesel version of the 338, which is powered by a pair of Volvo-Pent DV-300 DP EVCs. Decisions, decisions.
One final thing you have to keep in mind about the 338: even though it's Cruisers Yachts' smallest model, they use the same yacht-caliber construction methods as on their bigger boats. Look at the wiring, and you'll see it's well-loomed, supported, and marked for easy identification. Cleats are through-bolted and backed with aluminum plates, and there's a pair of spring cleats on each side of the boat instead of just one cleat per side. And sump and bilge pumps aren't screwed to fiberglass or laminated wood bases; they're mounted on flanged aluminum plates.
Bowrider? Sure, you can accurately call Cruisers 338 a bowrider. But don't let that name fool you—there's much more going on here than the name would suggest.
By Lenny Rudow
Cruisers Yachts 338 Bowrider Specifications: 
LOA: 32'11"
Beam: 10'10"
Draft: 2'3"
Displacement: 11,000 lbs.
Max HP: 740
Fuel Capacity: 154 gal.
Water Capacity: 25 gal.
Price: Approx. $325,000; varies depending on power choice and options.
Dealer: Annapolis Yacht Sales, Annapolis, Stevensville, and Edgewater, MD, and Deltaville and Virginia Beach, VA: annapolisyachtsales.com