You love the huge bow cockpit of a deckboat, the sleek lines of a performance boat, the performance and reliability of outboard power, and the sporty handling of a hull with vented chines? Well sure you do. But good luck finding a boat that incorporates all of these features—other than Crownline's E 285 XS.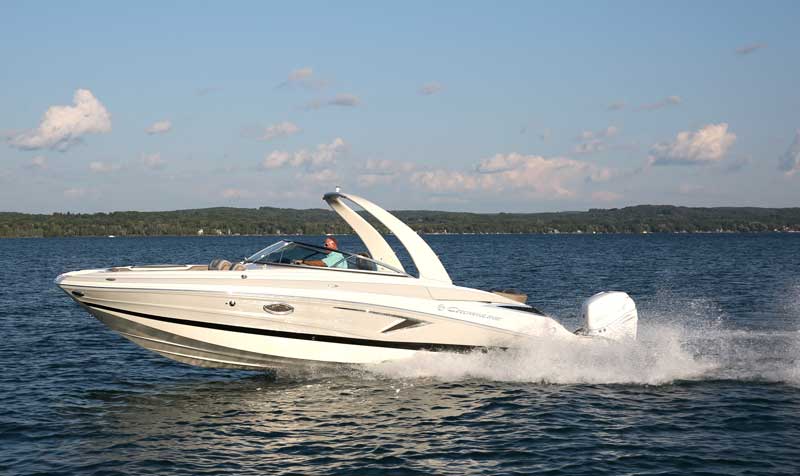 The "E" stands for Eclipse, which is Crownline's model line that carries its beam far forward. Viewed from above the bow it looks a bit deckboat-ish, and more importantly, it expands the forward cockpit's interior volume (so there's room for goodies like flip-up arm rests on the loungers, multiple cup holders, and integrated stereo speakers), while also making space for a wide bow boarding platform with a swing-out telescopic boarding ladder that makes getting on and off the boat a breeze when you pull it up to your favorite swimming beach.
Here's the kicker: unlike just about every other boat with this sort of design, the Crownline still manages to look downright athletic. The curvaceous hullsides, aft-raked windshield, forward-raked arch, and double hull-band gelcoat colors work together to provide the eye-appeal of a true sportboat. As unusual as this may be, it won't shock anyone familiar with Crownlines, which have been known for years for their drop-dead-gorgeous gelcoat work and color-coordinated multi-color interiors that boast a perfect fit and finish.
Beauty is, of course, in the eye of the beholder—but performance is not. And when it comes to the E 285 XS you can enjoy the performance and reliability provided by a modern four-stroke outboard. While boats of this genre have historically been stern drives, and the 285 is available in a stern drive version, this model gets the "XS" in its name because it runs with an outboard. Maximum power is a Mercury 350 Verado, which gives the boat plenty of pep. Top end breaks the 50 mph mark, and at a reasonable 4500 rpm cruise, you can plan on going from point A to point B at right around 40 mph. Time to plane is a quick 3.3 seconds, plenty fast to yank up a skier or a wakeboarder. Handling gets a boost via what Crownline calls its "F.A.S.T Tabs," which is a fancy name for a vented (notched slightly aft of amidships) and tabbed chine design. Rather than extending down along the hull bottom as a step would, the notches aerate only the area under the chines and outer sections of the hull. Meanwhile, the wing-like tab grabs the water in turns and boosts stability, eliminating the quirky handling that can sometimes accompany vents, steps, and other hull-bottom modifications.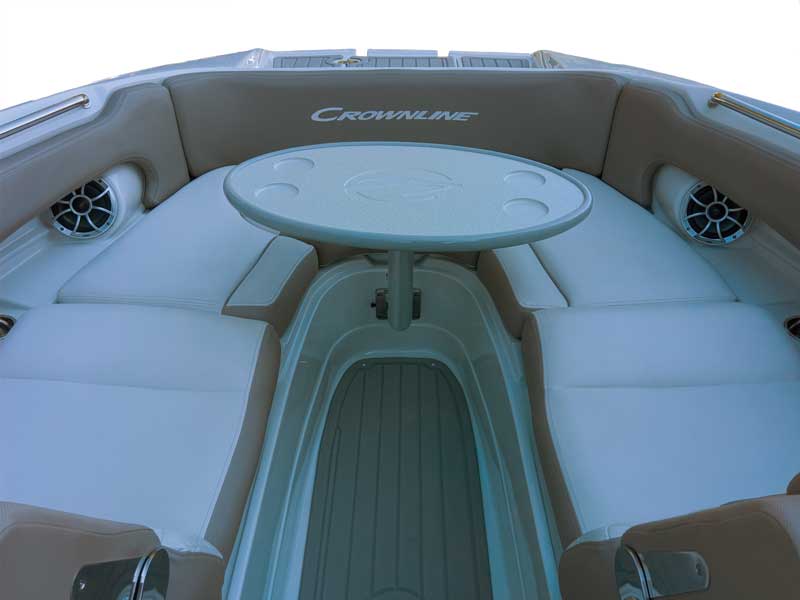 Wait a sec—we saved the best part for last. Everything we've talked about up to this point falls down flat if the interior of the boat isn't up to par. But get on this boat and you'll find that despite all of the other attention-grabbing features, the interior may actually be its strongest suit. For starters, aft of the helm the E 285 X has an outdoor galley and wet bar like those you find on modern yachts, with a sink, countertop, refrigerator, and electric grill (powered via inverter). Grillin' and chillin'? Youbetcha. Then check out the aft lounger, which transforms from a forward-facing seat into a recliner, and then into a tanning pad. Next take a peek at the seven-inch touch-screen data panel at the helm, the eight-speaker Kicker Bluetooth/USB/Aux stereo system, and the enclosed head compartment in the passenger's side console. 
All these goodies come standard. And while the E 285 SX does come quite well equipped right out of the box, one optional item we'd highly recommend getting is the bow freshwater shower. After all, with a boat like this you wouldn't want to climb back aboard and track a bunch of sand into the interior, now would you?
Crownline E 285 XS Specifications: 
LOA: 27'10"
Beam: 8'6"
Draft (max.): 3'2"
Displacement: 5705 lbs.
Max HP: 350
Fuel Capacity: 75 gal.
Price (MSRP w/350 Verado): $135,377
Local Dealer: Rhode River Boat Sales, Edgewater, MD: rhoderiverboatsales.net or (443) 406-4796
By Lenny Rudow