The Cobalt R4 is all about expanding your boating opportunities, no matter how you choose to spend your time afloat.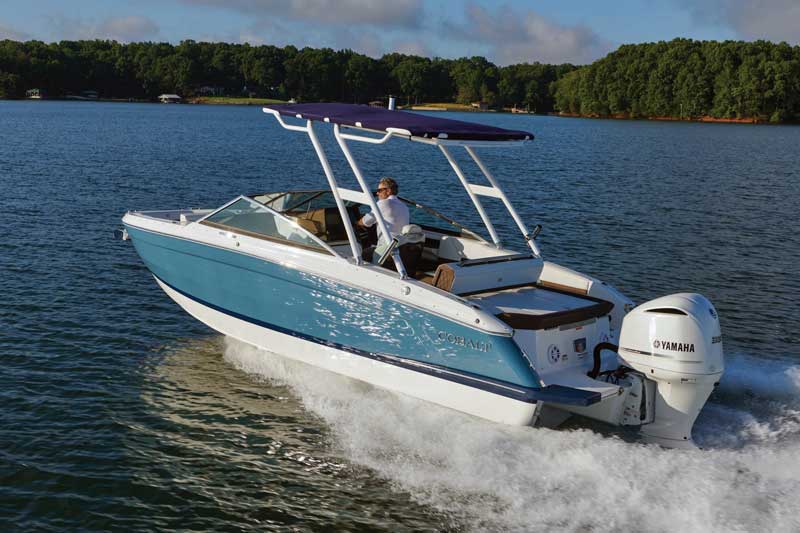 You want to have a homerun hit with the kids, make a splash with your spouse, and bring family fun to an entirely new level? Bringing home a new runabout is a sure-fire way to get the entire clan psyched to the max, and while you have a ton of boats to choose from in that genre, the Cobalt R4 is a vessel you've got to visit before signing any dotted lines. For the 2022 model year, an all-new R4 is hitting the water. It comes in three flavors: a Stern Drive version for traditionalists, an Outboard model for those in search of maximum versatility and easy maintenance, and a Surf version with Forward Drive for watersports lovers.
All of the R4s are built on a 24'3" hull that can handle a whopping 13 passengers, so you can take out not only your own family, but the neighbors as well. They also share the same basic layout, including a bow cockpit with seating, helm and passenger's chairs, and a large L-shaped aft lounger to port plus a center-facing seat to starboard. That aft lounger is a monster, too, with a port-side full-length position, a long seat along the stern, and a backrest that flips back to create an aft-facing double-wide lounger or folds almost flat to turn the entire stern into a sunpad.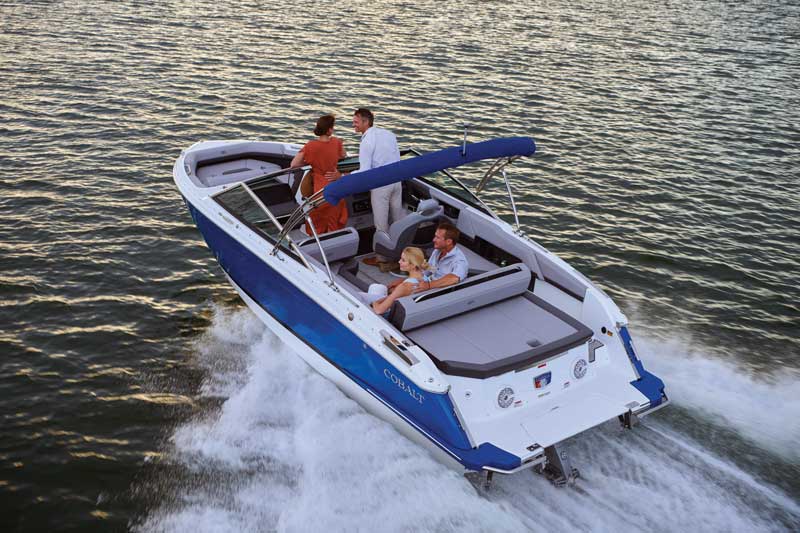 In the cases of the Stern Drive and Surf versions that lounger does double-duty as the engine box, and in the Outboard model it provides additional stowage. But it's not just the usual gaping hole you toss stuff into, which one commonly sees on boats designed to offer multiple power system choices. Cobalt instead designed in two levels of large stowage tubs with removable dividers. Leave the dividers out and you have space for bulky items like fenders, or slide them in place to keep all your gear separated and easily accessible. The hatch swings up on gas-assist struts, and the tubs can be removed for bilge, battery, and pump access.
Aside from this compartment, the other major difference you'll notice between the Outboard version and its siblings is the swim platform arrangement. The Outboard R4 has a pair of platforms to either side of the engine, while the Stern Drive and Forward Drive versions feature a full-width platform. A pleasant surprise here is that Cobalt managed to incorporate their patented Swim Step, a fold-down section of the platform that makes it uber-easy to get on and off the boat while you're swimming, into the outboard boat's smaller platform. So, no matter which version of the R4 you may opt for you'll get to enjoy this unique perk. Another rather unusual bonus feature that carries across this line is a glass cockpit helm with twin 10-inch Garmin displays. You'll see dashboards like this in larger, more expensive boats, but in a 24-footer this is a rare find.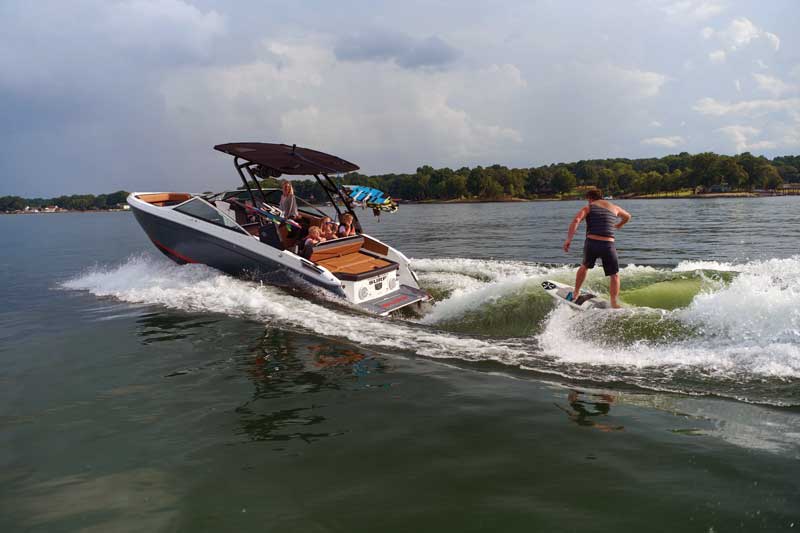 As one might guess, the Surf version of this boat does have some different functions and features than the other R4s. It includes an aluminum arch with wakeboard racks, five ballast tanks with 1226 pounds of total capacity, the Surf Gate system, and Zero Off cruise control. Cobalt Custom-Wave tech includes rider profile pre-sets and the ability to fine-tune waves and/or switch them between port and starboard sides on the fly.
Which of these R4 models would be the ideal pick for you and your loved ones? That's a call only you can make. We can say, however, that one of these three would almost certainly be a great choice for any family's new runabout. Decisions, decisions… 
Cobalt R4 Specifications: (Outboard/Stern Drive/Surf)
LOA: 24'3"
Beam: 8'6"
Draft (max.): 34"/36"/39"
Displacement: 4986/5290/5650 lbs.
Max HP: 350/430/430 hp.
Fuel Capacity: 50 gal.
Price: approx. $108,278/$114,920/$155,792
By Lenny Rudow