What could be better than zip-zinging around the Bay on a beautiful little 16-footer? How about doing that zipping and zinging on a boat that's unsinkable? We Chesapeake dwellers have been doing that for decades aboard small Boston Whalers, but now Whaler has redesigned the 160 Super Sport from the keel up to make those joy rides even more joyful.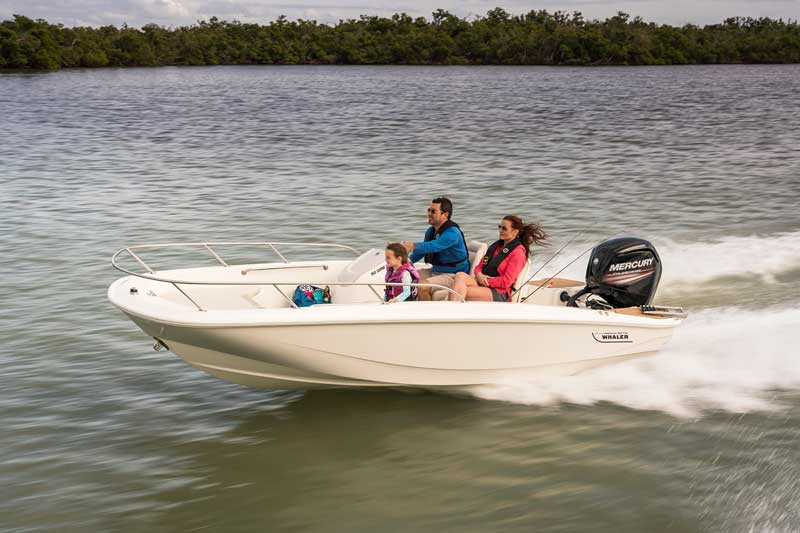 The new Super Sport rides on a 15-degree transom deadrise hull. As one would expect, it's built with Whaler's fiberglass-foam-fiberglass sandwich construction. Outer and inner hulls are laid up, and foam gets pumped between them under pressure so that it bonds to both and creates a single piece. This construction method results in a swamped weight capacity of 3000 pounds, along with a passenger capacity of six. Not that you'd really want to put a half-dozen people in the boat all the time, especially if you don't have the console-side cooler seat in place or if you've opted for the (lower capacity but more comfortable) side-by-side bucket seats as opposed to the bench seating arrangement. Of course, you can also add seating of a sort by adding in the optional bow cushion. 
Speaking of options: one you won't have to worry about is a trailer. The boat comes packaged with a galvanized torsion-axel trailer with a swing-away tongue. If you don't need it, it can be deleted to save about a grand.
One of the most noteworthy changes made to the new Super Sport is the addition of transom extensions on either side of the outboard, which serve as swim platforms and can be topped with synthetic teak boarding steps. There's also a telescopic ladde on the port side. Another nifty addition is the console compartment, accessed by swinging the top of the console forward. It makes for what's essentially a jumbo-sized, watertight glovebox. As is true with most Whalers both in previous iterations and this new package, the boat's also highly customizable with a number of different options ranging from rails, to seating, to a ski-tow arch, to rodholders (get the rodholders!).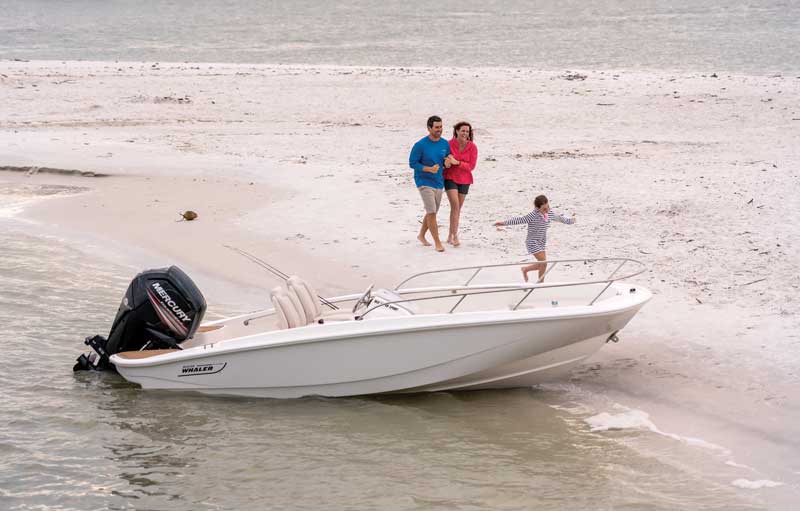 Another nice thing about the modern 160 Super Sport is that it's exceptionally clean. Unlike many small boats there's very little visible rigging; the fuel tanks are tucked neatly away and strapped down under the bench seating; the side-mount controls are mounted on a molded-in bump-out in the inwale; cable runs going forward are enclosed in tubes; and those running aft are tucked away under a shelf. Sure, a boat's looks are subjective. Between the slick design, detailed finish, and five different gelcoat color options, you'd be hard-pressed to make a case against the boat's eye appeal.
The 160 Super Sport comes with a stock 75-horse Mercury four stroke. Swinging a 13.5 inch by 15 inch three-bladed Spitfire prop, that gets you a real-world cruising speed in the upper 20s and a top-end in the upper 30s. For the vast majority of us, that's plenty of pep for a 16-footer. If you plan to pull adults on water toys, however, you may want to upgrade to the optional 90-horsepower mill. Both cruising speed and top end notch up by a few mph, but more importantly you get some extra grunt for yanking a big skier out of the hole. Watersports aficionados will also appreciate the improvement in acceleration, with the larger outboard reducing time to plane from 3.6 to 3.3 seconds. In both cases economy is excellent, with most efficient cruises of well over seven miles to the gallon.
So: are you ready for that zipping and zinging? Yeah, we thought so. The new Boston Whaler 160 Super Sport is, too. 
Boston Whaler 160 Super Sport Specifications:
LOA: 17'5"
Beam: 6'10"
Draft: 0'10"
Displacement: 1060 LBS
Max HP: 90
Fuel Capacity: 13 GAL.
Price: approx. $23,831
By Lenny Rudow