To someone who's never owned a boat before, opening up the throttle on their very own runabout for the first time is uber-exhilarating. Actually, it's a grin-inducing adrenaline rush for experienced boaters, too, and you'll enjoy this rush over and over again. But for those who are new to owning their own boat it can also be a tiny bit intimidating. That's one of the reasons why Bayliner designed its newest addition to the Element fleet, the M17, so handling it would be as similar as possible to handling a car. There is, however, one massive difference: every time you sit down behind the wheel of an M17 you'll be grinning from ear to ear.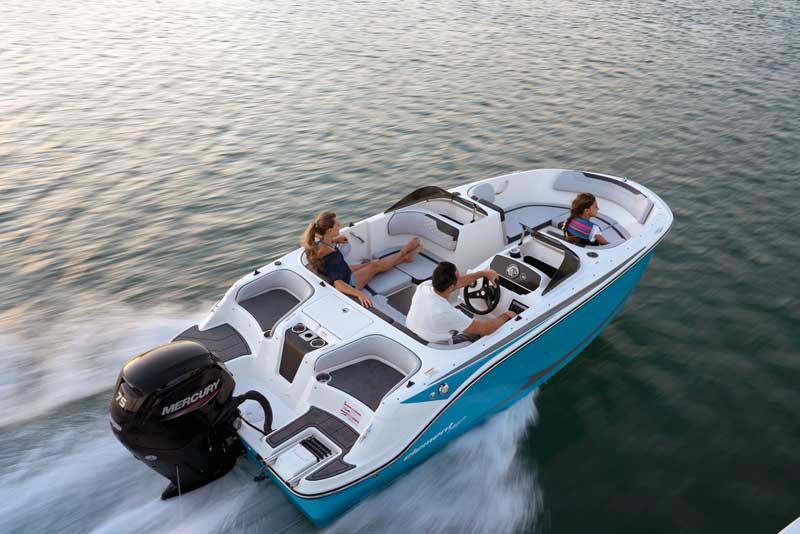 In truth a boat of this size isn't difficult to figure out, and Bayliner laid out the helm to make it as easy as possible. It has a centered gauge cluster, a keyed ignition, toggle switches, a side-mounted throttle to starboard, the wheel at center, and a stereo control to port. Nice and simple. Utility gets a boost as Bayliner also incorporates a cupholder and a recessed cubby between the dash and the windshield, so you have a convenient spot to sit down your drink and stow your cell phone.
Passengers can kick back along the stern seating, and a removable insert lets you connect the stern seat with the passenger's seat to turn it into a lounger. Or they can relax in the bow, which can also be outfitted with inserts and additional cushions to convert into a "playpen" style sunpad. And when the boat is at rest, everyone will enjoy sitting in the aft-facing seats molded into the back of the transom, which make for a great kid-watching perch atop the swim platform.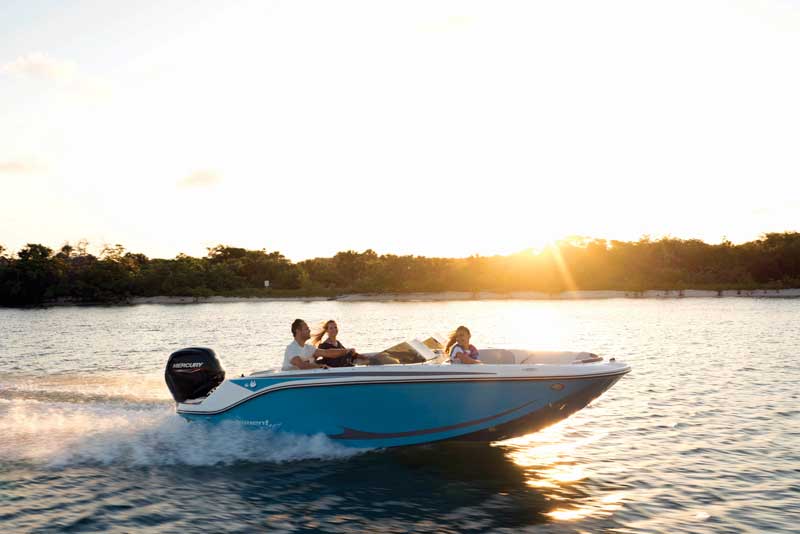 Another way Bayliner eases the transition from land to sea is the use of its M-hull design, which is incorporated into the entire Element lineup. It has a center 16-degree deadrise V-shape with a smaller V to either side (which gives it an appearance slightly like the letter "M" when viewed from the front), giving the boat tremendous static stability. One of the biggest surprises for many inexperienced boaters is the rocking, rolling, and leaning that can occur with more traditionally shaped V-hull boats, and eliminating that factor was one of the original concepts behind designing the M-hull.
Talking about easing transitions: The M17 also makes it about as painless as possible to go from being a guest aboard OPBs (other people's boats) to being a boat owner from the financial perspective. While we have to note that boat MSRPs rarely reflect real-world pricing, the M17 posts one of the lowest around for a full boat-motor-trailer package. And the stock package includes most of what you'll want to hit the water from day one, including a 60-horsepower Mercury outboard (upgradable to 90-hp). We'd call the automatic bilge pump a must-have option and failing to get the ski tow pylon would likely be tragic in the kid's eyes, but otherwise you'll be fully equipped for cruises to the swimming beach, pulling tow-toys through the waves, and exploring the Chesapeake and its tributaries. If you think fishing might be in the cards, there's also a fishing package available which gets you an aerated livewell, a fishfinder, a bow casting platform and fishing seat, and a trolling motor bracket and 12-V plug.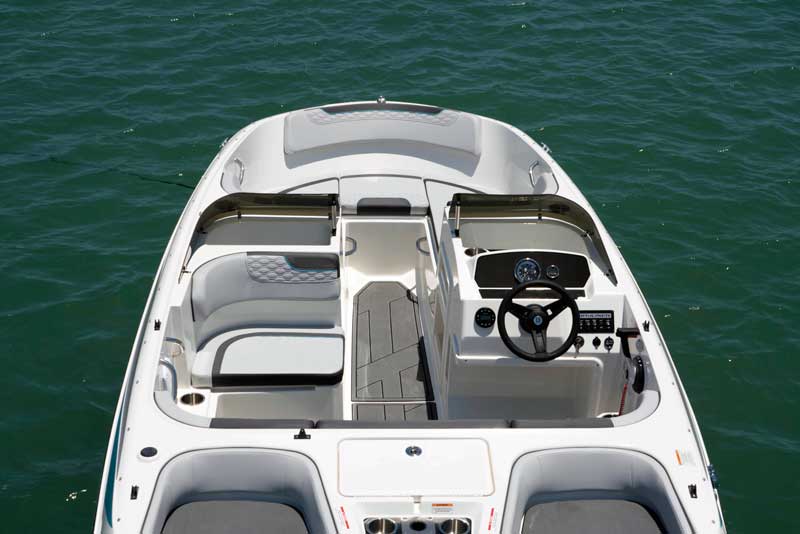 One other factor we've got to call out about the M17's ease of use: the complete towing package weighs less than 3000 pounds, so this rig can be pulled to the ramp with even a modest-sized SUV. And thanks to the swing-away tongue on the stock trailer it's also easy to store, with a complete length of 20 feet, one inches, and a width of eight feet, six inches. That means the whole kit and caboodle will easily fit in just about any garage. So, what are you waiting for? Move that car out, and move that brand-spanking new boat in. We promise, lots of grins and adrenaline rushes are going to follow. 
By Lenny Rudow
Bayliner Element M17 Specifications:
LOA: 17'0"
Beam: 7'6"
Draft (max.): 2'3"
Displacement: 1984 lbs.
Max HP: 90
Fuel Capacity: 18 gal.
Price (base MSRP): $20,925
Local Dealer: Riverside Marine in Essex, MD. (410) 686-1500