If you love to day-cruise, you love to fish, you love to overnight, and you love to entertain, you might think you need four boats in order to have all of those bases covered. And while we'd always encourage having a fleet as opposed to just a single watercraft, we came across a boat recently that fits the bill for all of the above—and then some: the Axopar 37 Sun Top.
An Axopar 37 Sun Top was on display at the Bay Bridge Boat Show this spring, and a quick run-down on the boat's design and equipping quickly made it clear that on the Axopar, you can in fact do it all. As for day-cruising, there's a huge sunpad on the bow and plenty of shaded seating under the hard top. There's additional seating along the transom, and all in all, depending on how you have the 37 Sun Top outfitted you can have forward-facing seating for up to 10 passengers. You want to run the entire family plus the neighbors and the kid's friends across the Bay for lunch? No problem.
If you decide it's time to wet a line, you'll discover rodholders in the gunwales, a set of five rocket launchers on the hard top, and a livewell in the starboard side inwale at the transom. Note that it's one of those cool aquarium-style wells, with a clear side so you can watch your baits swimming around in there as they wait to be offered up to the rockfish.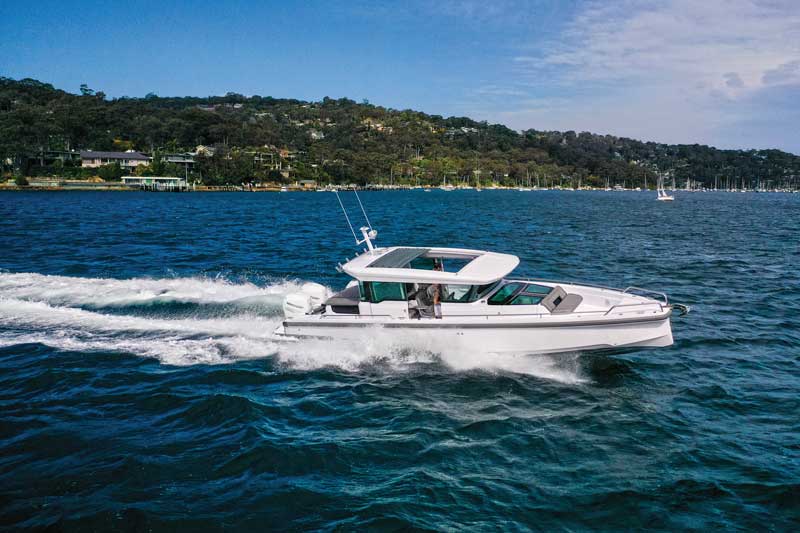 When an overnighter is in the cards, it'll be time to enjoy the cabin with its unique gull-wing-style side doors. Swing 'em open to get a glorious cross-breeze belowdecks. But this isn't the only way to enter the cabin. There's also an aft hatch located next to the helm. When entering the cabin from this direction, you'll spot a head to starboard, with a door that can swing over to separate the entire compartment from the rest of the cabin, turning it into an uber-large private head compartment. Forward, the cabin has a sizable V-berth, a small settee, and stowage compartments. 
Entertaining a crowd aboard, all the aforementioned design features will be great. But add to that a dinette table between the first and second rows of seating under the hard top. And the forward seats all swing around to face aft, so seven people can sit around the table facing each other. All the while, multiple drawer-style refrigerators built into the seat bases keep your frosty beverages close at hand. And when it's time to prep a meal, you can move aft to the cockpit wet bar, which can be configured to house goodies like a sink, a top-loaded refrigerator, and/or a cook-top.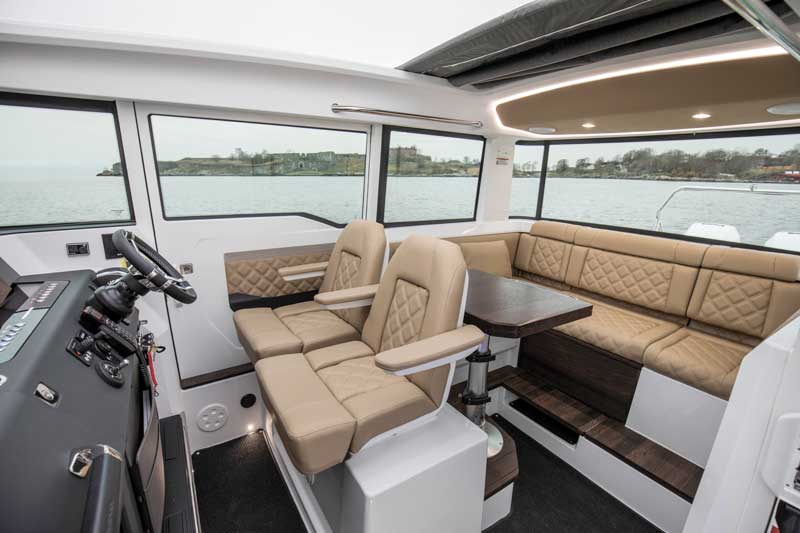 Okay: we've covered the do-it-all part, now are you ready for the "and then some?" With twin 350-horsepower Mercury outboards on the transom, the Axopar also passes muster as a high-performance boat with top-end speeds reaching into the upper-50-mph range. We note that 700 total horsepower is not an outrageous amount of power for a boat of this size by modern standards, and the Axopar gets its speed boost from a twin-stepped hull with 20-degrees of deadrise, rather than simply piling on more horses. Net result? Efficiency remains well over a mpg throughout the RPM range, until you reach over 5500.
As they say on TV: But wait, there's more! The 37 Sun Top can also serve as a watersports boat. Yes, watersports. While we're not about to assert that it can provide surfing wakes like a wakeboarding boat or the mere ripples of a dedicated waterskiing boat, there is an optional ski-tow arch, and the reps on-site told us that it's awesome for towing wakeboards and water-toys.
Would it be great to own an entire fleet of boats, so you can have the ideal watercraft for every different conceivable activity you might wish to enjoy? You bet. But there is a simpler alternative, and its name is the Axopar 37 Sun Top. 
By Lenny Rudow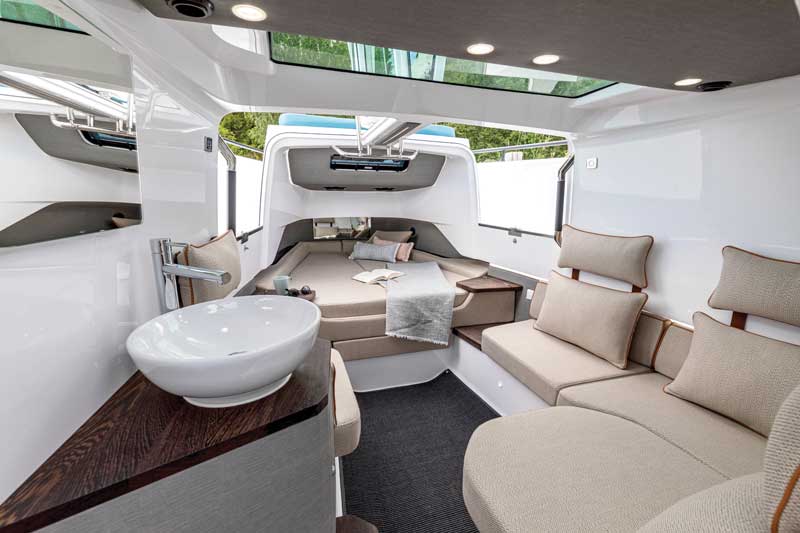 Axopar 37 Sun Top Specifications:
LOA: 37'9"
Beam: 11'0"
Draft (max.): 2'9"
Displacement: 7915 lbs.
Fuel Capacity: 193 gal.
Water Capacity: 40 gal.
Max HP: 700
Price: $384,247
Local Dealer: East Coast Yacht Sales, (207) 846-4545