Every boat is different, but some are downright unique. And when it comes to finding a boat unlike all others there's no better example than the Aspen C120. This power catamaran glides across the waves on asymmetric hulls, one about 35 percent larger than the other, with a single diesel engine in the starboard side. The port hull, meanwhile, is hydrodynamically designed to counter the engine's force so the boat tracks straight as power is applied. Net result? Rather astounding fuel economy. With a 440-hp Volvo Penta D6 it can meander along at six mph while getting 8.7 mpg. At a 17.5-mph cruise the boat gets better than 2.0 mpg. And even at wide-open throttle speeds of 27 mph, it maintains 1.2 mpg. Just as a frame of reference, your average 40-foot cruiser is considered relatively "efficient" if it gets better than 0.7 or 0.8 mpg at cruise and even a modern trawler rarely can top eight mpg at passagemaking speeds.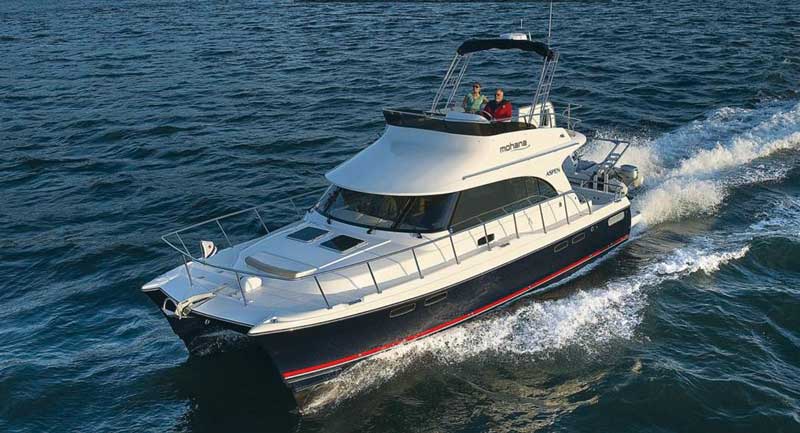 Speaking of passagemaking: your comfort level will be higher than on the average monohull, thanks to the catamaran's naturally enhanced stability. In fact, Aspen claims a 70-percent stability boost as compared to a monohull. And that's on top of a cat's wave-slicing ability. With a pair of knife-like entries as opposed to a single entry shaped more like a spoon, impacts are reduced every time the bow meets a wave.
Just as important, you won't mind taking your time about getting where you're going in this boat. The C120 is designed for full-on luxury, with perks like Ultra Leather upholstery, Amtico teak-and-holly cabin soles, Burmese teak cabinetry, a bar and swing-out bar stools in the cockpit, and an electric reclining dinette seat. The belowdecks layout boasts three private cabins including a twin berth in the port hull, a master with king pedestal berth forward, and a guest stateroom with a queen berth to starboard. Each hull also houses a head. The main cabin features a salon with a dinette to starboard and a full galley to port.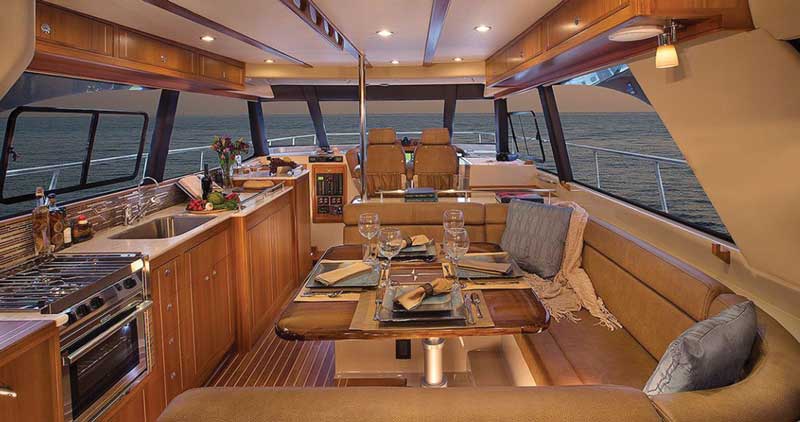 Being designed for extended cruising capabilities, this galley is rather unique as well. Most impressive for the foodies among us will be the three-burner Force 10 LPG stove and oven, but also note goodies like a teak wineglass rack, side-by-side refrigerator and freezer, and Corian countertops.
Despite placing the emphasis on making extended stays aboard comfortable, the C120 isn't one of those cruisers that shoehorns in a huge cabin at the expense of losing access to the outdoors. The cockpit is a full 100 square feet, capped off by a full-width swim platform. The broad bow, meanwhile, is easily accessed via sidedecks protected by tall 1.5-inch stainless-steel rails. But the highlight for enjoying the natural environment will no doubt be the flybridge. Shaded by a bimini, it has seating for the captain and four passengers with a dinette table to the side plus an open aft second level deck, or it can be optionally arranged with a passenger's seat forward and the table shifted aft. Either way, why run the boat from down below when you could be enjoying an elevated view?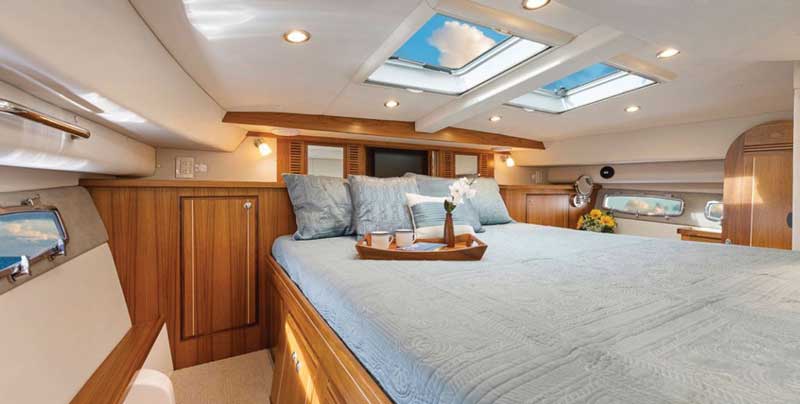 Let's do a quick recap: here we have a boat with two asymmetric hulls of different sizes. It's a 40-footer propelled by a single diesel inboard yet hits speeds of over 27 mph. It can slow cruise for well over 1500 miles while getting 8.7 mpg. The interior delivers three staterooms and the level of luxury you expect from a modern yacht, yet the exterior areas of the boat are still extensive. Unique? Youbetcha—the Aspen C120 is truly one of a kind.
By Lenny Rudow
Aspen C120 Specifications: 
LOA: 42'6"
Beam: 13'10" 
Draft (min.): 3'3"
Displacement (approx.): 22,500 lbs.
Fuel Capacity: 180 gal.
Water Capacity: 100 gal.
Max HP: 440
Learn more: aspenpowercatamarans.com or (360) 668-4347
---
For more, visit PropTalk's Boat Review page.