Boaters who love powercats— myself included—tend to hold them in high esteem thanks to their smooth ride and above-average seakeeping abilities. It's rare that the cabin turns out to be the most striking high point on a powercat. In fact, in many cases you'll find that you have to give up a good bit of interior volume in order to enjoy that fantastic ride. Walk into the Arrowcat 320 Coupe, however, and you'll discover a cabin that changes the cat-versus-monohull game.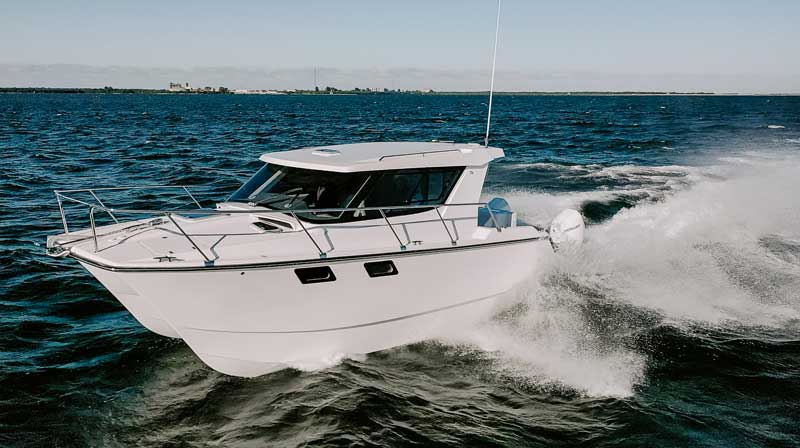 Creative design and thoughtful use of the available space are the ace up an Arrowcat's sleeve. The starboard-side hull and the area bridging the hulls is dedicated to a single, private stateroom with a queen berth. As you might expect, the port hull is used for a head and shower compartment. Look opposite the head entry, however, and you'll discover the unexpected: a second private berth running fore and aft inside the hull under the bridgedeck. You'll see plenty of 32-foot monohull cruisers with a mid-cabin berth, but it's almost always open to the main cabin and V-berth. Two private sleeping quarters plus an enclosed head, however, is virtually unheard of in a cruiser this size regardless of whether it runs on one hull or two. 
Aft of the main stateroom, the voluminous starboard hull is utilized for a bulk stowage area with plenty of room for all the gear and provisions needed by long-distance cruisers. Peek into the back of that area and you'll see a lithium power cell that holds enough juice to power the boat's systems (including air conditioning) via an inverter, eliminating the need for a generator.
The salon also exceeds expectations, with a full galley behind the helm, and a settee/dinette to port. The helm is centered and has large windows to the sides plus a large aft bulkhead window and a clear door for good visibility 360-degrees around. But exit the cabin and things get even better.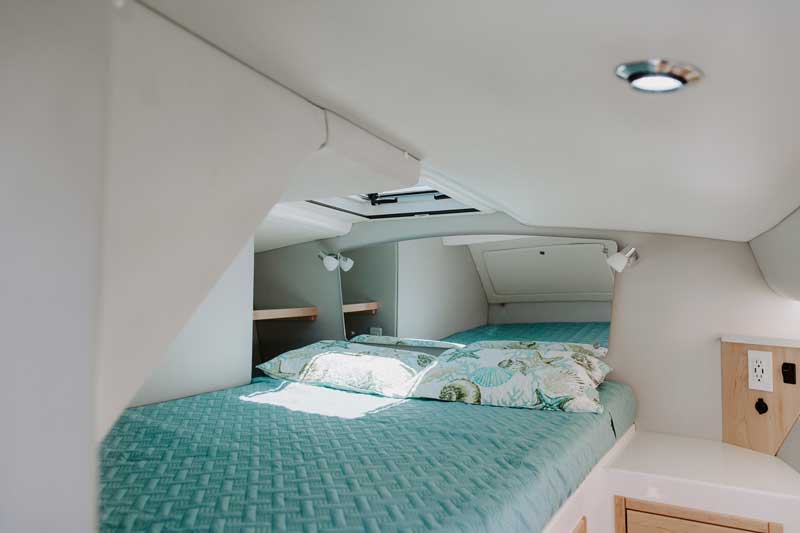 Now, let's make sure we're keeping track: we have two separate sleeping quarters, a stand-up enclosed head and shower, a galley, dinette, and helm, all inside the cabin of a 32-footer. The laws of boat-physics would seem to stipulate that when you put that much cabin onto a 32-footer there simply won't be much room left over for a cockpit. Well, boat-physics be danged. While the cockpit isn't what you'd call huge, there's plenty of space back there to set up a few deck chairs in addition to the double-wide aft-facing seat to port and the single seat on starboard, and enjoy the salty sunset. Or grab a few fishing rods and take a cast or two.
Speaking of fishing: the 320 Coupe may be a cruiser at heart, but it has the makings of a fishing boat as well. The boat we were on during the Bay Bridge Boat Show had a rack of six rocket launchers gracing the back of the hard top, four flush-mount gunwale holders, and an oval livewell in the transom. Plus, with the extended platform running aft between the outboards you can even fish back behind the powerplants. And while we're on the subject of powerplants, note that the Arrowcat can hit speeds in the 40s with a pair of 225-hp Mercury Four Strokes on the transoms. Most monohulls of this size would more likely carry 300s or even larger engines, but the efficient powercat design can get up to speed with fewer horses—which means less initial cost and lower operating expenses.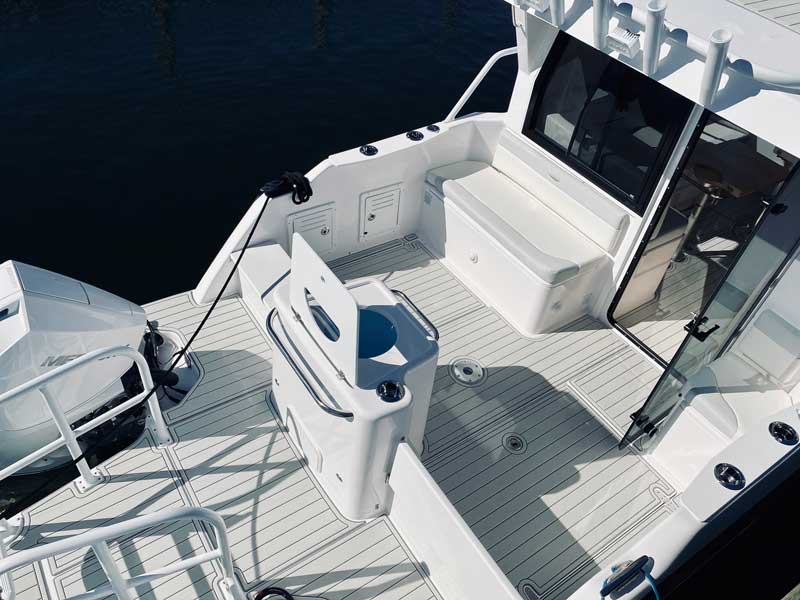 You want a 32-foot coupe that delivers more than you could ever reasonably expect from a package of this size? Then check out the Arrowcat 320 Coupe. But please, please, please, make sure you go for a sea trial when the Bay is thoroughly riled up. Because when all is said and done, it's that smooth, seaworthy ride that will most likely make a cat lover out of you, too.
By Lenny Rudow
Arrowcat 320 Coupe Specifications:
LOA: 31'2"
Beam: 10'0"
Draft (min.): 1'6"
Displacement: 9900 lbs.
Max HP: 500
Fuel Capacity: 196 gal.
Local Dealer: Annapolis Yacht Sales in Annapolis, Tracys Landing, and Stevensville, MD, and Deltaville, VA. (410) 267-8181
---