Have you ever heard a sound that brought you instantly back to a memory? For boat racing legend William "Bill" Edwards, that sound can still be heard every year coming from the roar of his Chrysler Stacker motor mounted on his #1937 Dennis Point Menace E&T Tunnel Hull. Bill started his career in boat racing in the early 1960s, running a wooden skiff powered by a PO Johnson. Working alongside good friend and future business partner, Beale Tilton, the duo would change the sport of boat racing for forever.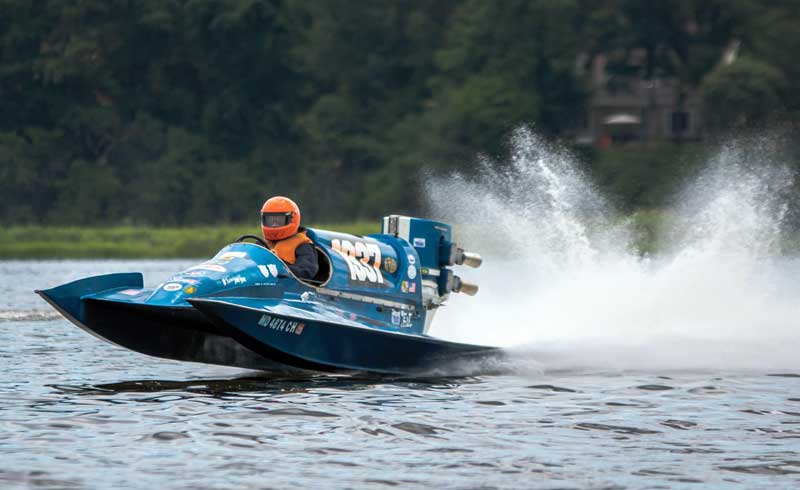 Bill's work on boats and engines soon turned into him being asked to race Owens and Crownline fiberglass boats, which were being sold by Jim Henderson. Bill and Jim (co-pilot) drove an F-1 class Crownline with a 75-horsepower Scott to win the first 60-mile marathon near Bushwood, MD. His passion for race boats grew, and he became a member of the Southern Maryland Boat Club (SMBC) in the mid-1960s. Wanting to branch out even more, Bill joined the American Power Boat Association (APBA) in 1966 and began traveling to various race events throughout the country.
Bill has been through his share of thrills and spills, but the spill out of a Kennedy Craft boat into the Hudson River in 1966 lead to the creation of E&T Marine. While running the race, Bill struck something in the river causing the boat to sink. Bill and Beale decided to take the boat and try their hand at building fiberglass molds of the Kennedy Craft, which turned into the start of E&T Marine boats. The E&T Marine hulls branched out from the Kennedy Craft modified hull to the tunnel hulls that Bill still runs today.
Prior to the dissolving of E&T Marine in 1976, a total of 36 boats, including 17 V-hull boats and 19 tunnel-hull boats, were produced. Many E&T Marine boats have helped carry their driver to become straight away record holders, closed course record holders, divisional champions, and approximately seven 1-US and four 2-US National High Point Champions. Many of these E&T Marine boats are still running to this day as part of the Vintage & Historic events throughout the East Coast, Midwest, and Canada.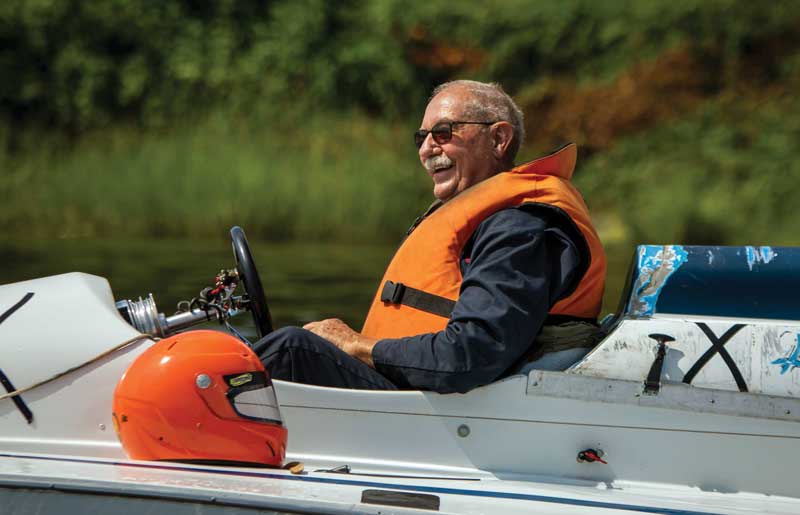 Bill's innovations didn't stop at boat building. He created a way to bolt a single trim mount (not a dual trim mount like the manufacturers') to the engine. The new single trim mount along with modifications to the steering would help improve the overall stability of the boat making for a better ride. The original prototype he used to create the single trim mount is still installed in the vintage race boat that he runs today, #1937 Dennis Point Menace. Bill was also an advocate of the foot pedal being installed on the left side of the boat; every E&T Marine boat was produced with this set-up. Bill discovered that boats will spin out by turning to the left causing the driver's weight to be thrown to the right. If the pedal is mounted to the right side of the boat, the weight of the driver's foot would be pressed against the pedal causing the boat to keep running creating an unsafe situation for everyone. 
Along with all of his racing and boat building accomplishments, Bill has been a continued member of the APBA and SMBC. He held the SMBC race chairman position in 1968, vice president position in 1970, and was the SMBC president in 1971. He sat on the Region 4 Board of Directors for APBA from 1972-1973, and he was an approved OPC inspector from 1970-1974, approved OPC referee from 1972-1974, and currently is an approved inspector for Vintage and Historic. Bill still enjoys running his E&T tunnel hulls at vintage race boat events in West Virginia, Ohio, Wisconsin, Indiana, and Florida and loves the event(s) in his hometown region of Southern Maryland. Bill is still as humble as ever, always willing to help out a fellow driver, and always willing to lend a hand getting dirty making an old vintage boat run like new.
By Brittanie Adkins