Hinckley Yachts made its mark on the boating world with its line of Picnic Boats, currently offered in a trio of yachts ranging from 34 to 40 feet. And while the model line shares a number of characteristics, its inboard jet-drive propulsion systems are a defining factor. As outboard power became more reliable and more popular, however, Hinckley introduced a Sport Boat propelled by those bolt-on power plants. In terms of both appearance and inboard arrangement it was obvious why these more modern-looking craft would never carry the Picnic Boat moniker. But, what if you loved the classic look of a picnic boat and you also loved the convenience and performance of modern outboards? You were out of luck. Until now. For 2021 Hinckley has introduced a new model dubbed neither a Sport nor a Picnic, but simply called the Hinckley 35.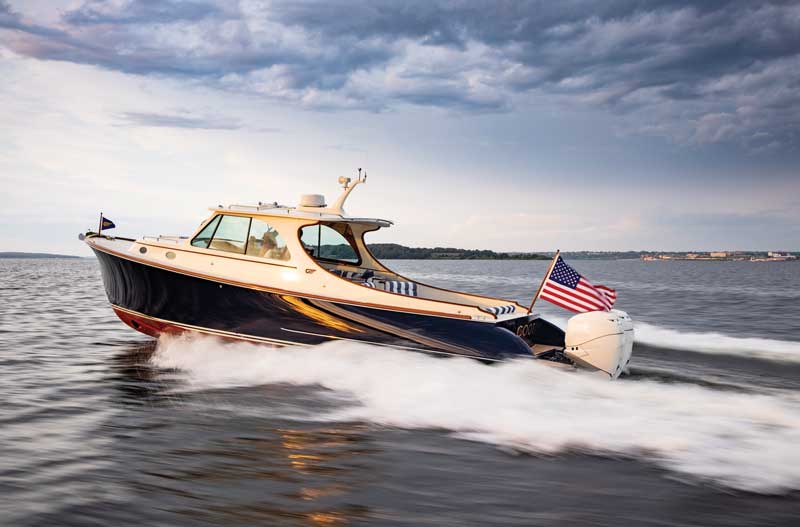 Take a single glance and there's no mistaking its Hinckley lines, from the teak-trimmed cabin-sides to the swooping wings that connect the wheelhouse with the gunwales in a graceful arc. Head for the bridgedeck and you'll find a pair of J-shaped settees aft of the helm and passenger's chairs. Then go below and again you'll be in a Hinckley-like surrounding, with a galley to port, an enclosed head to starboard, and a V-berth forward. The only visible alteration is the pair of outboard cowls standing between the swim platforms on either side of the transom.
When some builders add outboard propulsion to their traditional power offerings, they also drop the boat's detail level in a bid to cut costs and appeal to a wider range of buyers. Not so on the Hinckley 35. It will take just as discerning a boater, albeit one who's grown comfortable with outboards, to appreciate just how much craftsmanship can be spotted aboard this boat at a glance. The sole is real teak and holly. Cabinetry is louvered with actual solid wood slats, not the knock-off plastic or laminated veneers so common on today's boats. The helm gleams with varnished teak. And all of this is on the "stock" boat—the only options you'll have to ponder are choices like having teak decking, a Seakeeper, or upgrading the 300-hp powerplants to 350s. Setting those powerplants aside, from the transom forward you'll have a tough time differentiating the new 35 from the classic Picnic line.
Differences do lie beneath the waterline—and thank goodness for that. Far too many manufacturers are perfectly happy to take a hull designed for inboards and plop a pair of outboards on the transom, without accounting for things like the boat's designed weight distribution and running attitude. In this case, however, designer Michael Peters gave the running surface wider chines and strakes to increase both lift and stability and optimized the design for outboards. Net result? A top-end in the upper 40s, with a range of over 300 miles at 35 mph.
That's spiffy performance for a 35-foot twin-engine boat, but hull design is only part of the reason why. A huge portion of the credit goes to Hinckley's uber-high-tech construction methods. These boats are infused carbon fiber, with the epoxy post-cured in an 80-foot-long digitally controlled oven. The single bond infusion process integrates the hull, stringers, floors, and supports, and then baking it all together creates a single structure with minimal weight and maximum strength. In fact, this model comes along with a lifetime hull warranty.
You say you appreciate the beauty and functionality of the Hinckley design, but you're an outboard fan? If that's the case, the Hinckley 35 seems built to order.
Hinckley 35 Specifications:
LOA: 38'8"
Beam: 11'0"
Draft: 2'10"
Displacement: 13,174 lbs.
Max HP: 700
Fuel Capacity: 300 gal.
Price: approx. $1,150,000
By Lenny Rudow