You say you're looking for an outboard-powered flybridge cruiser that has spiffy performance, full accommodations for extended stays aboard, and an extensive list of uber-inventive features? Then, the Cutwater C32 is right up your alley, and it's a good thing Cutwater builds it because truth be told there aren't many builders of outboard-powered boats in this size range that offer a flybridge.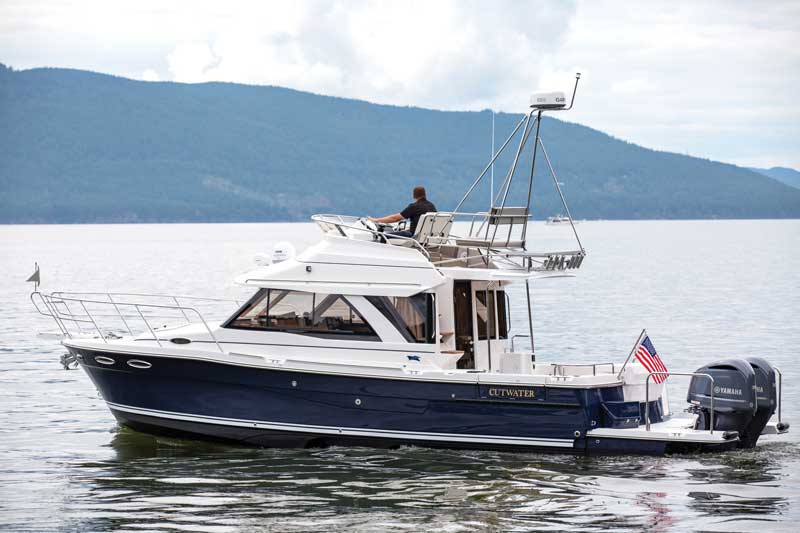 While the C32 can also be had in a coupe version (the C32 C), we love having that bridge. There's just no substitute for zipping across the Bay at speeds up to around 50 mph from the elevated position, and when the weather turns sour, you still have a fully protected helm station inside the cabin. Speaking of difficult weather, this is an all-weather boat for sure, with options for a diesel forced-air furnace or air conditioning with reverse-cycle heat. 
Either way, you'll enjoy relaxing in the main cabin, which includes a full-sized dinette to starboard and a galley plus a passenger's seat to port. And here's where the uniqueness of the boat begins to come into view. That galley and passenger's seat fold flush and have tops that fold down flat, to create a single huge countertop. As you might expect the dinette folds up too, to create a berth, but prepare yourself for a bit of a shock as you inspect this part of the boat: there's also a private mini-cabin underneath the dinette which provides sleeping quarters for a second couple. Add in the forward stateroom, which has a semi-pedestal berth, and the boat can sleep up to six.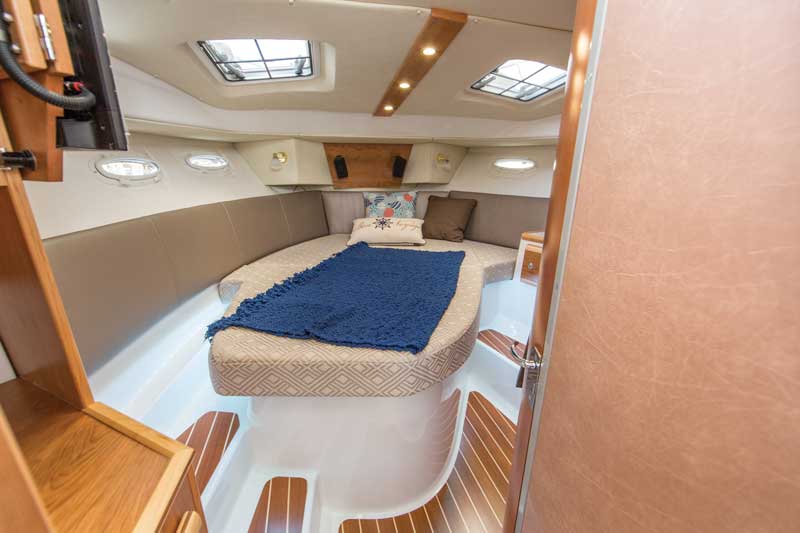 The presto-change-o features aren't limited to the cabin. In trademark Cutwater form, the C32 CB also has fold-out gunwales on either side of the cockpit which house seating. Unlike virtually every other form of cockpit seating on the face of the planet, when you deploy the seats, they fold out rather than in, so they don't eat up a single inch of cockpit space.
Another more traditional seat folds down from the transom unit, which also houses a sink, livewell, and electric grill.
Another highlight of the cockpit is actually just behind it: the swim platform. Cutwater utilizes a rather unique method of mounting the outboards to the back of the swim platform, installing steel brackets rather than bolting directly to the fiberglass. This allows them to run the rigging tubes out of the back of the platform, rather than over top of it. Net result? When you walk out onto the 22-square-foot surface, there are no tubes or wires to trip over, and no motor well to accidentally step into. The arrangement is far cleaner than most and paired with the tall grab rail and telescopic boarding ladder hidden under the hatch in the starboard side, makes getting into and out of the water much easier than the norm. Those who enjoy beaching their boats should note that the bow offers ingress and egress, too, with a telescopic ladder that swings out of the bow platform.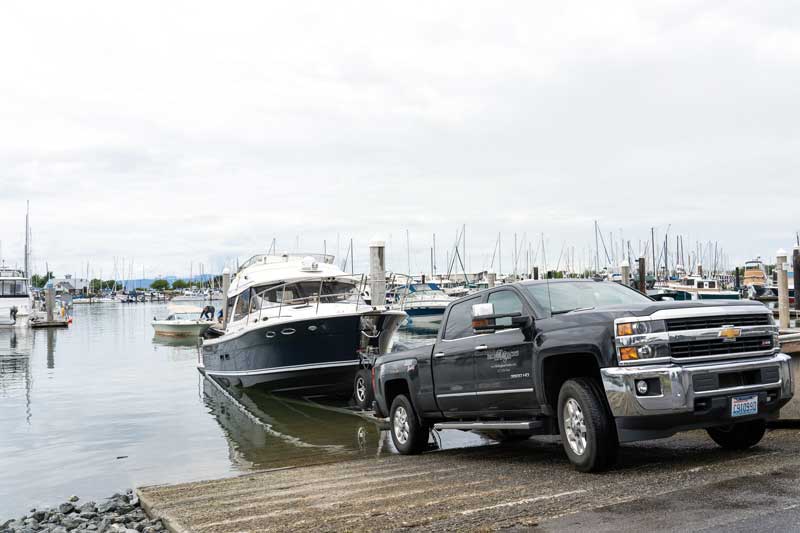 Fast-forward to your first cruise to an unfamiliar port. You have no problem navigating there thanks to the twin Garmin 8612xsv MFDs at the helm, but there's a cross-breeze, a strong current running, and you've been assigned a slip that's barely large enough for the boat. Are you going to sweat it? Heck no. The C32 CB comes with both bow and stern thrusters, so close-quarters maneuvering is a breeze.
In the world of flybridge boats, the Cutwater delivers a unique list of perks. In the world of cruisers, it again provides some exclusive extras. And in the world of 32-foot flybridge cruisers there's only one way to describe this boat: it truly is one of a kind. 
By Lenny Rudow
Cutwater C32 CB Specifications:
LOA: 37'8"
Beam: 10'0"
Draft (max.): 2'9"
Displacement: 12,000 lbs.
Max HP: 600
Fuel Capacity: 300 gal.
Price: $309,937
Local Dealer: The Pocket Yacht Company in Grasonville, MD, pocketyachtco.com, or (443) 595-6207