The Burger 50 Cruiser delivers the perks and panache of a superyacht in a Bay-sized package.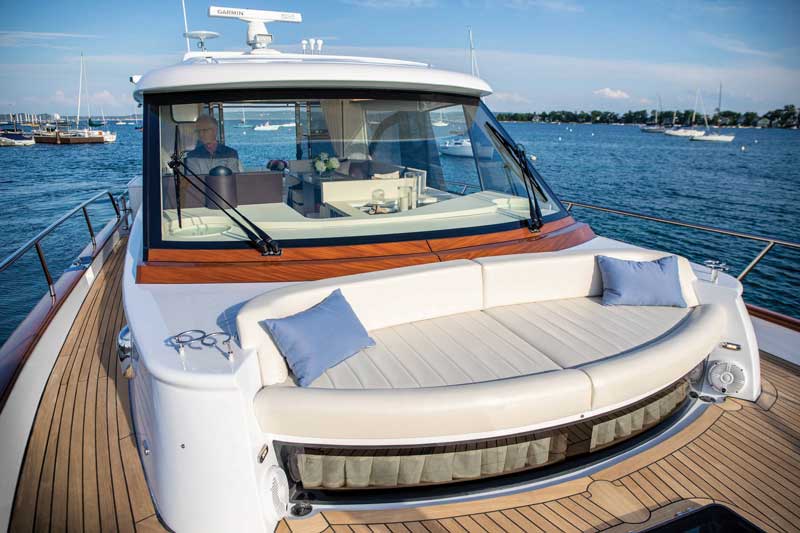 Sure, size matters, but when it comes to boats at some point there are countless reasons why bigger is not necessarily better. Monster-sized yachts are limited by draft constraints, crew requirements, slip size, and budget, just to name a few of the major issues. That's why there are a few production boat builders out there who strive to build "yacht quality" craft in more palatable size ranges. But what if you want a level of customization that they simply can't provide? What if you want to enjoy the talents of the same upper echelon craftsmen, designers, and interior decorators the superyacht builders employ? In that case your search may be long and fruitless—until you discover the Burger 50 Cruiser.
Yes, this boat is built by the same Burger you're thinking of, the one responsible for dozens of custom yachts exceeding the 100-foot mark. And yes, the 50 cruiser is built the same way. It's constructed of aluminum (and carries a lifetime warranty on the hull structure) with teak decking and then outfitted with top-shelf components like a Seakeeper 6 gyroscopic stabilization system, Volvo-Penta D8 IPS800 joystick-controlled pod drives, computerized interceptors with automatic trim control and coordinated turn control, and a Nautical Structures hydraulic swim platform.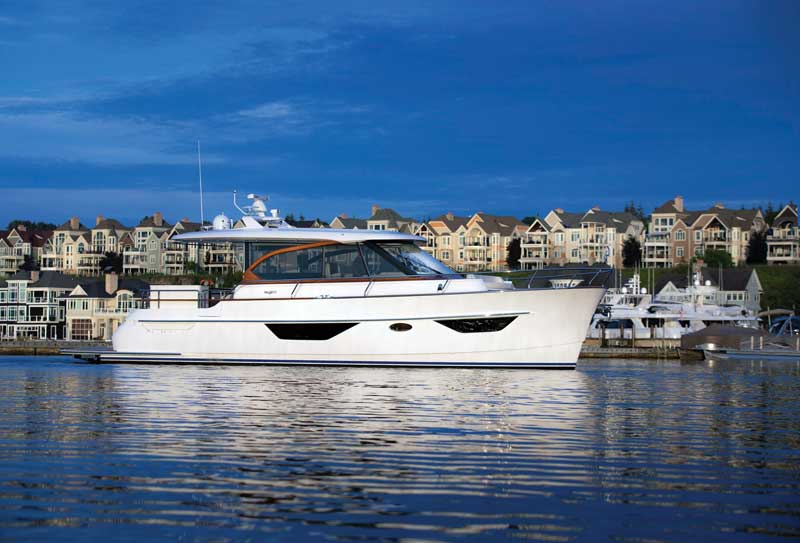 Interior design comes courtesy of Luiz de Basto Designs, the same outfit that regularly works on multimillion-dollar superyachts, theming the décor around "deep blues, warm leather tones, and dark woods." If that's not your style, no problem—remember, customizing to your personal tastes is not an issue. Whatever strikes your fancy, note that every item aboard elegantly matches up because Burger supplies everything from the salt-and-pepper shakers to the dishware. From the moment you take ownership of a 50 Cruiser, you can step aboard with nothing more than provisions for the day and your swimsuit, and everything else you need to start cruising has already been provided.
Speaking of cruising: the standard power system provides this mini-megayacht with a cruising speed of 26 knots and a top-end around 31 knots. More importantly, Burger says that the Vripack-designed "Slide Hull" results in a motion-dampening hull-form that improves the ride and seakeeping abilities of the boat. The internationally patented Slide Hull was developed in the Netherlands on the rugged North Sea and is so named because of a "slide effect" (water flowing in a way that resembles how a person goes down a slide) created by air travelling in the channel between the wide chine and hull bottom. And you most certainly won't enjoy its effects while cruising on the average production boat.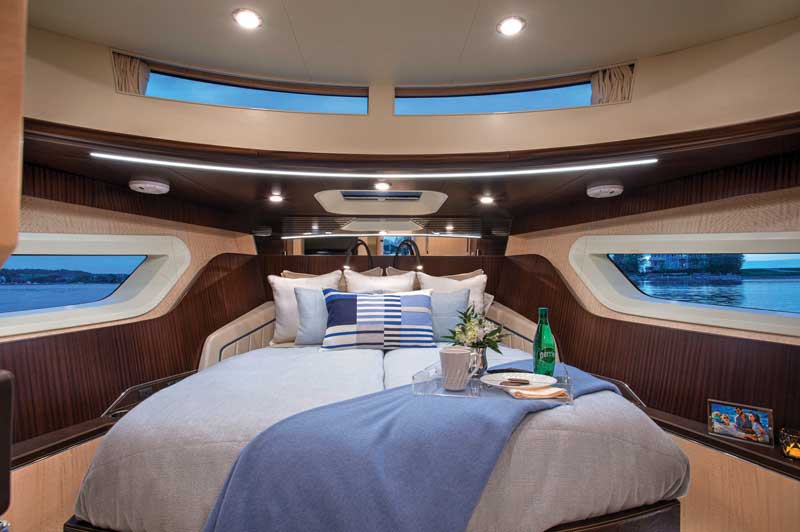 Belowdecks the 50 Cruiser features a full-beam amidships owner's stateroom and a forward VIP. Both have en-suite heads plus hanging lockers, and the master also enjoys a private seating area. The saloon has a dinette to port and a galley to starboard, but we have to wonder why one would use the stove-top in there when you could just as easily fire up the grill in the transom and cook al fresco. You may well want to dine in the open air, too, which is no problem thanks to the L-shaped lounge and dinette table in the cockpit.
The boat's decidedly yachty attitude can also be seen on the bow, where there's a settee integrated into the cabintop. And, in part due to the rounded, voluminous bow shape of the Slide Hull, there's still plenty of open deck space up forward for mingling.
The bottom line? Burger's 50 Cruiser delivers superyacht sophistication along with custom quality in a boat that's not too big nor too small, and in fact is sized perfectly for cruising the Chesapeake. And to a discerning boater that's not merely palatable, it's utterly delicious. 
See the Burger 50 in person on Dock D at the U.S. Powerboat Show October 7-10 in Annapolis. 
By Lenny Rudow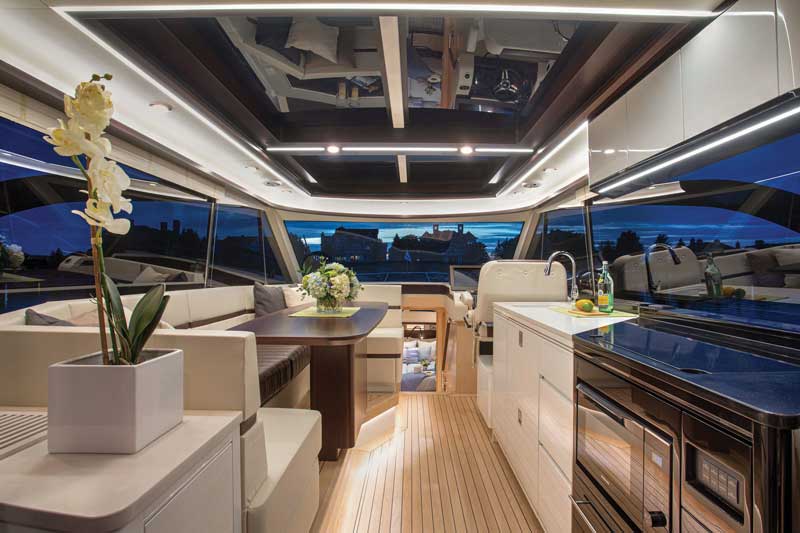 Burger 50 Cruiser Specifications:
LOA: 49'8"
Beam: 15'2"
Draft: 4'3"
Displacement: Approx. 50,000 pounds lightship
Max HP: 1200
Fuel Capacity: 565 gal.
Price: Available upon request