Hello PropTalk boaters. We plan to start the America's Great Loop in May, if we can ever finish putting the boat back together and finish all of the prep work that seems to never end. It's amazing how many little things we've bought for this journey.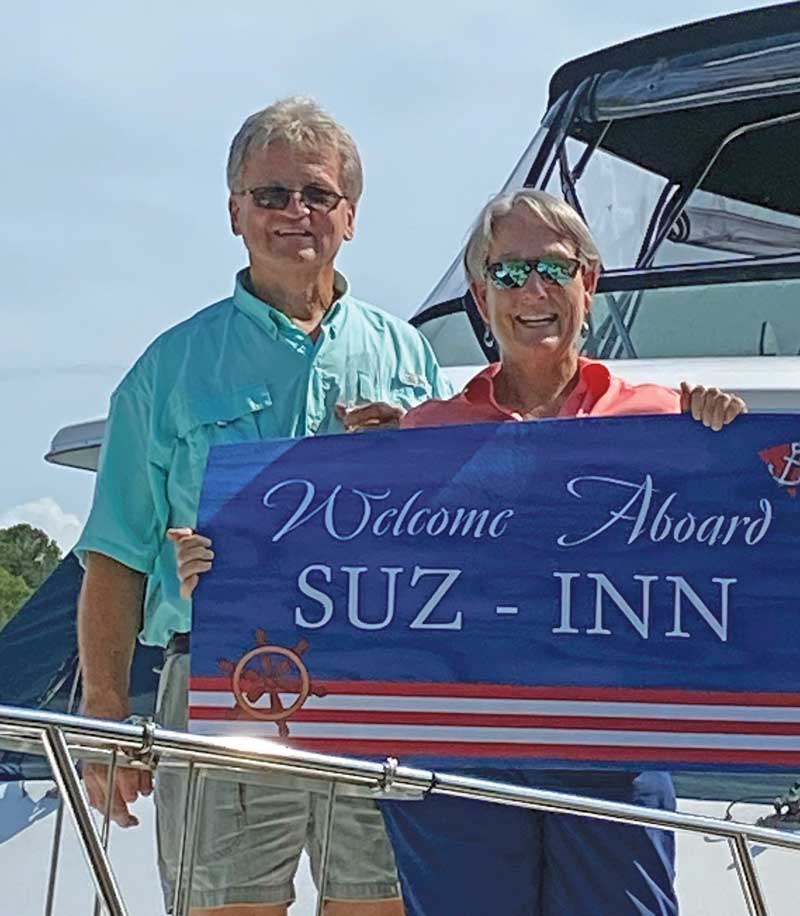 The first time we ever heard of the Great Loop we were in Oregon visiting Susan's childhood friend, Donna, and her husband Victor. They invited us to take a boat trip in Canada on their old steel trawler that chugged along at a top speed of eight knots. We drove to Victoria, Canada, hopped on the boat, and off we went. I slowly realized at eight knots you don't miss anything. We went through the San Juan Islands into the wilderness and some of the most spectacular scenery I've ever seen. I don't think I ever enjoyed such a relaxing vacation in such an amazing area.
While underway Victor explained to me how you could circumnavigate the entire eastern half of the United States going up the Chesapeake, down the Delaware Bay, around New Jersey, up the Hudson River, through the Erie Canal into the Great Lakes, down the rivers into the Gulf of Mexico, around Florida, and back up to the Chesapeake. It's called the Great Loop.
A few years later we rented a boat in Anacortes, WA, and did somewhat the same trip. Victor and I talked in greater detail about doing the Loop. His plan was to come to the East Coast, buy a boat, get it ready, and take off. Sadly, Victor developed cancer and his trip never happened. 
Years later we moved to Mill Creek in Solomons, MD, and we joined Solomons Island Yacht Club where we met and made many new friends. We bought a small ski boat and enjoyed the water, but I never stopped thinking about Victor's trip. We started our research about the Great Loop. We joined America's Great Loop Cruisers Association (AGLCA), and I became a harbor host for Solomons and the lower part of the Chesapeake. 
We started our search to find the right boat for us. I wanted two diesel engines, two heads, and a flybridge. We liked the aft cockpit for docktails and visiting. I saw a Bayliner 4788, and it checked all the boxes plus had a pilothouse so you could exit from either side while docking or entering locks. Susan wanted at least two cabins so the grandchildren could travel with us. The Bayliner has three. She liked the galley that wasn't down in the lower area. This would be better for entertaining and her love for cooking. After much hunting, while we were at a Looper convention in Fort Myers, FL, Curtis Stokes told us about a Bayliner in Cape Coral. It turned out to be the one.
It took a while to work everything out with price, hull inspection, and sea trial. Susan was back home doing title work, getting the insurance, and doing the bank transfer. A friend flew to Fort Myers to help me bring the boat back to Solomons. It was a 10-day trip, and Chris gave me lessons all the way back. Once home in Maryland, I had a friend with Drum Point Marina go over the engines, transmissions, generator, and electrical system. He changed belts, water impellers, and water coolants. He even pulled the alternators and had them checked out. 
My cousin and his family will move into our house while we are traveling. We›re planning a shakedown cruise with friends Tom and Theresa who have taught us a lot about the trip as they just finished the Loop last week. Tom will also take care of being the harbor host for AGLCA while we are gone. We hope to have fair winds and calms seas and maybe see some of you out there along the way!
By Doug Smith