"I'm not really a boater, you know. Oh, I like riding around in them and enjoy fishing and crabbing, but what I really like about boats is working on them. I'm a machinist and I love fixing, repairing, restoring, and building them—especially wooden boats." With those words Charley opened the door to his tidy shop and ushered me into a nautical time capsule. Set on a gentle hill overlooking Flag Harbor in Southern Maryland's Leonardtown, Charley's orderly painted and white-trimmed house with three-bay garage offers no clue to the casual observer about the wonders waiting inside.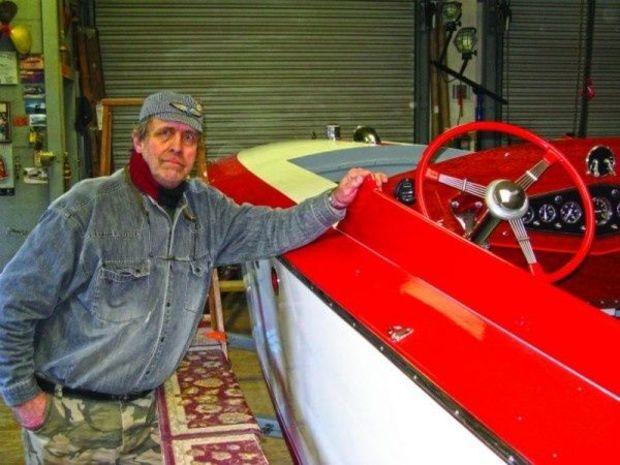 Chaley Quimby, self-described picker and wooden boat enthusiast.
The first thing you see as you enter the shop is a gleaming red-and-white, 26-foot runabout in the final stages of construction. "I built this boat from plans," Charley explains. "She's named Miss A.P.B.A. That stands for the American Power Boat Association." He pointed to the drawings and tables of offsets spread out on a work table, saying, "They're copies from an article in a 1922 issue of Motor Boating magazine. The gold cup boats were being restricted in length and engine displacement. Racers were finding out that millionaire Gar Wood was dropping larger and larger aircraft engines into his boats and winning all the races. It was becoming ridiculous, so the association tried to trim it back a little bit to make racing more competitive."
Charley adds, "They dropped the horsepower and the cubic inches back and this boat was the result. She's a John Hacker design described as a 26-foot gentleman's racer. She can be either a two- or four-place boat. I put back seats in this one."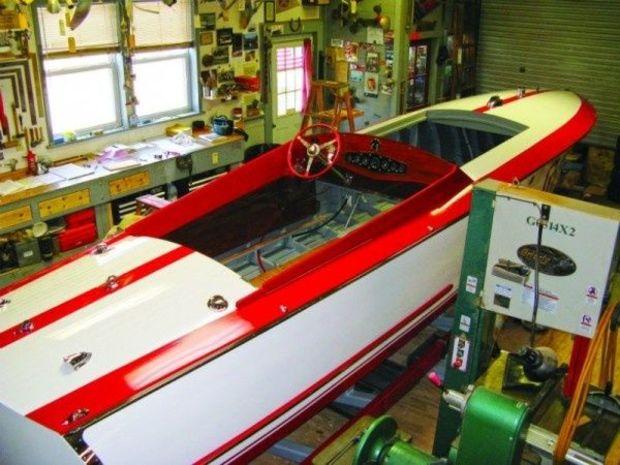 Upstairs in the original garage—now a machine shop—waits a shiny 458 Cadillac V-8 engine marinized by Charley and ready to install in Hacker's 26-foot design. True to her heritage, all of the hardware on Miss APBA, from the step pads to the steering wheel hub, sports the Hacker logo.
Charles H. Quimby, Jr. (Charley) grew up in the Washington, D.C., area. He remembers falling in love with powerboats and the Chesapeake Bay during family vacations in the West River area. He eventually came to Leonardtown to work as a machinist at Baltimore Gas and Electric's Calvert Cliffs Nuclear Plant, retiring in 1994. In his spare time, Charley started Bay Machine Company, which specialized in engine repairs, marinizing, and power train overhaul. Bay Machine, which he still describes as a "one man band," has grown to a full -ledged machine shop and helps to fund his first love, restoring wooden powerboats.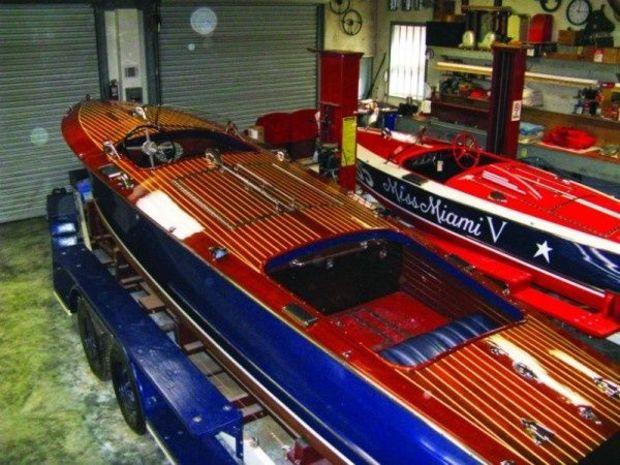 "My first old boat was in the early '70s," Charley says, adding, "I found her up in Silver Spring, MD. She was a 17-foot, home-made wooden boat with a little Ford 'Y' block engine. I fixed up and sold that one. Then a friend of mine who lives up in Deep Creek Lake found a real nice, surviving 1948 Century Sea Maid. They are hard to find now. She was a 17-1/2-footer and it was really a nice find. She had been outside for a while, but her engine was in good shape—a Gray Marine Fireball 140 with twin updraft carbs. She unfortunately had been damaged by a forklift and had a couple of topside planks stabbed, so I brought her down here and did a full restoration. That was the first real complete rebuild I did."
"In 1982 or thereabouts," Charley recalls, "I came across this boat sitting up where Central Avenue and Route 2 cross. She turned out to be one of the largest runabouts I ever worked on. That's the boat right there." Charley pointed to the middle of three boats in the shop, adding, "That boat was an excellent find because I had a complete history with her. I had all the paperwork and building contracts; all of that came with it. She was built in 1932, and all the parts were there except a couple of pieces of hardware. I got that boat and started working on her in a two-car garage. That's a 24-foot boat, so do the math. It didn't fit! So I did what I could and then built a three-bay shop, moved the boat into it and finished the restoration about 2000."
I commented on the graceful design and fine lines of the boat and her similarity to Miss APBA. Charley nodded, saying, "This boat is a one of a kind, but it is also a John Hacker design. Hacker designed a lot of boats and a lot of people lifted his designs and built boats under their own names. I call this boat a Brooks-Hacker because when this boat was constructed, she was built on white oak frames supplied by Brooks Boat Company of Saginaw, MI. Brooks Boat Company made what they called 'knock-downs.' They would supply you with the frames; cut everything to spec, halfway fit it, and then knock it down and send all the pieces to you."
Charley continues, "The frames were sent to the Chesapeake Shipbuilding Company, which was also known as Sinclair and Son, in Oxford, MD. Sinclair provided the half-inch mahogany planks for the decking and the hull and assembled it. This is not a homemade boat. This was built professionally for a dentist who used to live in Stevensville, MD. His name was John Denton. I have the complete original paperwork on this boat from the original bill of sale for the frames to the engine and upholstery, it's all here. I even have the original documentation papers issued by the U.S. Department of Commerce. It is very unusual that you find a boat like this with such a complete and well documented history, as this one has."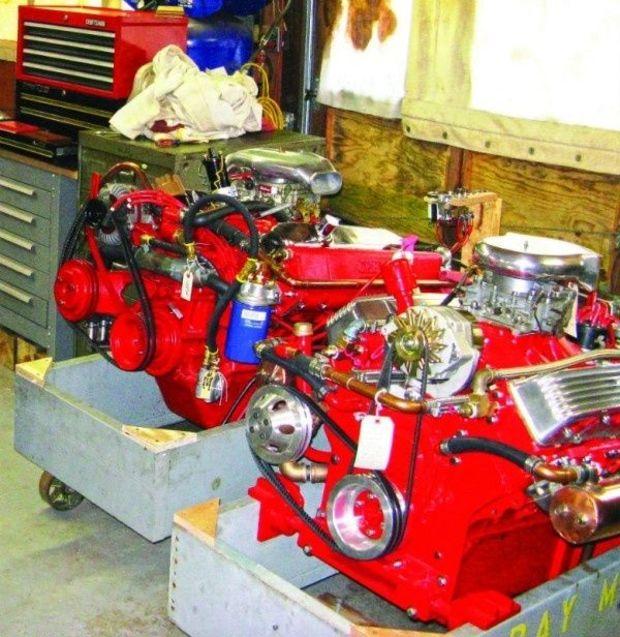 In the far corner of the shop sits a jewel-like small runabout named Miss Miami V. "Around 1990 or so a friend told me about an old raceboat up in Prince Frederick, MD," Charley says with a smile, adding, "I kept looking and looking for it, but couldn't find it. One of my neighbors came by and said he saw an old wooden boat at a place called Linden up in Prince Frederick. It's a historic house. The boat was outside in a tobacco barn behind the mansion. The mansion was going to be restored and the boat was going to be destroyed. I contacted the owner and he said he planned to fix it up and wouldn't sell it."
After patiently waiting and watching for several years, Charley finally convinced the owner to sell the boat to him. "When I got the boat down here I discovered that she had a racing history and had been raced all up and down the East Coast. I worked on her off and on and finished her around 2006."
"I guess you could call me a picker," Charley says with a laugh. "I used to like to ride the back roads, go to old marinas, talk to people and track down gray boats. We call them that because the weathered wood turns gray. I think this area is pretty much picked over, though. It is getting harder and harder to find boats that are good for restoration," Charley says.
Finding original hardware for his restoration projects is not as difficult as one might imagine. Charley explains, "If people don't know about boats, they often don't know what they have when they clean out an attic or a garage. You'd be amazed at what you can find at yard sales, estate sales, auctions, and the like. That's where I found all that stuff."
Charley pointed to the wall over his workbench. Suspended from the ceiling were hundreds of running lights, cleats, step pads, throttle quadrants, steering wheels, cowl vents, and many other pieces of antique hardware. As I focused my camera, Charley quipps, "Don't miss my mermaid." He was referring to an eighteen-inch-tall chrome sculpture of a winged mermaid which once graced the bow of a Chrysler Dodge Watercar model called a Sea Nymph.
As we went out the door to reluctantly re-enter the 21st century, I asked Charley why he did such demanding and long-term projects. He answered, "I've done about eight or 10 boats over the years, and some cars and pickups. I didn't do this as a steady business, because I had a day job with Baltimore Gas and Electric. I like to stick with the boats. I like to do the woodwork. I enjoy seeing something that was really a signature of American craftsmanship being brought back. I really enjoy being part of it and that's why I work on the wooden boats, almost exclusively. I've worked on a few jet boats and plastic stuff like that but I always come back to the wooden ones."
By Capt. Rick Franke