We recently sat down with Dave Baumgartner, the president of Riverside Marine in Essex, MD, his wife Diane, who handles all of Riverside's marketing, and their sales manager and Dave's sister, Trudy Jefferson. But they aren't the only Baumgartner's at Riverside—Dave's brother Mike serves as the marina's service manager, Dave and Diane's sons Matt and Jason are a sales rep and service and operations coordinator respectively, and Trudy's son Robbie Jefferson manages the parts department. This is a true family business, and Dave says they have a lot of fun working together. "Our main focus is being very family oriented and hands on to take care of our customers and employees."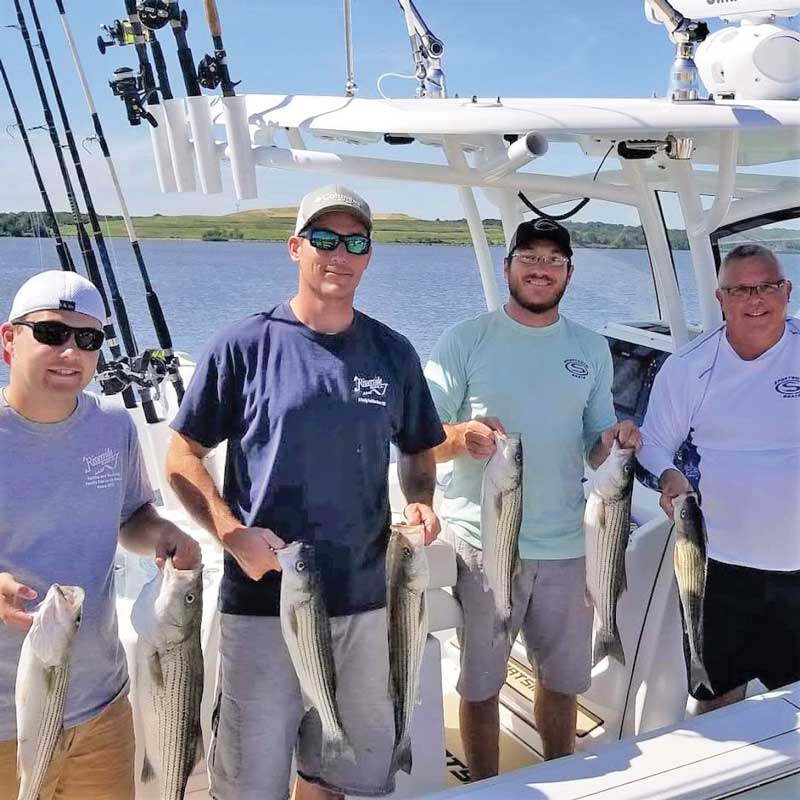 Dave grew up on the water and swam before he could walk. Along with his brothers and sisters, they would swim every day, and go fishing and crabbing on Middle River. "The volunteer fire department whistle would blow every day at one o'clock, and the rule was we had to stay on the pier until one. Then we could swim," says Dave. 
"It was six of us, and we had a little Montgomery Ward boat with a Chrysler engine. That little boat got taken out every day, but we had to stay in view of the house. Some people live on the water and go boating sometimes, while others live on the water, and we really lived and played on the Chesapeake Bay," says Dave. "Boating is a lifestyle we continue to this day."
For Diane, she got into boating when she met Dave. She says, "It wasn't until I met Dave that I fell in love with boating. Now it's one of my passions."
The marina was acquired by their father in 1976. After looking at a couple of places for sale, he found the property in Essex, MD, where Riverside Marine is located to this day. Dave says of his father, "His goal was to start a business to allow his children to learn a trade and eventually work for themselves. At the time it was a small yard, half the slips were full, and it needed a lot of work. 
"They did what had to be done. They sold the house and lived in an apartment above the marina. Our dad was still working his job at the telephone company and mom was working in the office. We used to say, 'Open till dark,' seven days a week. We would sit upstairs in the apartment and would go out and help if someone stopped by. Our personal boating kind of stopped at that time because we were so busy. But we would try to go out at first light to drop a line or catch a bushel of crabs before work or get in some waterskiing after work."
Those early days of the marina were a bit of a learning curve, but it wasn't long before they started getting a name for themselves. Riverside was one of the first marinas in the area to get a forklift. They were also one of the first ones to get a fax machine. Trudy remembers the days before the fax machine when she would spend hours calling in credit applications to the bank, but afterwards, they could get their applications approved much faster than other dealers in the area. Riverside was also one of the first dealers to have computers at boat shows, which allowed them to enter leads directly into their system, as well as one of the first local dealers to bring boats to malls and other offsite locations. "It was a great advertisement for us," says Trudy.
In 2006, Riverside Marine became a certified dealer. "It was very easy for us to become certified because we were already running our business like that," says Trudy. For years they had really focused on developing departments and making sure they ran smoothly, but most importantly, making sure employees and customers were well taken care of.
Because at the end of the day, it's all about the customer. Dave says, "We have always been a relationship building business. Everything we do, we do it for the customer. Some of our most important awards to us are the customer service awards, because they come directly from the customers. We want each person to spend enough time with us so that they feel fully oriented before leaving with their new boat."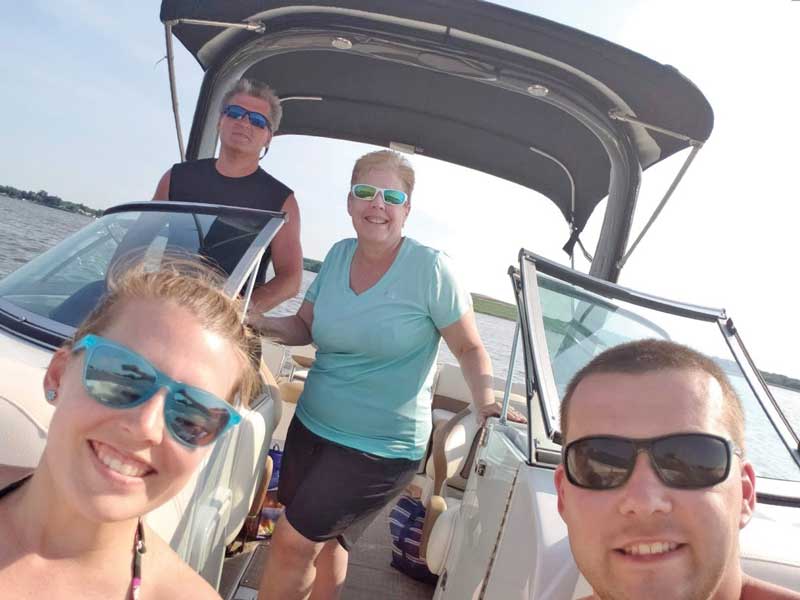 With that in mind, Riverside Marine has a specified demo dock where they conduct demos six days a week on Bayliners and Sportsmans. They also host a customer appreciation raftup over the summer for Sportsman owners.
"Some people do raftups more as a sales event," says Trudy. "But we want to have a good time. There's a real community of Sportsman owners who are passionate about their boats, and we want to show them how appreciative we are."
The extended Riverside Marine family is also very active in local community and maritime organizations—Jason Baumgartner is on the board of the Marine Trades Association of Baltimore County and Mike Baumgartner serves as the president of the Back River Restoration Committee. Diane says, "When they have events, we participate wherever we can to help."
Before leaving, we asked Dave and Diane to describe the most rewarding thing about their jobs. Here's what they had to say: "The most rewarding thing is seeing a family get something they really enjoy. When you're a boating family like us, customers call us for advice and recommendations. When we see them out and about in St. Michaels or Kent Island, and they want to say 'hi,' it's great. We're spoiled to have so many places we can get to so quickly right in our backyard."
Dave adds, "I've never been motivated by how much I make on a boat but seeing how excited customers are on a delivery."
For more information, visit riversideboats.com.