As the cold weather sinks in, we wanted to share some cold water safety tips for boaters on the Chesapeake Bay and beyond.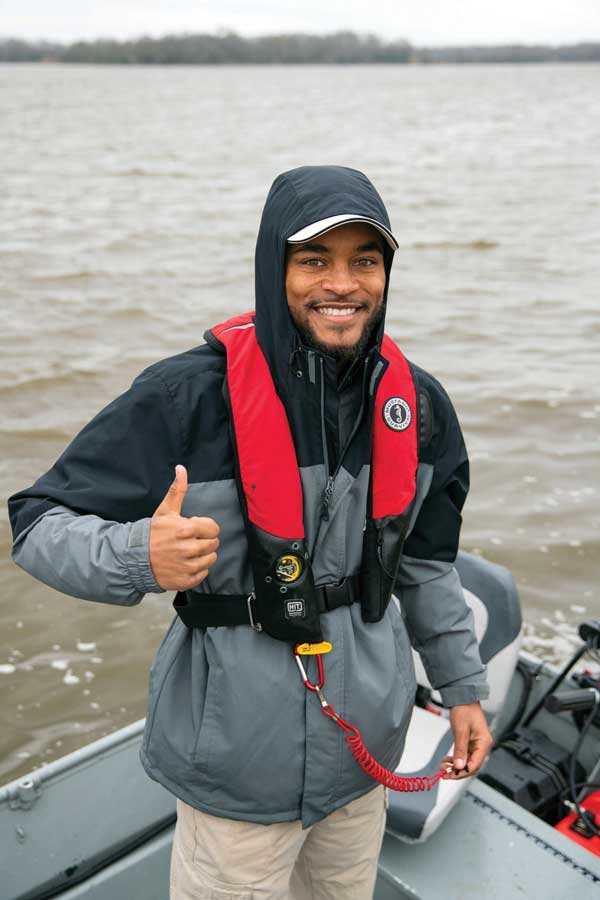 "Don't you know how to swim?" Sometimes I get that question when I wear a PFD on a boat. My usual response is, "Yes, actually, I'm a good swimmer, but if I go off the boat accidentally, swimming is the last thing I want to have to worry about, because if I end up in the water unexpectedly, chances are good that a few other things have gone wrong too and we don't need to spend brain power calculating how long I can swim."
When it comes to boating safety in the late fall and winter months, I like to go back to basics, and wearing a PFD is a basic safety precaution. When the water is cold, everyone needs to admit that they won't be capable of swimming as well or as long as they could if the water were warm. If you'd like a visual of how cold water affects motor skills, visit spinsheet.com and search for "cold water boot camp" to watch a video by the National Water Safety Congress and read more. It's quite a reality check!
Which brings us to the 120-degrees test. The rule of thumb is that if the combined water and air temperature is less than 120 degrees (some say 100 degrees), you are in the danger zone for cold-water impairment. 
If you're wearing a lifejacket and you do fall in, remember the HELP position. Draw your knees up together, keep your arms tightly against your sides, and lean your head back to keep your face out of the water. This is known as the Heat-Escape-Lessening Position, HELP, for short, and it will aid you in reducing heat loss from your head, armpits, and sides—the areas most likely to let heat escape.
A final back-to-basics suggestion is to "file" a float plan. This can be a simple text to a friend or family member stating where you're going, what boat you're in, your route, who's aboard, and how long you expect to be out. Find a premade form here: floatplancentral.cgaux.org. Find a good cold water boating infographic here: boatus.org/cold-water-boating/infographic. 
By Beth Crabtree
---
We also wanted to share some additional tips from Maryland Department of Natural Resources Reserve Officer, Steve Gershman:
As winter approaches, some boaters venture out in spite of increased winter boating challenges, such as: significantly reduced water and air temperatures, increased risk of falling overboard and succumbing to hypothermia, increased water vapor/condensation in fuel impacting functioning of engines, less boat traffic for potential help and/or rescue, and batteries losing approximately 10 percent of their capacity every year, while battery amperage is also reduced in cold weather with an average four-year life span. Keeping a jump box inside the cabin will provide a way to recharge cell phones, handheld GPS, etc.
Recent drownings have been primarily due to: (1) unawareness of the environmental dangers, (2) going out alone, (3) not dressed (dry suit) appropriately for the conditions, especially in water temperatures below 50 degrees F, (4) not wearing a PFD, (5) not having an engine cut off switch, if applicable, (6) keeping the boat in gear and traveling at 2.5 knots, (7) not having a re-boarding ladder from below the waterline, and (8) not having a waterproof VHF DSC radio secured to their PFD to call for help and ultimately rescue. 
Each one of these numbered issues is not a big deal, but cumulatively, it's the beginning of the end for some. It is recommended that you leave a float plan with a responsible adult, identifying your planned time of departure, planned returned time, and locations where you will be operating. Additionally, it is highly recommended that you use a satellite two-way communicator (ex. Garmin In-Reach), which leaves a "snail-trail" of your current location, and would significantly expedite rescue/recovery efforts.
It is well documented that in some limited cases, individuals (especially children) who had submerged in cold water, were resuscitated after being found within a short period of time and with complete neurologic recovery. In approximately 90 percent of boating fatalities, boaters who would have worn their Personal Flotation Device (PFD) would have, more likely than not, survived.    
Be safe out there!