Baltimore County Executive Johnny Olszewski recently visited the Essex waterfront to spotlight the second year of a program to remove derelict crab pots and fishing gear from the bottom of the Chesapeake Bay, and announced a collection site for oyster shell recycling.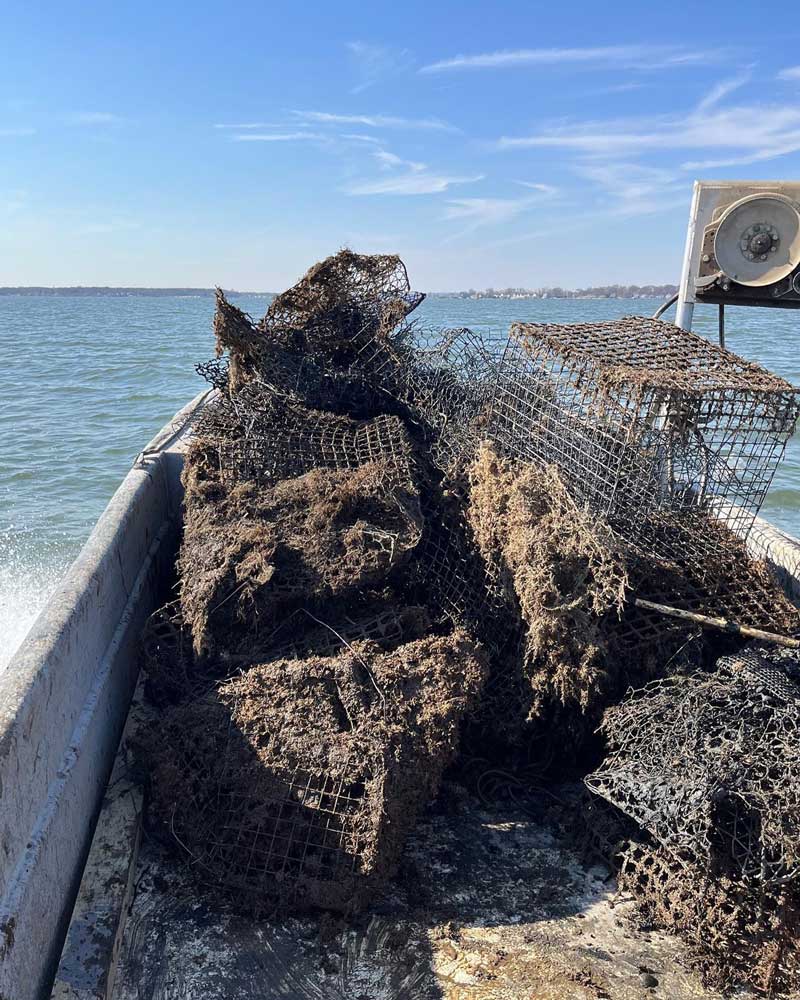 In conjunction with Maryland nonprofit Oyster Recovery Partnership, the County program has mapped thousands of submerged crab pots and fishing debris for targeted removal. Local watermen are finishing a two-week effort to pull this marine debris from a 3000-acre area of the Chesapeake Bay, northeast of Hart Miller Island, off the Back River Neck peninsula.
"Removing and recycling this debris is a vital project for the health of our waterways, and we're proud to again bring together the environmental science community and local watermen for this win-win project," said Baltimore County Executive Johnny Olszewski. "In removing thousands of derelict crab pots, we not only protect and improve the environment, but we do so in a way that also supports those who depend on the Bay for their livelihood."
Baltimore County Department of Environmental Protection and Sustainability (DEPS) provided a $150,000 grant to the Oyster Recovery Partnership (ORP), to manage this collaborative project, deploying side-scan sonar technology to locate concentrations of submerged debris in important local crab fisheries, and hiring crews of watermen to remove and document the debris.
"For the second year in a row, ORP is happy to be able to support our commercial watermen partners by working with them to retrieve and recycle lost gear in Baltimore County waterways, improving the blue crab fishery and Chesapeake Bay health," said ORP Executive Director Ward Slacum. "We applaud the county's support for this unique restoration strategy."
Addressing the Problem of "Ghost Pots" in the Bay
"Ghost pots" passively trap some 3.3 million crabs a year in the Chesapeake Bay according to a 2016 study by the Virginia Institute of Marine Science. The waters off the North Point and Back River Neck Peninsulas are attractive habitat for blue crabs and are an important fishery for the local crabbing industry.
Derelict crab pots are typically lost during storms or accidentally cut loose by boat propellers. They remain on the Bay bottom, continuing to trap crabs, finfish, turtles, and other aquatic species. Derelict gear directly harms ecological resources as well as the valuable commercial blue crab fishery by trapping and killing crabs, finfish, turtles and other aquatic species. This debris essentially competes with active commercial and recreational crabbing and fishing for these seafood resources.
ORP hired 15 crews of local watermen during this winter off-season for retrieval operations during the last week of February and first week of March. The goal is to remove about 50 to 70 percent of the more than 2100 accumulated derelict traps that were identified using side-scan sonar technology in the first weeks of this year.
The recovered crab pots and gear will be removed manually and either recycled or disposed, depending on their condition, by the Baltimore County Department of Public Works and Transportation. The project's land base of operations is Holly Neck Marina/MD Boat Sales in Essex. Crews document the condition of every trap and report whether the traps and other gear contain crabs, finfish, or other contents. ORP will complete data analysis this spring and submit a final project report to EPS this summer.
Residential Oyster Shell Recycling Drop-Off Location
People in Baltimore County who enjoy eating oysters at home will now have an option for recycling the shells to be used for oyster habitat restoration. In collaboration with Oyster Recovery Partnership, the County's Bureau of Solid Waste Management is offering oyster shell collection at the Eastern Sanitary Landfill, located at 6259 Days Cove Road, White Marsh, MD, 21162. Shell recyclers should look for the white Shell Recycling Alliance (TM) sign and deposit only shells into the collection cans. No plastic or mesh bags should be placed in the containers.
"The addition of this site is a reflection of the strong partnership between ORP and Baltimore County, and of the County's commitment to Chesapeake Bay restoration," Slacum said. The new location adds to ORP's more than 70 public shell collection sites throughout Maryland, D.C. and Virginia. ORP also collects oyster shells from restaurants and commercial seafood operators.