Real summer weather is finally here, and it is great. Despite worrisome fuel prices and continuing labor shortages, area boatshops are reporting a busy summer season and anticipate a busy fall. One of the high points of early summer is the annual Antique and Classic Boat Festival at the Chesapeake Bay Maritime Museum in St. Michaels, and this year's event did not disappoint.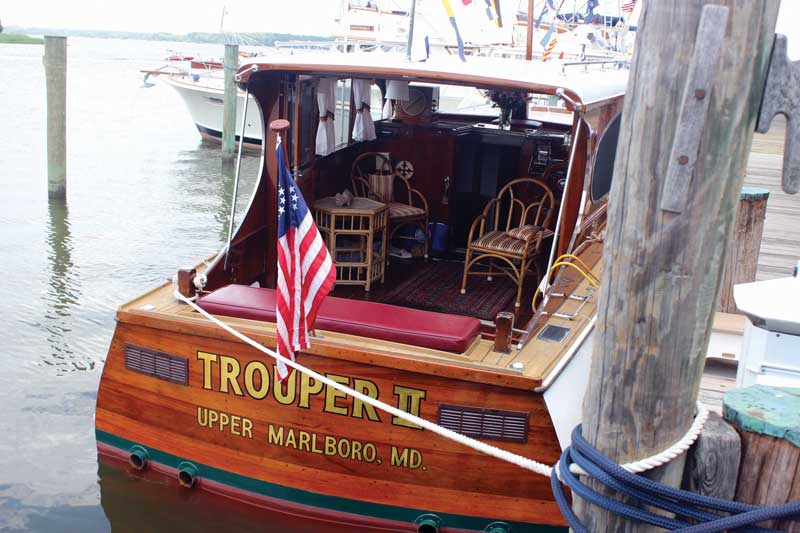 Jake Glover at Ferry Point Marina in Trappe, MD, starts us off this month with this report. "Our air conditioning and refrigeration tech has been busy keeping folks cool! This mobile service is proving very popular. After the spring rush our mechanics have completed several re-powers including Yamahas, Suzukis and Mercruisers. We have an Albin in for AwlCraft hull paint and a Sonic for complete transom replacement. Next month, we have a 2011 Custom Composite Yacht 46 coming in for all new AwlCraft exterior."
Bethany Zeigler, spokesperson for the Chesapeake Bay Maritime Museum (CBMM) in St. Michaels, MD, sends us the following update on the completion of the Maryland Dove project. "Maryland Dove will be staying with us through the summer so that her first sail home to Historic St. Mary's City aligns with their planned August celebration. We're currently working on engine tests and will do Coast Guard testing in St. Michaels. And HSMC's staff will be coming to St. Michaels to do their own training and practice sails here."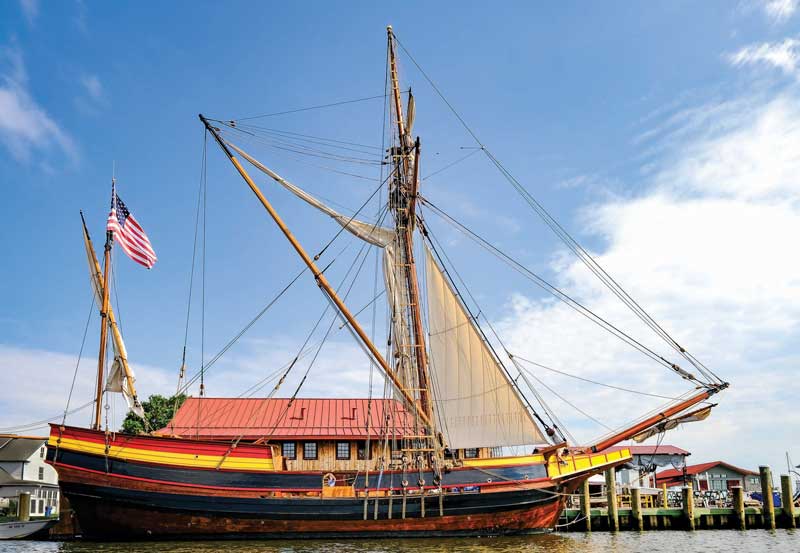 Now that the three-year construction of the Dove is complete, the shipyard staff at the museum will concentrate on other projects. Jennifer Kuhn, shipyard education programs manager at CBMM reports, "CBMM's annual railway season began in May with Winnie Estelle coming up on the rails for her annual maintenance and Coast Guard checkup. The annual maintenance of CBMM's historic floating fleet is managed by its floating fleet shipwright, with most of the work completed with help from its shipwright apprentices. Railway season and vessel maintenance is one key element to the apprentice curriculum of 2000 hours of related work experience each year. While work continues into late summer on the floating fleet, the rest of the Shipyard has been working on resetting and retooling the shop for the upcoming projects. Those projects include a new build of a 40-foot buyboat, Mr Dickey, a full stem-to-stern restoration of a 36-foot deadrise, and a St Michaels Scow. If you'd like to be involved, learn, or hone your woodworking skills, the Apprentice for A Day Programs has scheduled select workdays specifically for public involvement. For more information and to register, visit cbmm.org/learn/shipyard-programs."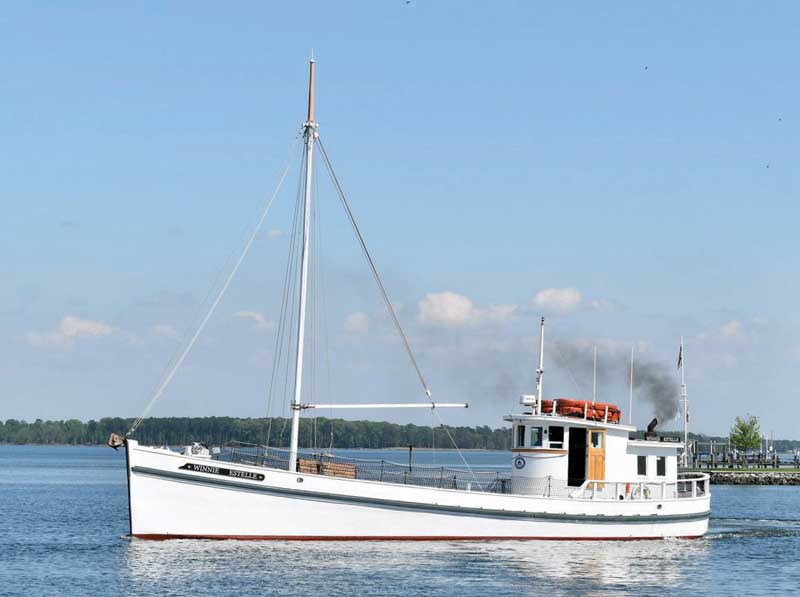 This month I spent a very interesting, albeit hot, afternoon at the 34th Annual Antique and Classic Boat Festival at the Chesapeake Bay Maritime Museum in St. Michaels, MD. Among the expected masterpieces of mahogany and chrome on display, at the bulkhead at the end of Navy Point was an 85-foot haze gray boat with USAAF P-520 on her topsides. I had to check this out!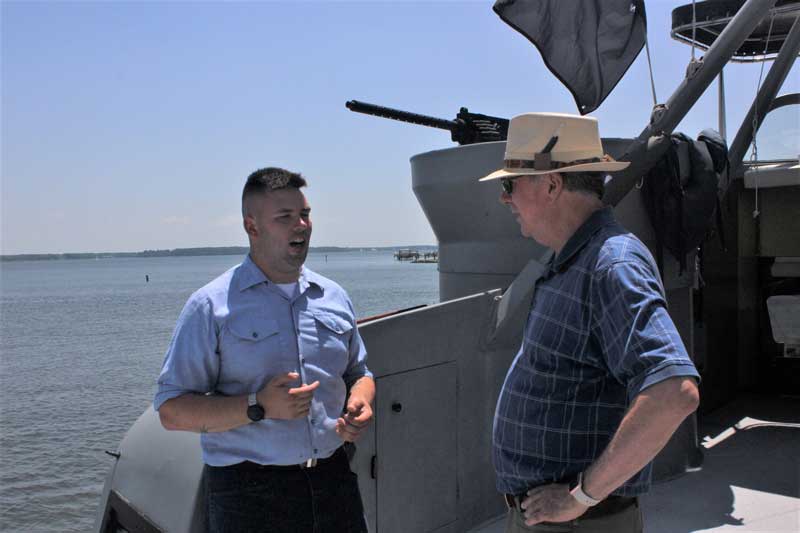 David Lenny, program director for the P-520 project for the Veteran's Heritage Foundation, explained what the boat was all about. "The P-520 is a World War II crash boat. She is actually the last one still in her wartime configuration. We always get asked if these are PT Boats. They are not. The PTs had three engines; she has two. The PTs carried torpedoes and were more heavily armed than a crash boat. I tell people to think of a crash boat like the Coast Guard: search and rescue. If a plane went down in the ocean, in World War II we did not have helicopters. We did have flying boats (sea planes), but they could not go out if the seas were rough. So these boats were sent out to bring in the downed aircrew. They also were doing missions for the OSS and the CIA in Korea. So they did a little bit of everything. This is an Army Air Corps crash boat. In fact, during the war the Army had more boats than the Navy. Mostly they were small craft like this, but the Army still had more boats than the Navy," he explained.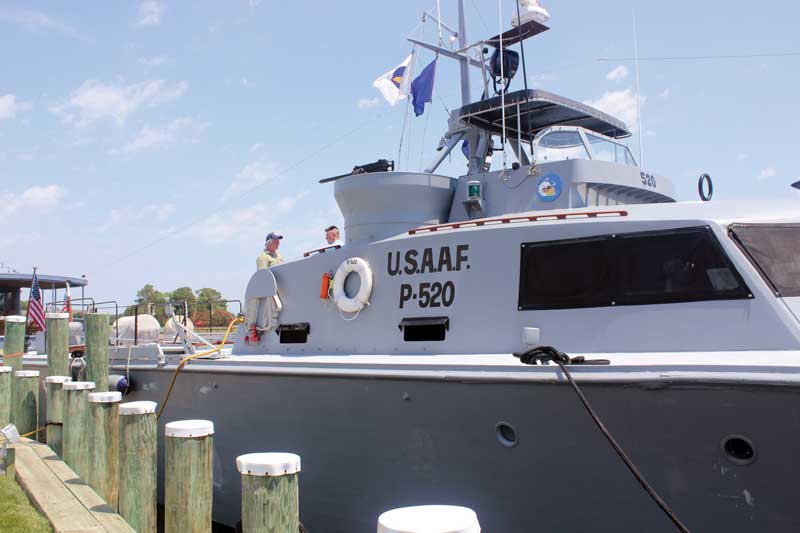 David continued, "We are based out of Cambridge, MD. We are based there at least in part because of history. Cambridge actually built some of these boats during World War II at the Yacht Maintenance Facility. P-520 has been hauled out there at least once on the same rails that launched her sisters and cousins during the war. We're there for repairs and also are working with the City of Cambridge to give her a permanent home just like the Pride of Baltimore II.
Originally she had twin V-12 Packard engines. They were a marine conversion of the P-51 aircraft engine, like the Spitfire Rolls Royce engines. She would have tanked 3600 gallons of aviation gasoline fuel on board. She was converted over in the late 1990s to V-1271 Detroit Diesels, partly because it's difficult to get aviation gas at civilian marinas, and diesel fuel is a lot safer. In her original configuration she could do 40 knots, but now she cruises at about 10 knots." 
The Antique Boat Show is a great place to see interesting boats and meet interesting people. Next, my attention was caught by a beautifully restored Whirlwind outboard. Whirlwinds were built from molded plywood, the original molding process, which required heat to set the glue holding the veneers. The legend has it that when the post war Army cancelled their contract for molded plywood gliders, the owners of the Allied Aviation plant in Dundalk, MD, decided to use their facilities to make boats. The Whirlwinds were produced from 1948 to 1962 and marketed nationally by Montgomery Ward.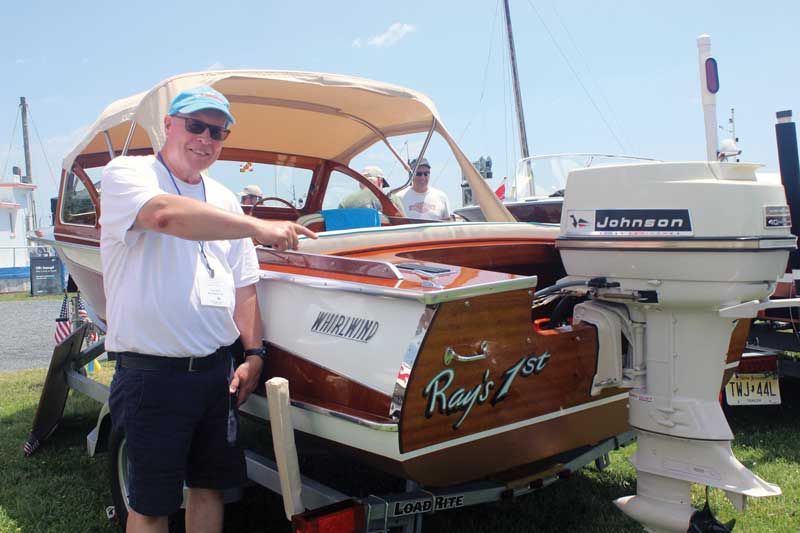 I asked the owner, Jay Pew from Burlington, NJ, about the boat. With a big smile he replied, "The Whirlwind is a 1961 outboard runabout. It was my dad's first boat, hence the name Ray's 1st since my dad's name was Ray. We used to run around the Chesapeake in this boat, go up to the Bohemia and all around. We lived in New Jersey, so we'd come all the way across the Delaware and through the C&D canal in this 16-foot Whirlwind. My dad sold the boat to my sister in the late 60s, and she used it for like 20 years with her kids. After that it sat in a pole barn, stripped down to the bare wood with all her metal fittings piled in a corner for like 30 years. My brother in law was going to refinish it, but he passed away. My sister said, 'Do you want to buy the boat,' so I did," Ray concluded.
"I looked around here in Maryland," he continued, "and found George Hazzard at Wooden Boat Restoration, and George put the boat back together for us, for the family. It's a family heirloom being that it was my father's boat. In 2016 George brought the boat here to the boat show in St. Michaels for me, and we won best outboard; quite an honor. George took it back in 2017, did canvas and some other repairs and we were finished preserving the boat. The boat has all the original wood, and all the original metal fittings were re-chromed. The engine is a 1965 Johnson 40 horse, restored by Oldie But Goodie Outboards, and she runs really well in the water. I don't get her dirty very often, but I like to get her in the water at least once a year. We've done many shows in the Antique and Classic Boat Society program. We've been successful in all of them. We've had a blast and met a lot of great people." 
Strolling along the line of boats on display my attention was next caught by a heavily modified 1963 Glaspar Super G Interceptor V-drive 16-foot ski boat. This series of boats, one of many produced by Glaspar over the years, have always looked rakish and fast. Glaspar began manufacturing boats and auto bodies in the then new material, fiberglass reinforced plastic, in 1948. At its height, the company had multiple factories nationwide and manufactured a huge array of boats, accounting for nearly 20 percent of boats sold in the US in the mid-1950s. The V-drive Interceptor line was not particularly popular, with only 27 being produced. Glaspar went out of business and was sold to Larson Boats in 1969. This particular Glaspar is owned by Harlon Parchment. I asked him to tell me about the boat named Revision G.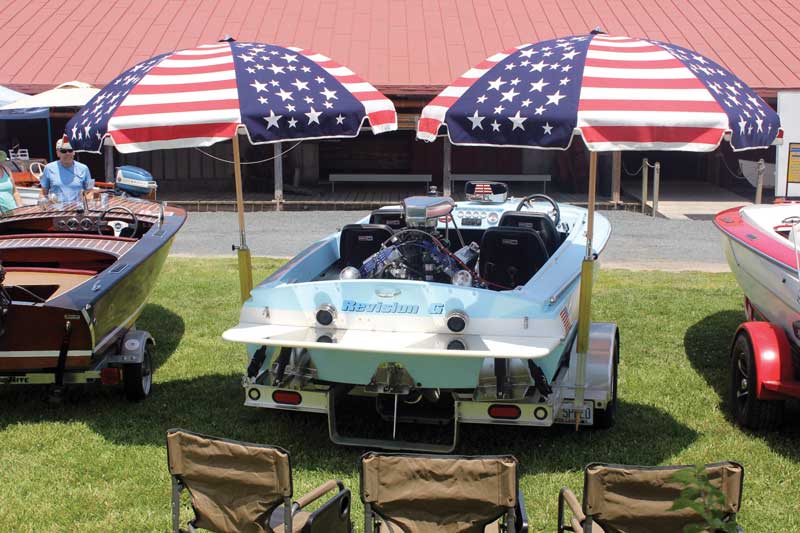 Harlon began his story, "Back in 1997 I saw this Batman looking boat, which looked like this, and I thought 'This is the coolest looking boat ever.' So, I approached the guy at the boat ramp. The boat basically had some lawn chairs as seats and that kind of stuff in it. I asked him about it and he had just gotten it and this was his first sea trial. I told him I loved the boat and asked if he would sell it. He said no. I kept pestering him and after about two months he finally said he'd sell it to me. So it was a lot higher price than I was prepared to hear, but I bought it anyway. It had a 289 in it with a V-drive. It was a utility style V-drive; it was really small and had a really steep 16-degree shaft angle, and it made the boat just not perform well. So now that I owned it, I wanted to make it something that I envisioned it being. I kept fooling with it, trying to make it perform better. It had a Paragon Velvet Drive transmission and the higher rpms just smoked the transmission. So, the best solution at the time was having a guy weld the two shafts together. Direct drive, turn the key, and you were going. So that's how I managed the boat for about three years."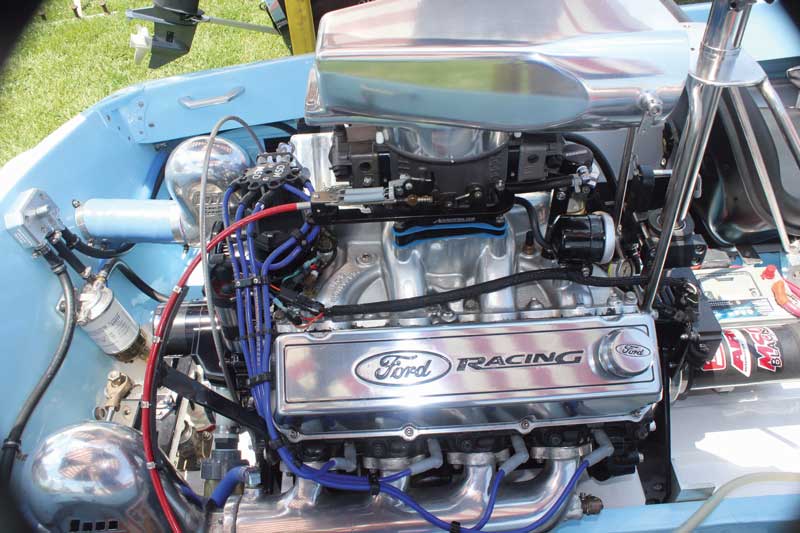 "So, then it was never enough, something was always breaking," Harlon continued. "I found a deal on an old Mercury Marquis, a '72. I said to myself, 'I'll put that engine in it and even if I only get one run, I'll be totally happy.' So I converted it, obviously got the big engine in it. I mated it to the utility drive, and it was way better but it was a nightmare. Something was always breaking. It was, 'You're lucky you got back every time.' After three years of redoing it I finally rebuilt again and this is the final iteration. I wanted a modern V-drive, so I put a split case Casale in it, redid the engine with a lot higher compression, a lot more radical cam. But the boat itself is so heavy that you need all this power to make it do anything," he concluded.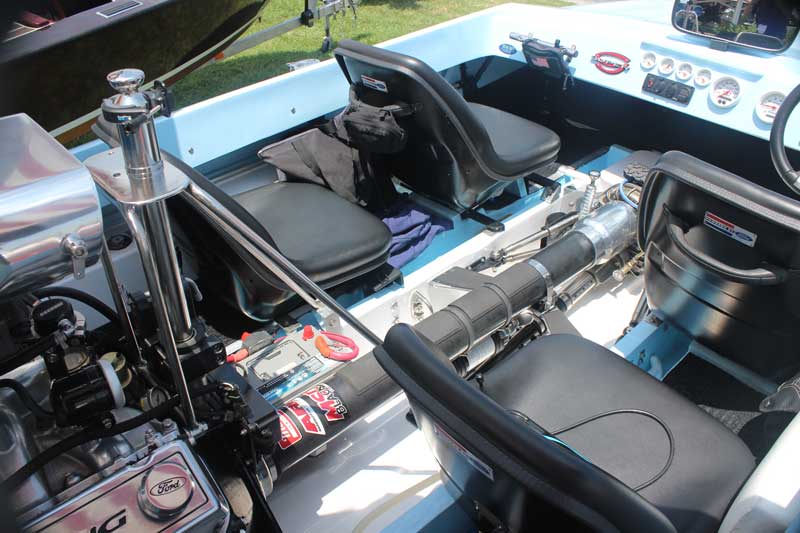 Harlon had to do some detective work to identify his creation, "When I first got the boat people couldn't tell me anything about it. It had no badges, no numbers or anything. I knew it was a Glaspar. So finally I figured out it was a Glaspar Super G. Anyway, what I noticed was that the transom was drilled for an outboard. They told me this was the concept boat for a V-drive that Glaspar made. But as you can see there is a lot of wasted space. With this big engine cover in the back you can't get in and out of it easily. So I guess the concept of the V-drive didn't go over too well. So apparently the boat got thrown in someone's yard with plants growing in it until I bought it. Supposedly, this was the first V-drive boat that Glaspar made."
I asked Harlon how fast his much-modified Glaspar Super G would go. With a smile, he said "After she hits 75, she wants to fly. I've done 75.2 mph. That's the fastest I've had it."
So, enjoy the summer on the water. It will go by faster than you will realize. Be safe out there and we'll see you next month.
By Capt. Rick Franke