As the "new normal" rapidly transitions to the real normal, two themes stand out: the good one is that the boom in interest, and participation in, recreational boating seems to be continuing. The not-so-good one is that shortages of manpower, supplies, and material price increases continue to plague the industry.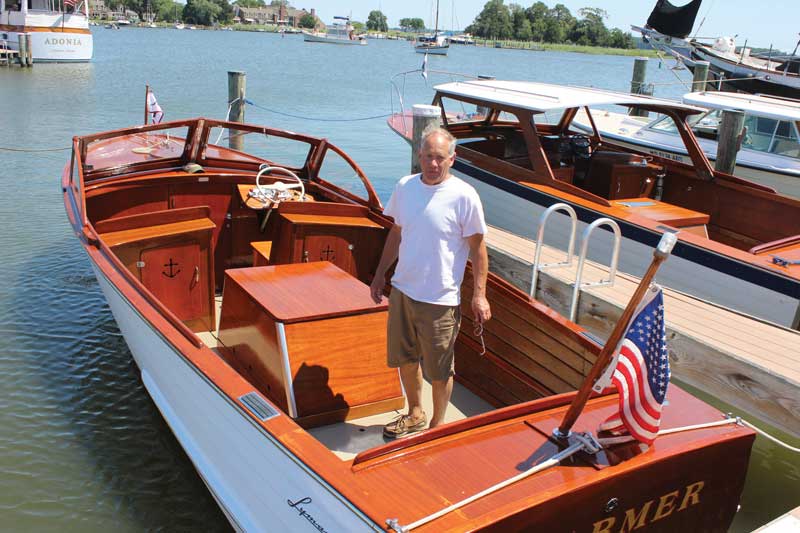 David Jr. from Evans Boat repairs in Crisfield, MD, brings us up to date on the strange new world of post-pandemic business. "We are facing circumstances like never before here at Evans Boats! The yard is slammed busy with all kinds of refits and even new boat construction. We ceased marketing new boat building in 2019, although we kept most of our molds. Since 2020, however, interest in new Evans-built boats has spiked, in spite of a global pandemic. We currently have a 50-foot custom Evans in the shop heading for Connecticut for a return customer, as well as a 36-foot custom Evans heading to the Outer Banks fit with twin Yamaha outboard engines with the toggle switch option and a Seakeeper leveling system.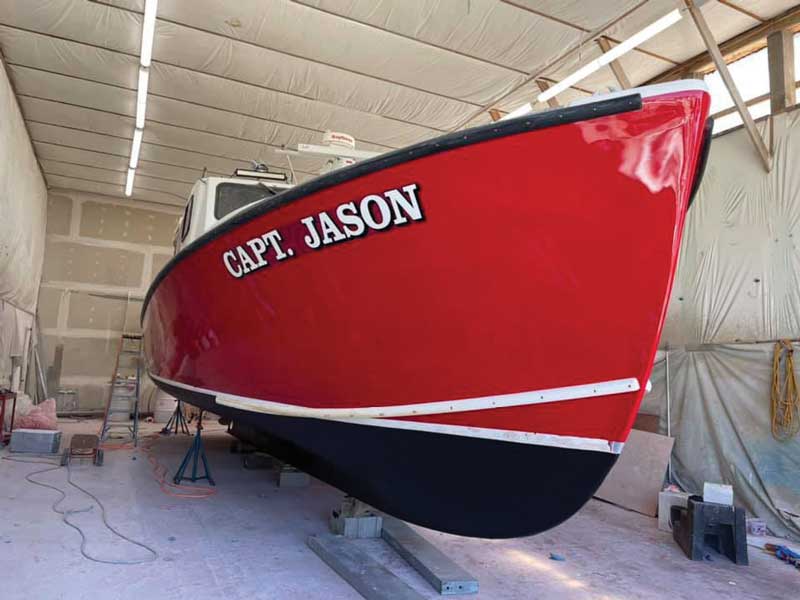 In addition, we will soon begin construction on another 43-foot Evans, this time heading to Florida. We are thrilled to continue to supply Evans-built boats to customers all over the country and the globe; however, the effects of the pandemic are ever present. We have never seen an increase in pricing for material or a shortage of materials quite like this in almost 40 years of business. This has significantly increased the challenges of completing jobs in a timely manner, while also presenting budgeting problems. In most cases, job quotes are only good for up to a week before having to refigure the cost of goods. Despite all of this, we are thankful to continue working nonstop to provide quality construction and refits. If anyone is interested in a new boat or even a major refit in the near future, my suggestion is to call right away to lock it in, because for now, there is no sign of this wave dying out!"
Rob Sola of Diversified Marine/Bay Shore Marine in Annapolis, MD, agrees with David Jr's observation.
"Supply is a problem—even paint, bottom paint, and stuff like that. It's not everything, but it's a little bit of most things. It is very challenging from a price perspective as well as a lead time perspective. And even worse, a lot of suppliers are saying one thing in terms of lead time and delivery and then not being able to deliver that. So, unfortunately, we are the bearer of bad news sometimes, but we just try to make the best of it that we can. That results in a lot of scrambling and looking for alternate sources, overnight shipping and stuff like that. We're doing the best we can, but we're not the only ones in this situation and, fortunately, most of our customers have been reasonably understanding."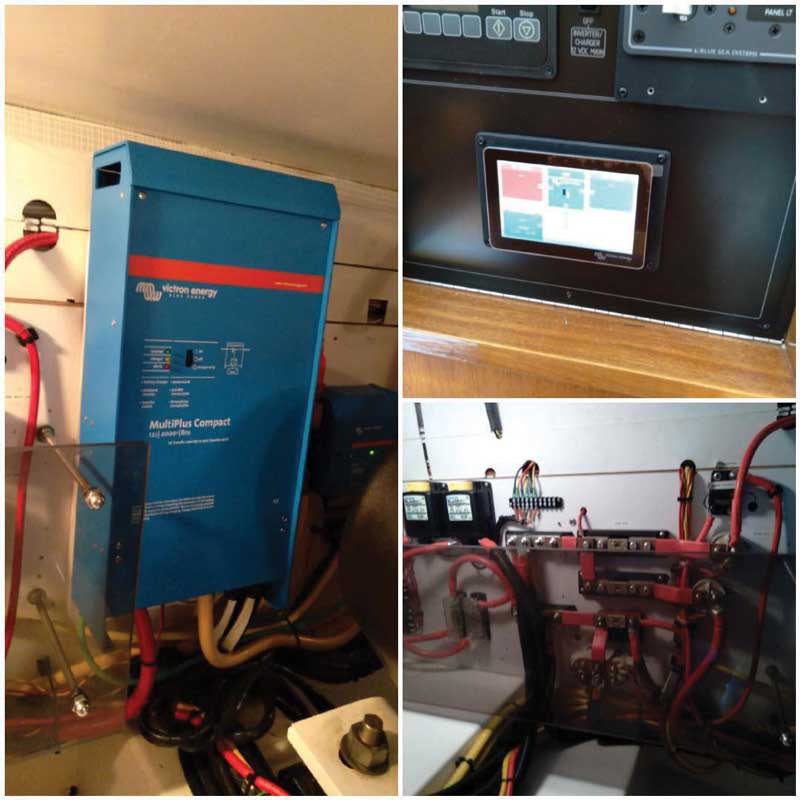 Dave Martin of Diversified Marine reports on a major electrical system upgrade to a customer's boat: "Our work on this 2007 42-foot Legacy Sedan included a major update to its DC power systems utilizing Victron hardware and monitoring systems. Our customer sought to get more information from the power systems on the boat. With a clean slate, we installed a Victron Multiplus, Lynx Shunt, Cerbo GX Control Center, and GX Touch 50 display. With all of these systems in place and networked together, the owner has a clear picture of all power systems on the boat including shore power."
David Low of Herrington Harbour North in Tracys Landing, MD, reports on a busy winter and spring. "Our yard has added a 70-ton Travelift. We now operate five lifts ranging in size from 35 tons up to 85 tons. We stored over 1050 boats on land and have already launched over 650 boats. Onsite contractors are still managing many projects and upgrades on a constantly changing land fleet of 400 boats. Our customer events are scheduled, and amenities have been serviced and ready for a very active boating season. The grounds are landscaped. The pool area is fully operational with the weekend addition of some epicurean delights served by a rotation of different food trucks."
Hank Reiser of Marine Services at Pocohontas Marina in Edgewater, MD, had two Lymans on display at the recent Antique and Classic Boat Festival at the Chesapeake Bay Maritime Museum in St. Michaels, MD. Charmer is a 1960 23-foot wooden lapstrake or "clinker built" runabout, restored by Hank and his crew at his shop in Edgewater over the past winter. Maggie is a 1978 fiberglass Cruisette, complete with a head, bunks, and a galley.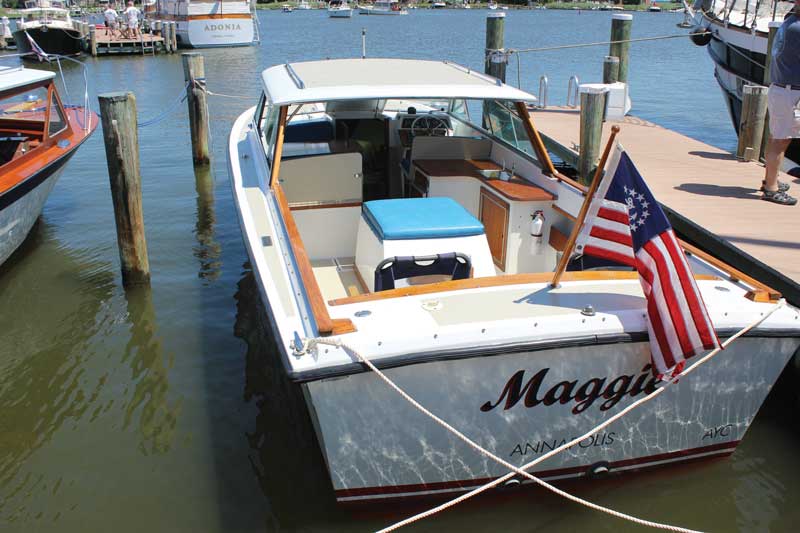 While the vast majority of Lymans were wood, Hank explained that by the 1970s, it was obvious that fiberglass was the way to go. "Lyman built their last wooden boats around 1973," Hank explained, "But they did build some glass boats by using existing wooden hulls as plugs and duplicating the lapstrake hulls exactly in fiberglass. Maggie is one of them." Except for the hull material, the fit and finish on the boat is all traditional Lyman and it is hard to tell the difference at first glance. "The fiberglass boat is a bit heavier, but it runs just great. It's powered by a Chrysler 318 and it is a really super comfortable boat." 
Rob Hardy of Composite Yacht in Trappe, MD, sends us this brief update. "Not much has changed since we last spoke. Still have a heavy backlog with the 55, three 46s, a 34, and a 32 to finish. That's on top of the heavy repair schedule with many paintjobs and refits on the books."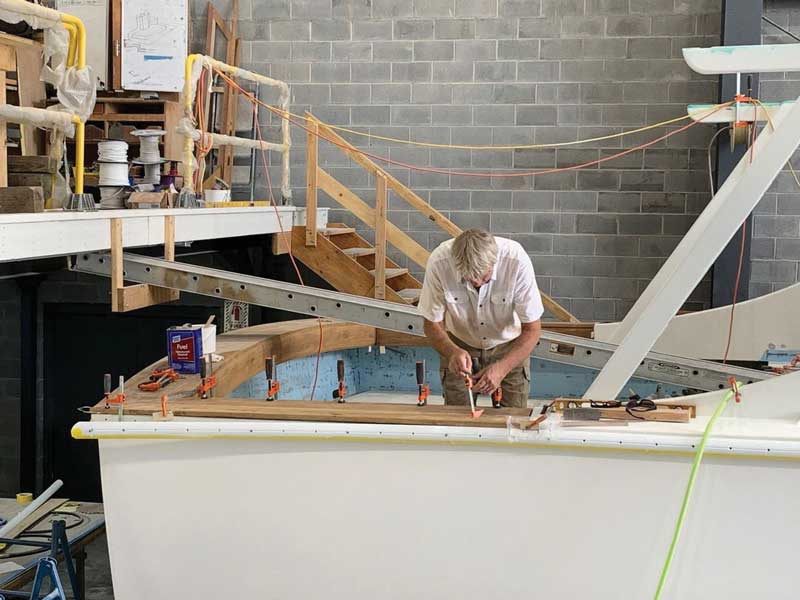 F&S Boat Works in Bear, DE, has the following report on its Facebook page. "Hull number 32, the 58 foot Doña Lucy, is moving closer to completion. Josh Everett and the team at Everett Nautical just completed all of the vessel's faux teak including the toe rail, half-round/eyebrow molding, helm pod, and cockpit/salon door. The house and bridge have been completed and painted, and the hull will be painted at week's end. The running gear has been installed, and electronics installation is under way. Following the hard top installation next week, a sea trial will soon follow. We can't wait to see her prowling the waters off of Cap Cana chasing billfish!"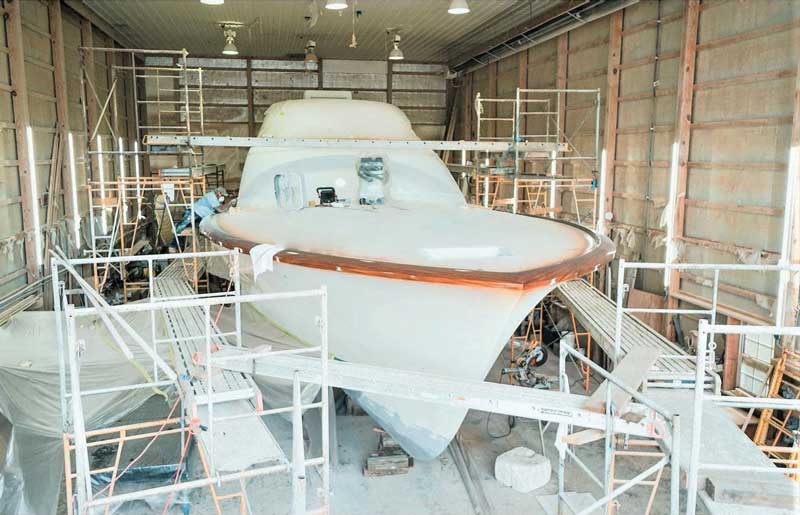 Reid Bandy of Bandy Boats in Mayo, MD, also checks in. "Bandy Boats has been busy with a current 32-foot custom carbon fiber center console build and several unique custom designs for three other clients. We have also secured funding to enhance and enlarge the fleet of row boats for Fletchers Cove. We will transition the failing wooden row boat fleet with modern core cell iterations of the classic Fletchers design. We have begun to enjoy a relationship with Chesapeake Light Craft as they have done a wonderful job with our CAD work and tooling production via their CNC router and expert design staff. John Harris and his crew set an example for all of us to follow. We are also very excited to have the opportunity to design and build a high performance catamaran for another local client. With all the buzz about powercats lately, we are delighted to 'enter the ring' with our product."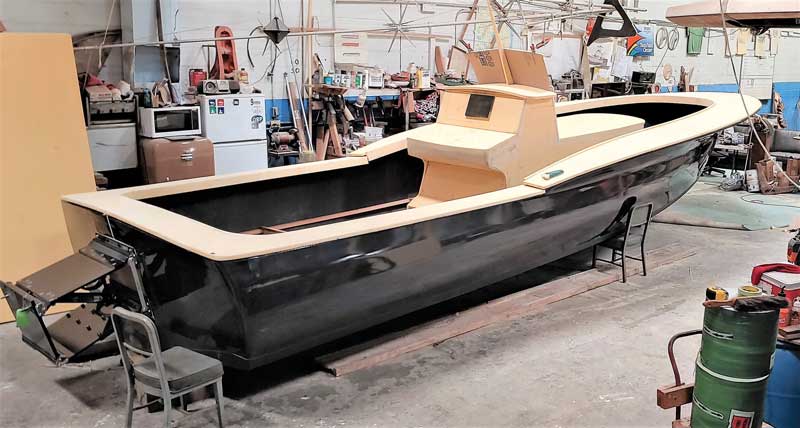 Back in October of 2020, this column reported on the construction of a replica Chesapeake and Ohio Canal boat at Roudebush Yacht & Engine Works in Dundalk, MD. The following update is reprinted from the Georgetown Heritage website.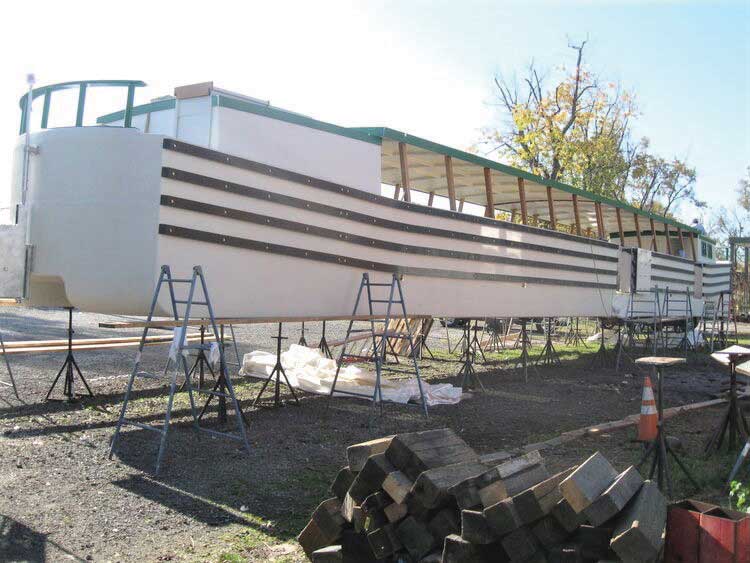 "The Georgetown canal boat provided fun and educational tours to school groups and tourists for nearly 30 years. After being decommissioned in 2011 due to extensive damage, it sat rotting in the canal. In 2016, Georgetown Heritage and the park service removed the old boat in preparation for the first phase of canal restoration work. Georgetown Heritage received a grant from the District of Columbia to fund the design and construction of a new boat, which was scheduled for delivery in spring 2021 (now estimated to be July 8) and should be in full operation by fall. This new boat will be a similar historic replica from the heyday of the canal's commercial operation in Georgetown. It will be equipped with modern amenities as well as a historically accurate design. Together, the C&O Canal NHP and Georgetown Heritage will use the boat as a platform to engage visitors. The boat is being built at the Roudebush Yacht & Engine Works shipyard outside of Baltimore. It will be over 80 feet long and is being built in two halves that will eventually be put together after delivery to Georgetown."
By Captain Rick Franke