As we gradually become accustomed to the "new normal" of masks and distancing, it is reassuring to see that boating seems also to be returning to normal. Even though some shops are still closed to the public, with sales and management working from home, many are reporting an increase in demand for their services. Actually, the current situation, with limitations on travel and traditional vacation activities, seems to be causing an increased interest in boating and on-water activities. This upswing of the desire to get out on the water is a great development, but it does come with some surprising twists.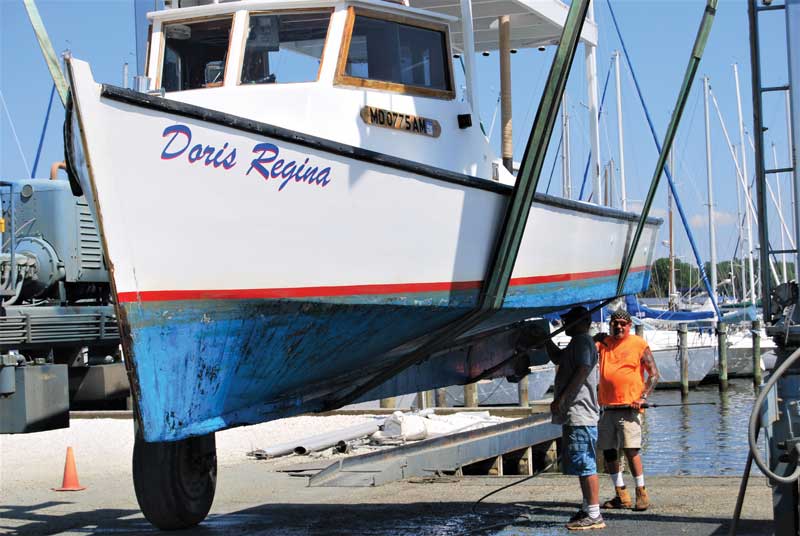 Tom Gunther of Gunther Marine in Edgewater, MD, explained some of his frustrations. "People seem to be rediscovering boating since they can't do anything else," he explained. He waved at several older, neglected looking outdrive powered runabouts sitting on rusty trailers outside his shop. "They bring me these old clunkers that they parked under a tree five years ago and forgot, not winterized, still full of ethanol gas, and they want them operational right away. I'm glad to have the business, of course, but rebuilding or replacing one of these engines takes time. 
"The other big problem is that the supply system has not recovered from the shutdown yet. I used to be able to get everything I needed from one supplier with quick delivery. Now I have to shop around, and since everybody went to just-in-time inventory years ago, sometimes you just can't find what you need. Sometimes the factory is still closed or operating at a lower level than normal. Sometimes the distributor doesn't have the staff to unpack and organize the parts so he can sell them," he said. "And then there is stuff that you just can't get. A lot of Mercruiser parts are made in China. Good luck with that!" He concluded. "Owners want their boats now, and I can understand that, but the shutdown messed up a lot of things. It's going to take time to sort it all out."
Charlie Petosa of Hinckley Yacht Services in Annapolis, MD, also has a story about increased interest in boating. "We had a customer come into the office here a few weeks ago. He explained that he and his wife were retired and usually spent their summers traveling in Europe. Since that did not seem to be possible this year, they had decided to stick closer to home and explore the Chesapeake Bay." According to Charlie, they bought a Hinckley to do it.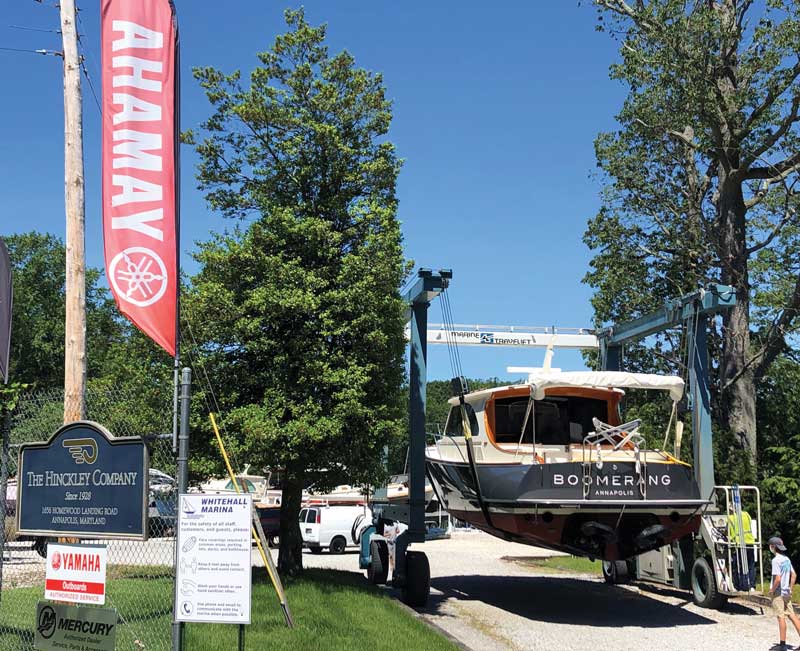 Joe Reid's small shop in Edgewater, MD, is full with three boats. As Joe explained, "During the shutdown we took a little vacation, but we reopened as soon as we could. We have been playing catch-up ever since." Joe hasn't had time to do much on the Bertram 20 Sportsman he's restoring, but he has been staying busy. He was fabricating a swim platform for a Century ski boat when we visited, and his next project is the major restoration of a 60s era Chris-Craft utility boat which looks like it belongs on the burn pile.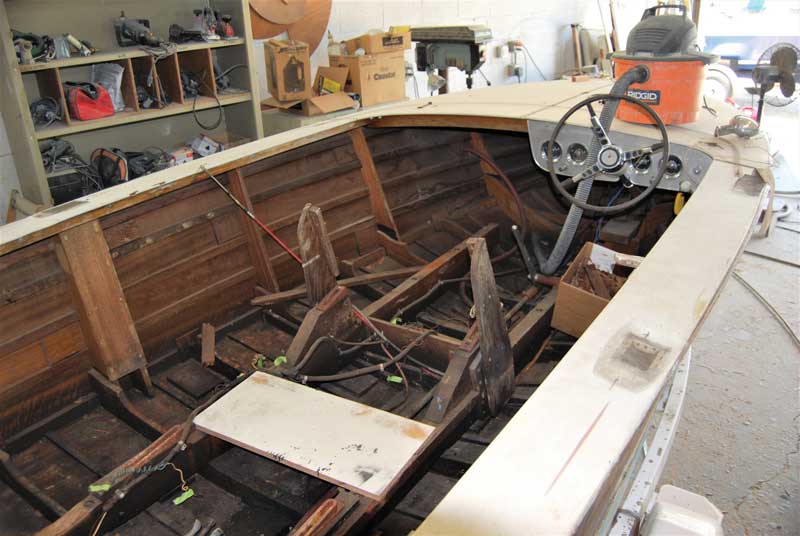 George Hazzard of Wooden Boat Restoration in Millington, MD, sends us the following report: "We've been busy getting boats in the water. We completed a 1996 26-foot Hacker Craft that was in for varnish and new deck striping as well as upholstery work. We replaced and upholstered the side panels and the crash padding while Oatley's Top Shop did the sewing on the seats. The 1935 39-foot Consolidated, Trouper II, had a fresh coat of paint and name painted in gold leaf on the transom by Tim Grant of Grant Signs, and all new varnish before being moved back to the water by Rick Miller from Miller's Marine Service. Work continues on Mitch and Molly Owens' 30-foot 1960 Owens Flagship. New 350 Chevy motors are replacing the tired original motors." George modestly did not report that during this period his shop completed and launched Copasetic, Ralph Cattaneo's 1948 25-foot Chris Craft Sportsman. For the complete story of this five-year project see the feature story in the July PropTalk at Return to the Classics Part Four.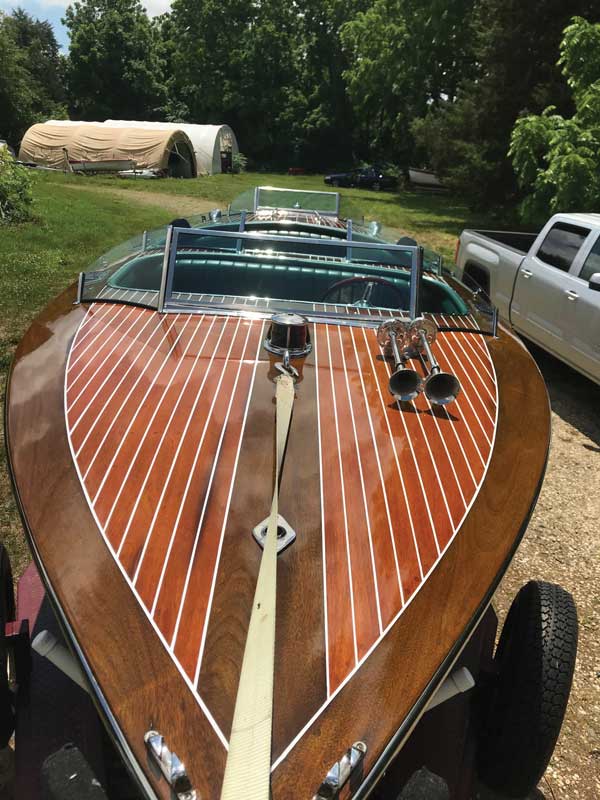 Larry Flinchum of Cypress Marine Service in Severna Park, MD, has a 1997 Nordic Tug 32 in the slings in his yard. "The boat was originally equipped with a dripless shaft log. As you know, those are lubricated by water injection for lubrication and to prevent overheating. For some reason the injection system failed, and the shaft overheated and seized. That caused the shaft to twist and destroy the bellows, which allowed a whole lot of water in. Fortunately, the owner had a lot of emergency tools and materials onboard, and quick action, with the help of a good bilge pump, allowed him to limp her home. When we got her out of the water we had to remove the rudder to pull the shaft, which meant we removed the skeg first. The long shaft did not want to come out. We finally used a forklift as a persuader." Larry also reported that he has seen an increase in demand for recommissioning older boats.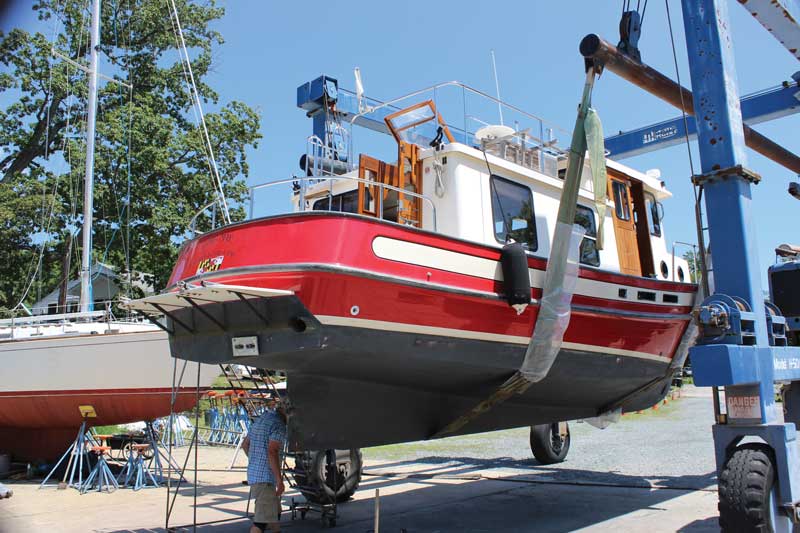 Down in Deale, MD, Weaver Boat Works has launched the new Weaver 41 Center Console. The 41 CC is the first Weaver to be designed for outboard power and is pushed by three Suzuki 350s. The 41 should be a great fishing platform and can double as an overnighter for a couple or a small family. The fit and finish is all up to Weaver's high standards, and equipment includes such big boat goodies as a Panda generator, a galley with a microwave and a cook top, two refrigerators, a stand-up head and shower, and a Seakeeper 5 gyro. Weaver's has four larger boats in various stages of construction, so the crew will be busy for some time.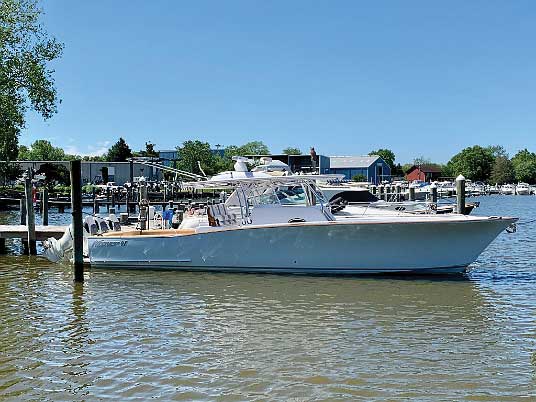 Meanwhile, things are getting back to normal at Worton Creek Marina in Chestertown, MD, as John Patnovik reports in this month's newsletter. "Things seem to be calming down a bit and heading to our new normal, whatever that is. The lifting of the boating ban in Maryland has seen the marina start to come alive again. We are almost at full staffing and launching/commissioning boats at a pretty good pace. I think that everyone may yet have a decent boating season this year.
"Work in the boat yard is also starting to get back to normal. With most of our team back to work we are getting things ramped up so that we can get winter projects finished and keep abreast of our normal summer workload. We are very busy with a healthy back log and that is a wonderful situation for us to be in."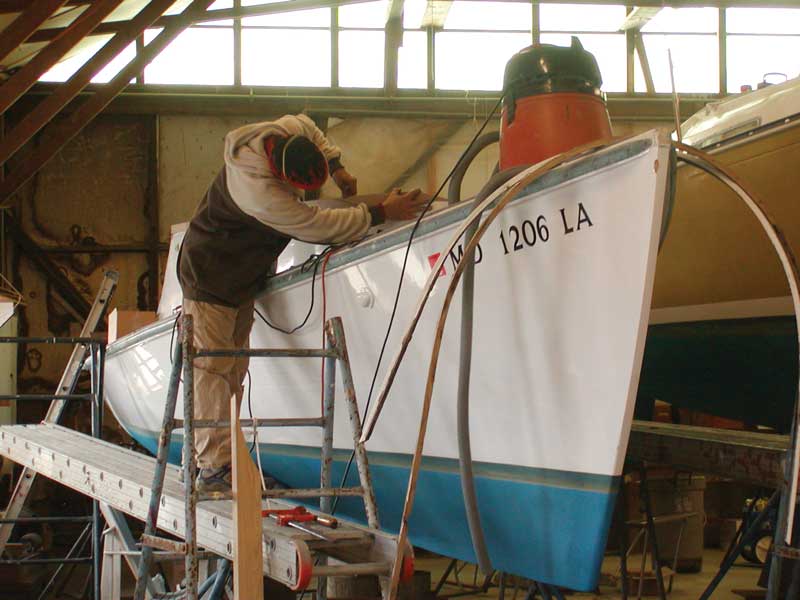 A recent stroll along the waterfront in Annapolis confirms the increase in boating interest. Lots of standup paddlers, kayakers, private boats, and the Harbor Queen, water taxis, and the Woodwind schooners compete for space as usual. In the strange "new normal" world, this busy familiar scene is a comforting reminder that boating is back in a big way. Enjoy the rest of the summer. 
By Captain Rick Franke