As we approach mid-summer, it appears that this year's boating season is living up to earlier expectations. After the pre-Memorial Day rush was over and a brief lull, the tempo of activity at area boatshops has increased again and shows no signs of a slowdown.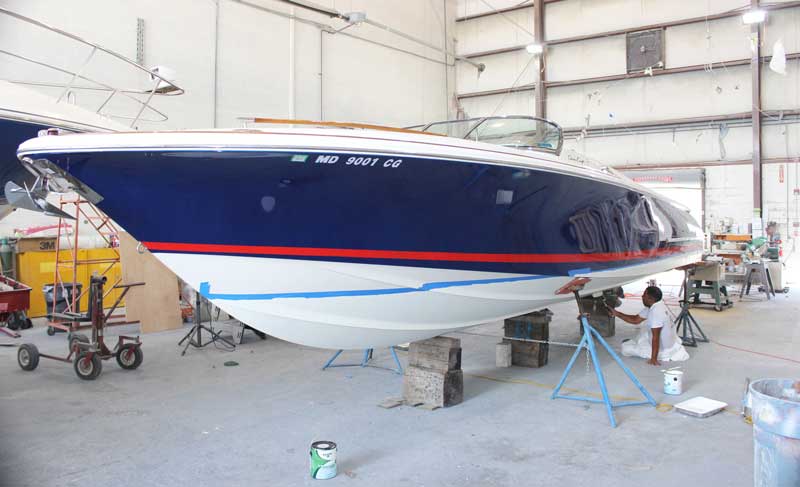 Our first report is from Eugene Evans of Evans Boat Repairs in Crisfield, MD, and reflects a busy shop. "What a season it's been. We have refurbished an older custom 25-foot Evans and done a complete tear-down and build-back on a 50-foot Evans that is docked at Corolla, NC. This is the Jill Louise, owned by Keith Cummings of Corolla Bait and Tackle. These guys are killing it fishing down there! We sent off our last custom-built 43-foot Evans, which was built out of the original mold. We are completing our last 25-foot custom Evans, also built out of the original mold. An Evans-restored, Deltaville-built round-stern deadrise set sail to Charlottesville, VA. The boat was purchased and restored by our yard and was sold from our 'used inventory' of vessels. Fast forward to the present: we are busy finishing up some small restoration jobs such as a new floor, transom, and stringers on a Privateer (a boat that we have seen become an increasingly popular vessel in the restoration field), mechanical jobs, and a whole lot of boat hauling on our hydraulic trailers!"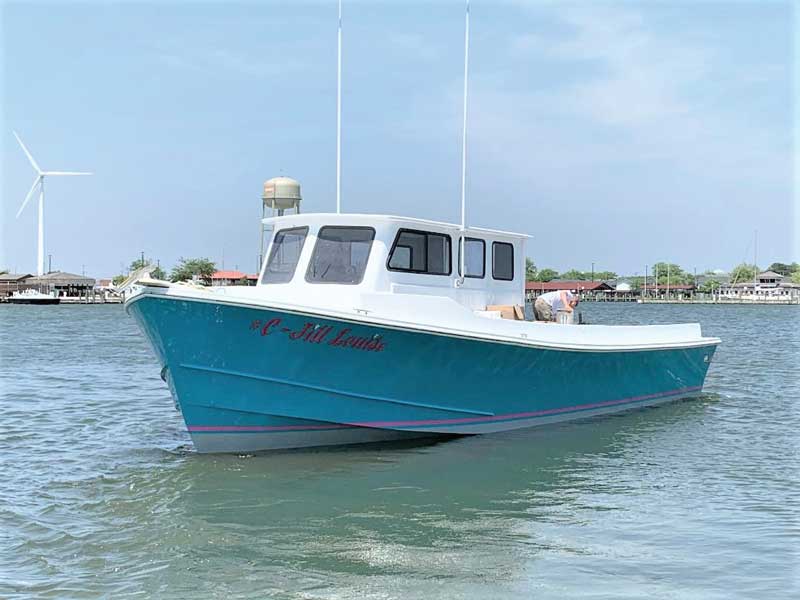 Joe Reid of Mast and Mallet in Edgewater also reports a busy shop. "I'm just completing the re-planking of the bottom on the 28-foot deadrise Honey Do, built by Maynard Lowery. She is also being repainted in preparation for launching. I also had a 2003 Thomas Point 30 in for some minor repairs and repainting of the hull, deck, and cabin. The hull is Flag Blue Awlgrip and topside is Snow White Awlcraft. Work is continuing on the restoration of a 1964 Bertram 20 Sportsman; interior decking is being installed on top of the new stringer system. Join us on July 20 at the Chesapeake Bay Maritime Museum - Thomas Point Rendezvous, sponsored by Mast and Mallet. Museum hours are 9 a.m. to 5 p.m., and about a dozen boats are expected and will be on view."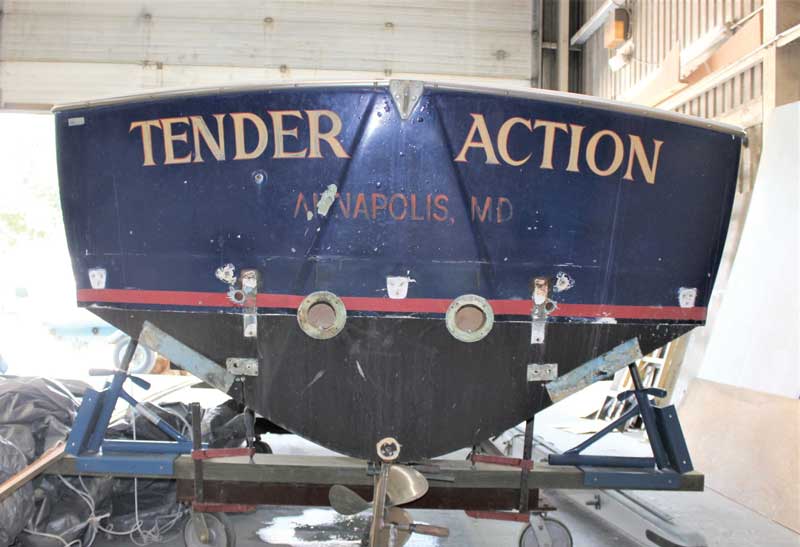 Jon Clarke of Higgins Yacht Yard in St. Michaels MD, says, "It's not often that one gets the chance to see a prototype boat, but here she is in our boat shed. Inspired by the boats developed during the age of the Rum Runners, the 1978 Midnight Lace, hull number one, the only 44 built in America, is long and lean and slices through the water. Her light, aerodynamic design reduces windage which in turn reduces the need for more power. Down below, she is elegantly appointed with a large stateroom, full bathroom (including a tub), and a central staircase leading to the bow seat. She has come to Higgins again this year for some TLC and updating. It is always a pleasure to work on such a magnificent and unique boat.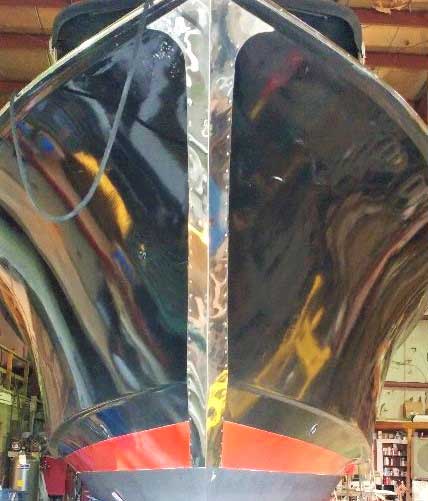 "Higgins was glad to welcome the Bluewater Lady during the Antique & Classic Boat Show held at CBMM in June. Chris Hall of Bluewater Yacht Sales had an antique boat in the show, but the real eye-catcher of the weekend was his 82-foot fully customized motor yacht, with his brother Earl's antique race boat on top. Our staff was treated to a tour, and we are still talking about the attention to detail. Don't get me started about recessed teak handrails! It was such a pleasure to have them at our marina, and we look forward to seeing them again soon. 
"2019 Chesapeake Bay log canoe racing began in June, and everyone is getting ready. To think that some people go their entire lives and never get to see one of these magnificent boats, and we have three of them in our boat shed. Log canoes are a big part of life here at Higgins."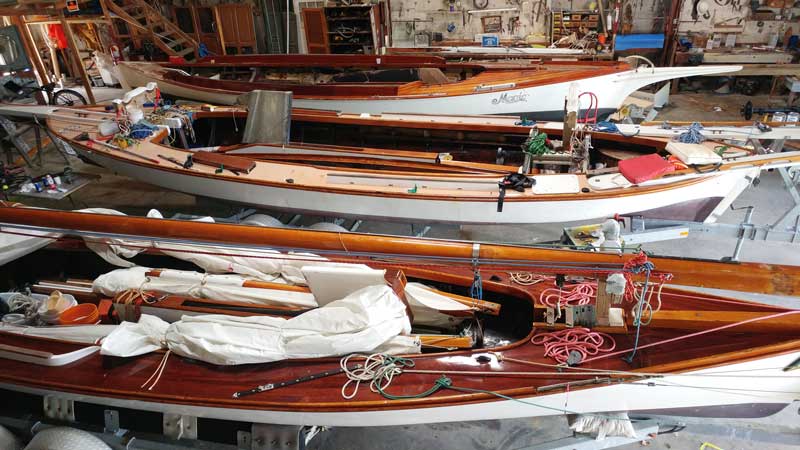 According to Marianne Jackson, office manager at Higgins, "Jon's great-grandfather was there at the beginning and organized the first race of canoes. Since then, Magic, built in 1894, has been owned and captained by a family member. Most recently, Jonathan Clarke has been at her helm and hopes to have her back in racing form soon. In the meantime, please watch out for log canoes! They may be under sail, under tow, or capsized. Please minimize your wake, even in the channel, to help keep our canoes and our crew safe."
Rose DiMatteo, captain of the Chesapeake Bay Maritime Museum's Edna E. Lockwood, reports that the 1889 bugeye's heritage tour around the Bay will continue through the end of September. "Edna Lockwood recently underwent a two-year restoration of her nine-log hull at CBMM. She was re-launched into the Miles River in St. Michaels in the fall of 2018. This summer and fall, Edna is traveling to ports around the Bay, bringing free, experiential programming and interpretation of traditional Chesapeake Bay boatbuilding techniques and the oystering industry. During Edna's stay at each port, CBMM staff members will offer free deck tours, giving guests a chance to explore the bugeye while docked. All ports of call are weather dependent, with the full schedule at cbmmshipyard.org/ednalockwood." In the meantime, restoration work on the 1912 river tug Delaware continues as does the construction of the new Maryland Dove in the museum's shipyard.
While we are on the subject of historic vessels, I received an email from the National Trust for Historic Preservation describing another historic vessel being saved. "The oldest American overnight passenger steamboat that is still intact and able to travel is the last remaining authentic link to our nation's 200-year tradition of passenger steamboat transportation. The Delta Queen was constructed in 1926 for more than $1 million, compared to a paltry $80,000-$100,000 price tag for other steamboats built at the time. And indeed, the Delta Queen's Tiffany-style stained-glass windows, hardwood paneling, brass fittings, and grand staircase crowned by a crystal chandelier made her the height of luxury. The Queen, a traditional stern wheel steamboat, had a long and varied career ending up as a floating hotel in Chattanooga, TN, in 2008. She was purchased by a company in 2015 and moved to Houma, LA, where renovations began. The Delta Queen was declared a National Treasure in 2016 and is expected to be re-launched in 2020.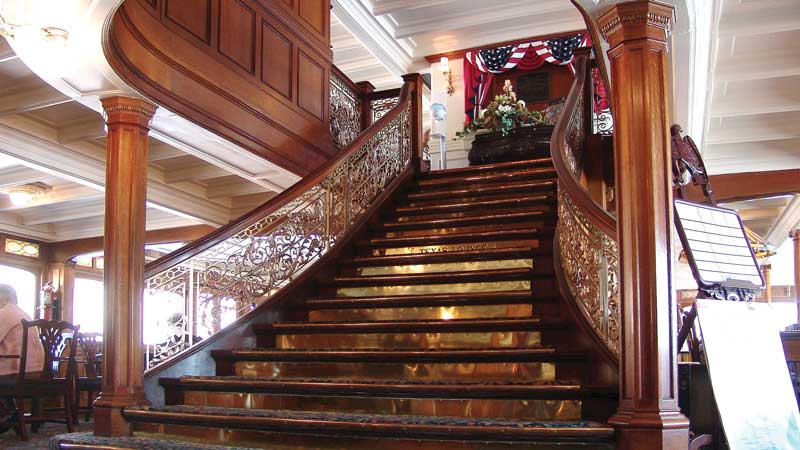 Alex Schlegel of Hartge Yacht Yard in Galesville, MD, says, "We are nearing the end of painting a Sabre 36 Flybridge Sedan from top to bottom with Awlgrip. Still to do is a week or two of painting and two weeks of installing hardware. A Hatteras 45 Flybridge Sedan is having a lot of work done: normal engine maintenance, fixing the generator to run, new batteries, steering repair, bottom paint, and trim tab work. A 1996 45-foot powerboat is having a small area of wet balsa core on the bottom removed and foam core installed. A repair is in progress where the owner hit his pier a little too hard with his 2018 Pursuit C238 and damaged the rub rail and fiberglass hull to deck joint. We are doing a similar rub rail and hull to deck joint repair on a Luhrs 30 that was peacefully cruising out the channel. He was T-boned when another boat operator turned on his autopilot that made a 90-degree 'course correction.'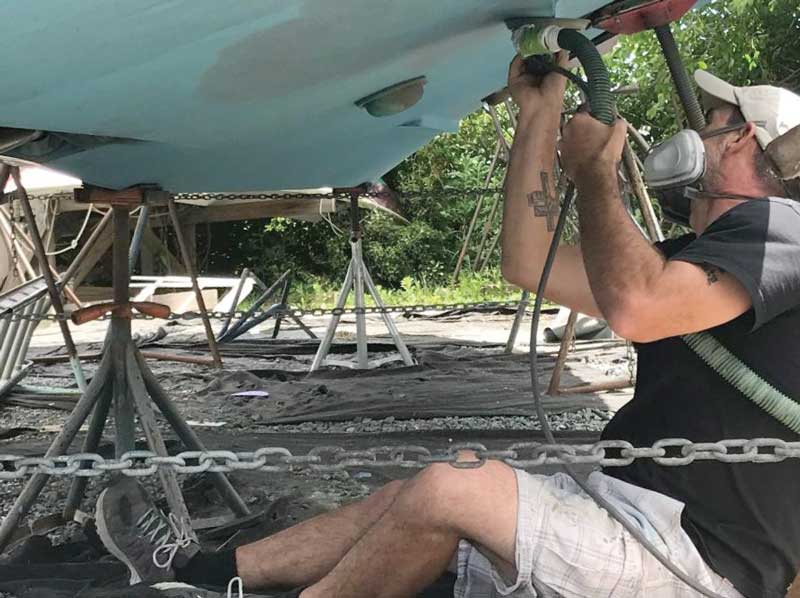 A dealer's new Back Cove 30 is here for storage and bottom prep for antifouling paint. Salt water cooled manifolds and risers need to be replaced periodically on gasoline engines. For lots of use in warm salt water, replacement is as often as two to three years. On the Chesapeake, our experience is replacement about every seven years. If the manifolds are fresh water cooled, they last much longer; but the risers are all saltwater cooled and corrode more quickly…" 
Jay Greene of Wilmington, DE, sends us this report. "I have made a full renovation of the 46-foot Italian-made Giorgi twin diesel sports cruiser Our Joy. My father and I bought it from John Patnovic of Worton Creek Marina as a project in 2014. It had sunk in its slip in 2010, and John salvaged it, pickled the engines, and set it aside as his project. Now after about 2000 hours of repair, redesign, and retrofit over four years, she is finished, but my father is too old to enjoy her."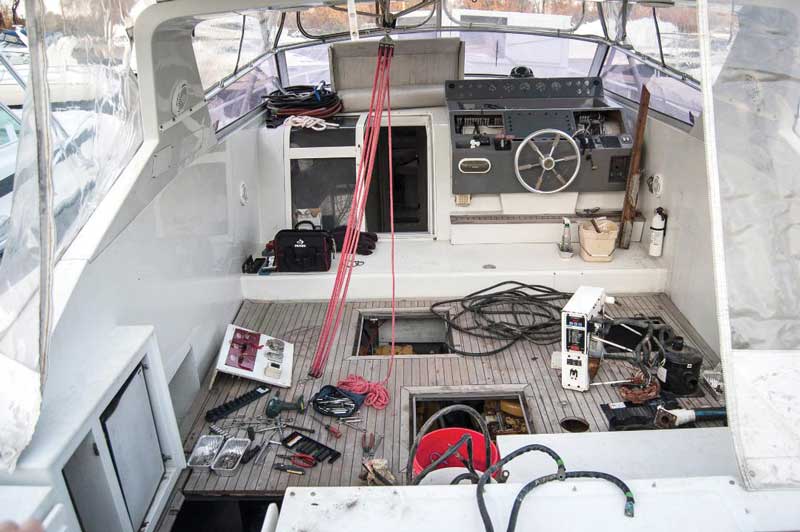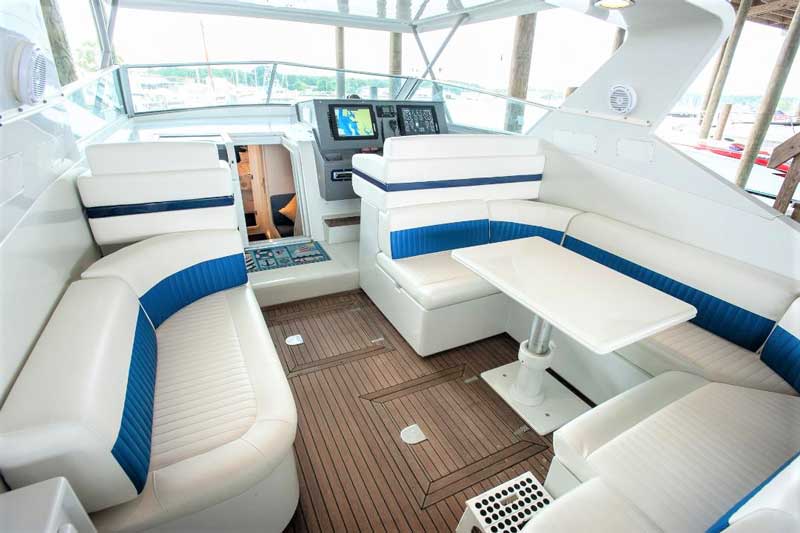 By Captain Rick Franke