Spring is an optimistic season. At the time of this writing, winter's grip has finally loosened. Days are noticeably longer, crocus and daffodils are poking through the ground, and shrinkwrap is beginning to disappear.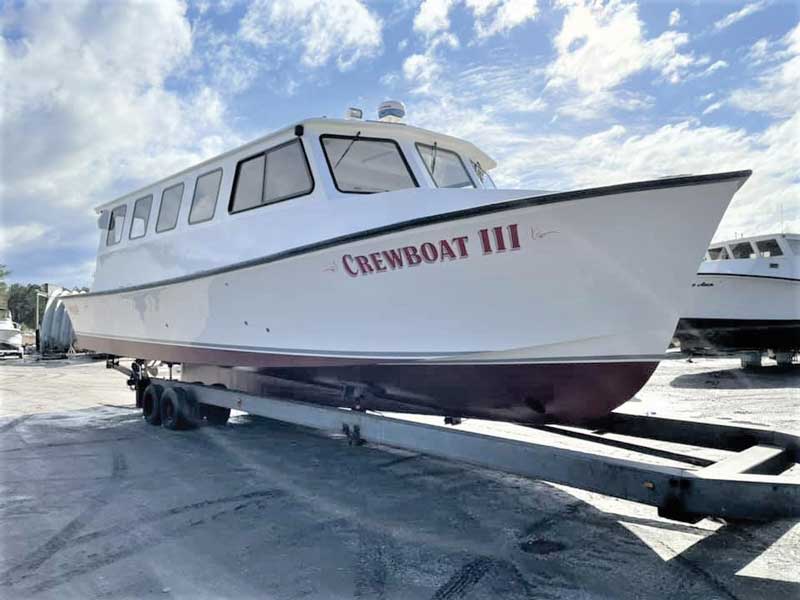 There are other hopeful trends as well. Covid-19 restrictions are gradually loosening, inventories are improving, new boats are being delivered again, and crowded boatshops and marinas are scrambling to get ready for the spring commissioning rush. Expectations are high for a good boating season. To help support all this activity the Marine Trades Association of Maryland (MTAM) continues to introduce new workers to the industry through their on-the-job-training program. This six-week paid apprenticeship program has introduced nearly 100 trainees to the marine industry since its inception in 2014.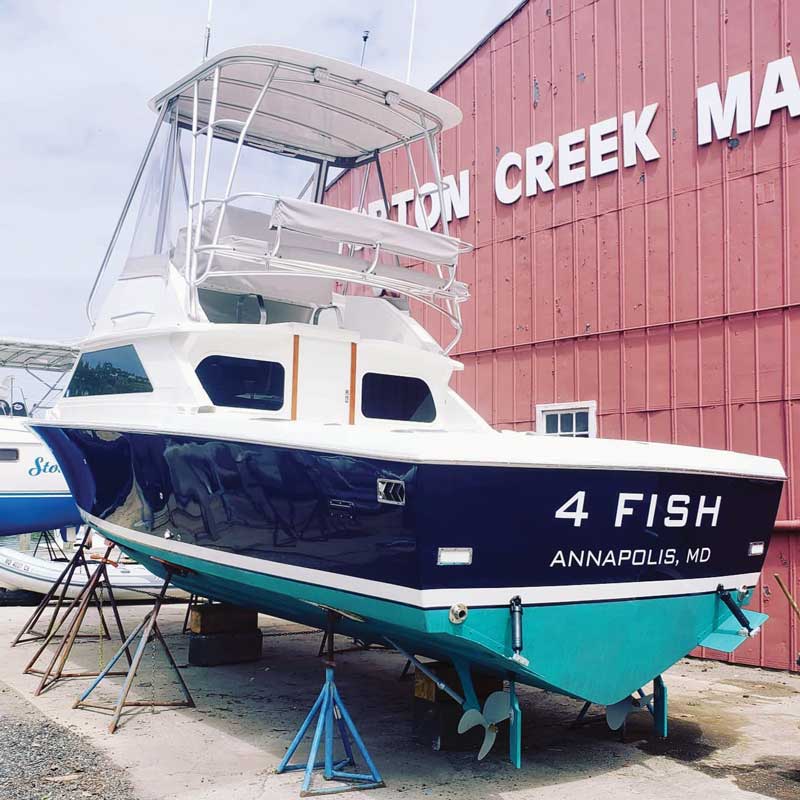 The Marine Trades Association of Maryland (MTAM) would like to congratulate EJ Mason on the completion of his six-week On-the-Job Training (OJT) with Composite Yacht, LLC in Trappe, MD.  Mason, a graduate of Salisbury University, grew up fishing and crabbing on Maryland's Eastern Shore. He developed wood-working skills early in life, helping his father build furniture and cabinetry. After graduating with an environmental studies degree, Mason worked as a foreman for a landscaping company and occasionally helped his friend tow boats to his family's marina for repairs.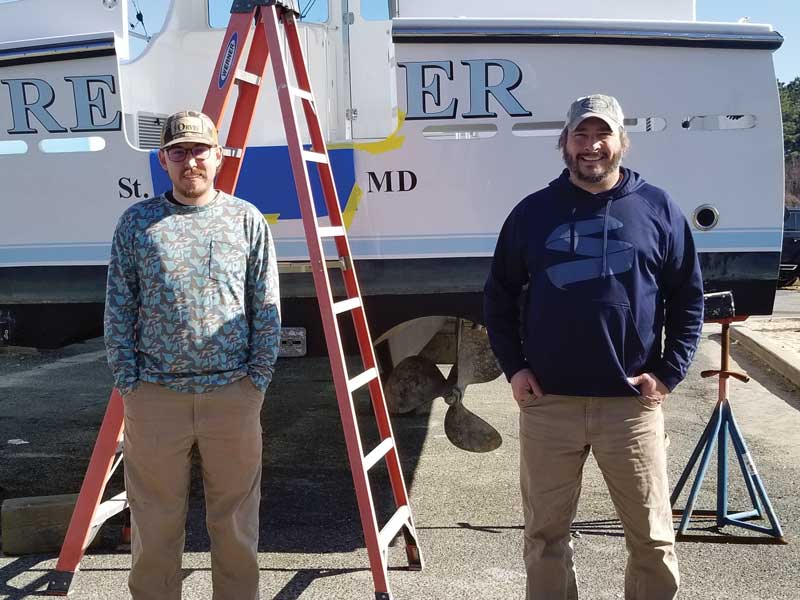 Mason said these occasional boat-towing excursions are what piqued his curiosity about career opportunities in the marine industry. He read about the OJT Program in an article in PropTalk and reached out to MTAM. "It was a very quick turnaround from application to being hired, which was really great," Mason said. "I applied to the program and was interviewed and hired the next week."
During his OJT, Mason worked with epoxy, teak, marine composite board, grinders, and other materials and tools that were new to him. He learned to cut window and latch openings, trace and cut based on given dimensions, and stain surfaces.
"We are thrilled with MTAM's OJT Program," said Lewis Hardy, Managing Member of Composite Yacht. "EJ was a great find and we're happy to have him on the team." 
This project is funded by the State of Maryland's EARN Maryland Grant Program, administered by the Maryland Department of Labor, Licensing, and Regulation. To learn how you can work on the water visit mtam.org.
Christian Cabral, Shipyard Manager at the Chesapeake Bay Maritime Museum (CBMM), reports that his team is preparing for spring and the beginning of railway season. Each member of CBMM's floating fleet of historic vessels requires an annual haul out, during which time shipwrights perform routine maintenance and address any preventative maintenance items.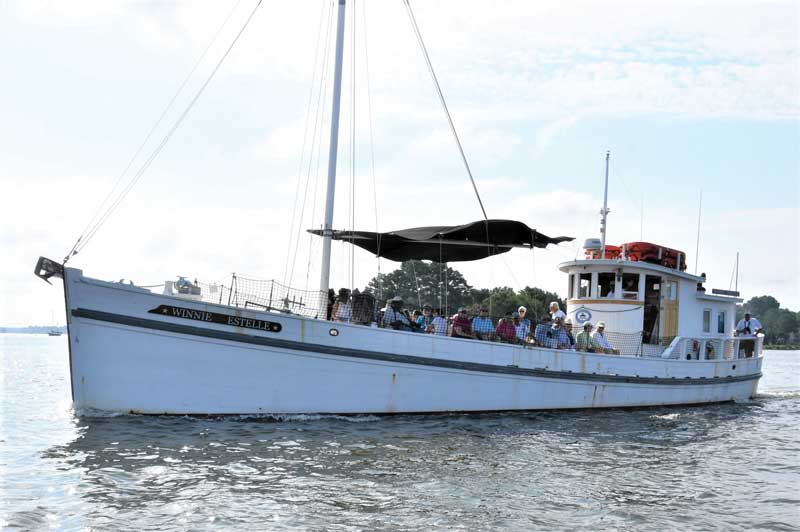 "First on the railway this season is Winnie Estelle. Winnie, CBMM's now century-old buyboat, works throughout the spring, summer, and fall, taking museum guests on trips to explore the Miles River and greater Chesapeake Bay. As a commercial vessel, Winnie Estelle is inspected annually by the United States Coast Guard during its annual railway service, and then begins the operational season on May 1. Following Winnie, the remaining members of the floating fleet are hauled, inspected, painted, and maintained. Some notable projects this season include rig service for all applicable vessels, repair work to Rosie Parks's centerboard trunk, a mechanical overhaul on Old Point's Detroit Diesel engine, and the reinstallation of the Potomac River dory boat's Universal diesel engine.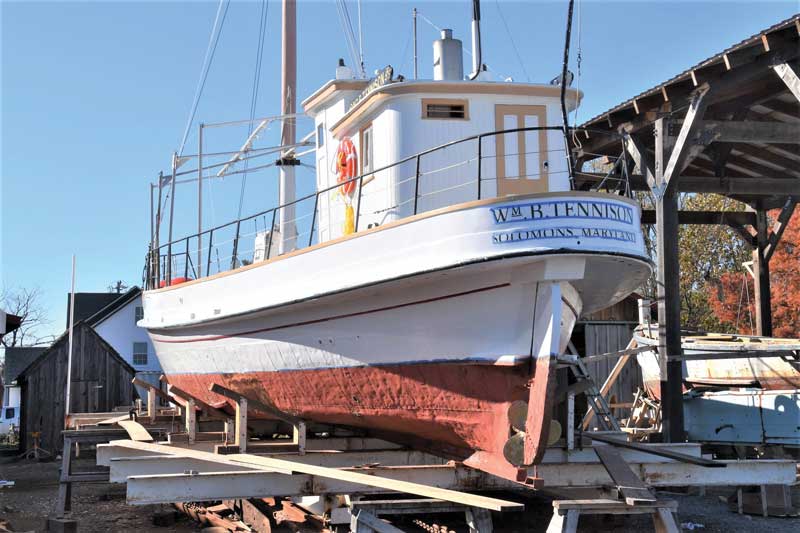 "In addition to CBMM's own fleet, shipwrights are performing additional work on the Calvert Marine Museum's converted bugeye Wm. B. Tennison, including replacing its running rigging, and pulling and servicing the mainmast. Alongside the railway, CBMM shipwrights continue the restoration of the 1912 river tug Delaware. Fleet shipwright Michael Allen and shipyard education manager Jennifer Kuhn will spend the spring and summer leading the shipwright apprentice team in finishing up the installation of 68 bent frames, 16 sawn frames, and all flooring. Afterward, the team will turn its attention to planking—removing two planks at a time, fitting and fastening one, then lining off the next plank. Simultaneously, CBMM's marine mechanic, Josh Richardson, will continue the rebuild of and planning for the re-installation of Delaware's power plant, a Gray Marine Detroit Diesel."
Joe Reid of Mast and Mallet in Edgewater, MD, shares his end of winter thoughts with us. "While wishing winter would shorten, the Mast and Mallet crew has been occupied with restoration projects. Mainly, a 1930s custom sloop with long overhangs. We've installed new cockpit seating with bright finished bookmatched African mahogany. Also installed is a new fuel tank and Yanmar single cylinder diesel. Down below, the settees are rebuilt with ribbon striped Sapele ply, bright finished. Flooring is finished with Western Red Cedar. The small galley to port has a new mahogany countertop. 
"Next to the sailboat is an 11-foot hot-molded rowing boat built in the 1950s. We are making repairs to the keel and replacing the rub rails and transom. Last is a coat of white Interlux Perfection on the hull and fresh varnish on the bright interior. We are continuing with the restoration of a 1964 Chris-Craft ski boat. Plank replacement has been done on the sides and bottom. All fasteners on the bottom have been retightened or replaced as needed. Fiberglass/epoxy coating on the bottom will be applied next. 'April flowers brings boats outdoors.'"
David Low of Herrington Harbour North in Tracys Landing, MD, reports: "Herrington Harbour North has been active this winter receiving customer's new boats on transports. And we performed many short hauls for used boat pre-purchase surveys. We are ready for many new boats and families, all anticipating a great boating season. Our spring schedule includes launching over 750 boats. We operate five Travelifts ranging in size from 35 to 85 ton. The new M dock construction is completed. Waterfront improvements and the upgraded fire pit will add to our list of customer amenities."
We have not heard from Reid Bandy at Bandy Boats for a while. It sounds as if his shop in Mayo, MD, has been very busy.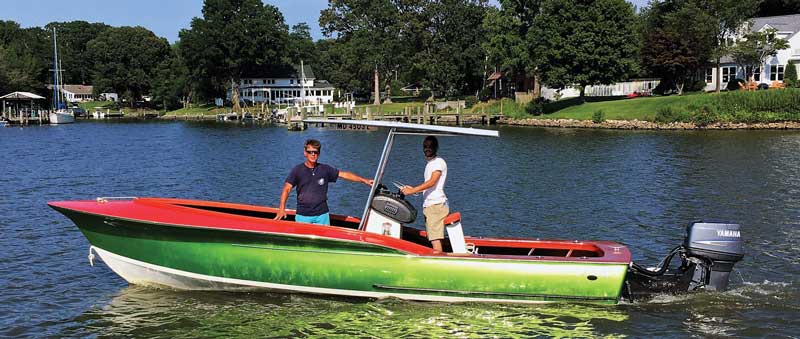 "Bandy Boats has benefited from many good things through this Covid craziness. It seems being able to work and be isolated to boot has been a good combination. The past winter we did four small build projects that were very rewarding. We got some local press from them, and the highlight was a carbon model we built to test a full size prototype. We are beginning that prototype now. Hull number 12 will be a custom 32-foot center console spec'd to do 60 mph with one Mercury Sea Pro 300. She will be carbon fiber and foam. The next build (number 13) we have in queue is a 38- by 14-foot planing catamaran with an 8500-pound displacement to our design. It's very exciting to have the opportunity to design and build this for a local client. We want to contribute our part to the 'Year of the Cat.' She will also be fully composite in E-glas and foam. Powered by Mercury V8s again, she is designed for 60 plus mph.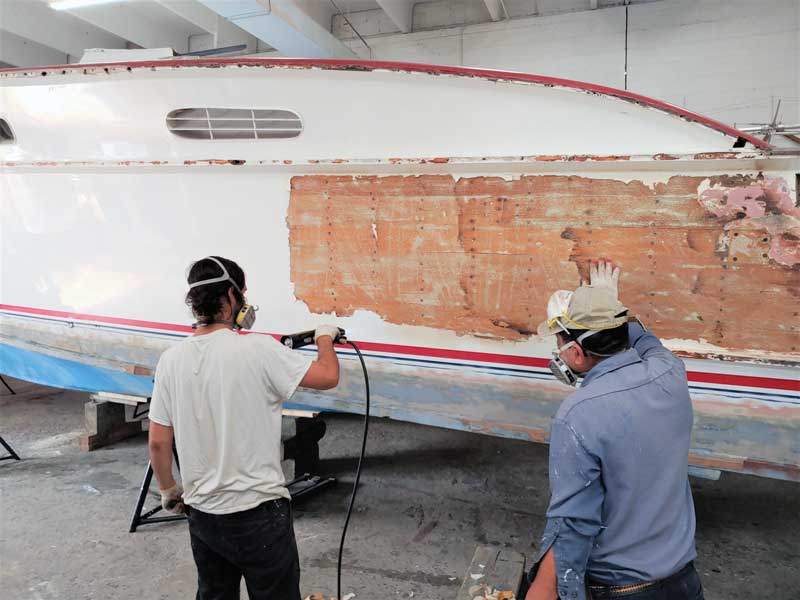 "Hull number 14 will begin in August for a New York client who enjoys the Chesapeake Bay and boats here with family. This Bandy 29 will be the classic center console, plain and simple: minimal hatches, minimal rigging, lots of room, fast with low power. This boat will also be foam and E-glas. Powered by one Suzuki big bore, she will be the most efficient in her class. She will allow travel in style and grace with her custom console, custom T-top, hard top, and custom forward seating. Restoration of Rybovich number 22 continues as the third one so far. Full frame replacement is accompanied by keel removal and full chine replacement, addition of a propulsion tunnel, and two thirds topside planking replacement. We are replacing her bit by bit. These are wonderful boats to work on. The last one we did manages 34 knots with her Cummins 600 HP. Several small boat restorations filled in the shop spaces over the last year; most of them old and wood, boats no one else would fix. Old wooden boats have stories to tell just like old cars. There are lessons in those stories. Life lessons. The spring looks to be busy here and I am optimistic. I salute my successful boat builder brothers and sisters here in PropTalk Magazine."
Jake Glover of Ferry Point Marina in Trappe, MD, wraps up this month's reports. "We're wrapping up a long list on Purely by Chance, a 2009 Rivolta. She's received AwlCraft hull paint and stripes, complete Cummins and jet drive services, sanitation hose upgrade, and more. There's a 34-foot Wilbur, Kingfisher, in the shop now. Her bottom has been blasted and is in barrier coat, new flagship blue AwlCraft on the hull, and we're in the process of pulling all the deck hardware. As of spring 2021, we will be offering marine air conditioning and refrigeration installation, service, and repair!"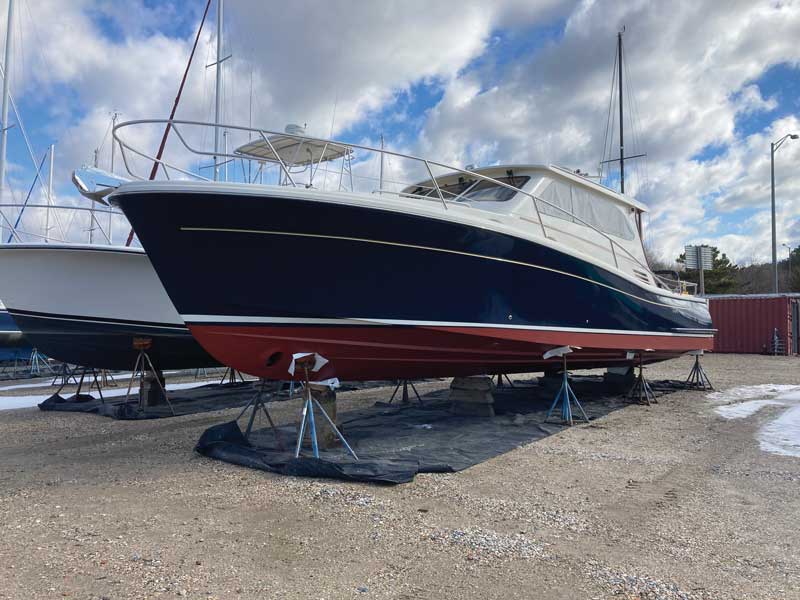 Lest we get carried away by our optimism, Covid still has the power to play havoc with our plans. The Annapolis Maritime Museum had to cancel its annual sock burning celebration. Judge yachts in Denton, MD, has also had to change their plans according to their Facebook page. "Due to the Covid pandemic, the Judge Yachts 2021 Open House has been cancelled. However, we welcome you to come tour our shop on an individual basis. Please call (410) 479-9770 or to arrange your tour email [email protected]!"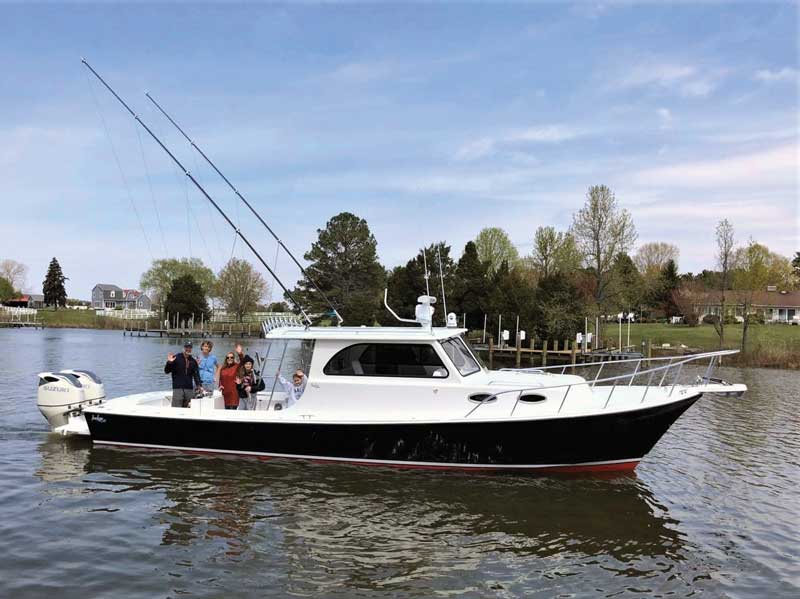 We can all hope that the time when such cancellations are no longer necessary is not too far in the future. Until then, stay safe and healthy.
By Captain Rick Franke