Mercury Marine today introduced the the Mercury 7.6L V12 600 HP Verado outboard, the world's first V12 outboard engine.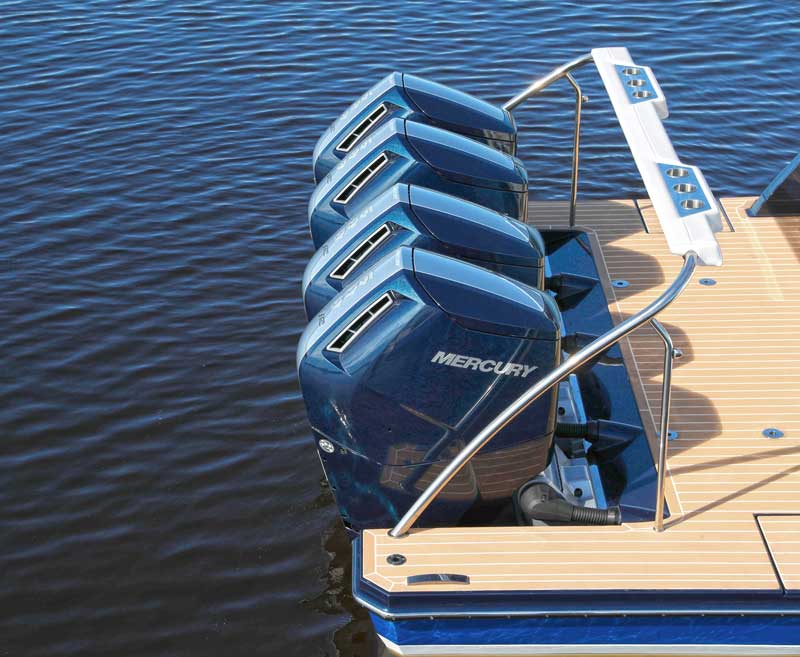 Features
Courtesy of Mercury Marine
The outboard segment's first V12 powerhead delivers superior horsepower and performance in a surprisingly compact footprint. Combined with the steerable gearcase and simple, streamlined rigging, the design allows the engine to mount on 27-inch centers, so boaters can fit as much power as they need on the transom.
The two-speed transmission makes easy work of transferring 600 HP to the gearcase. It doles out maximum torque and acceleration in first gear then silently shifts to second for efficient cruising and thrilling top speed. No shift clunk. No limitations. Only smooth, impressive power.
Electro-hydraulic controls allow the steerable gearcase to react instantly to driver commands. With no movement from the engine above water, there are no distractions – only precise maneuverability around docks and smooth, effortless handling in open water.
A new series of dual props were expertly crafted to harness the full potential of 600 HP. Designed to run in a contra-rotating configuration, the new propellers power the boat on plane swiftly and efficiently, while delivering exceptional handling and fuel economy at midrange speeds.
A more rugged, more refined next-generation Advanced MidSection (AMS) mounting system cradles the powerhead to isolate noise and vibration, while careful tuning dampens induction sounds and nearly eliminates injection noise. 600 HP never sounded so quiet.
Performance
Calibrated to deliver full performance on 87-octane fuel, the V12 Verado outboard leverages dual propellers, a hydrodynamic design, and Advanced Range Optimization (ARO) to maximize fuel economy. In one boat test, dual V12 Verado outboards delivered 20 percent better fuel economy at cruise than triple competitive 425 HP outboards.
Industry-leading 7.6 liters of displacement and a performance-inspired quad-cam design generate exceptional torque to make easy work of propelling heavy boats on plane. Because the engine works less, it runs longer, for uncompromising reliability (15 percent faster cruise speed at best cruise MPG than the competitor 425 HP).
The V12 Verado outboard establishes new standards for smooth and quiet operation. Even at 600 HP, noise and vibration are on par with the V8 300 HP Verado outboard – and superior to the competition (30 percent quieter than the competitor 425 HP).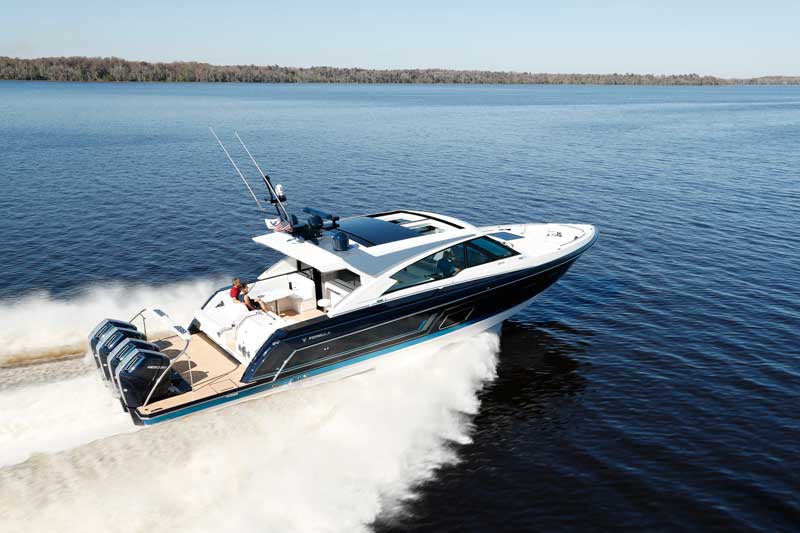 Introduction
Undoubtedly, this engine would have been timed for release with the Miami International Boat Show. This year, thanks to the Covid-19 crisis of course, there is no Miami International Boat Show. So instead Mercury chose to introduce the engine via video released on Facebook, followed by the product details going live on Mercury's Facebook page. Retail pricing is said to be "in the $77,000 range."
Formula 500 SSC
Formula Boats was chosen as an introductory partner of Mercury Marine to install four Verado 600s on its Formula 500 Super Sport Crossover. Learn more about this impressive model at formulaboats.com.